1. Captains Dead offers a great Husker Du concert from 1984, which includes their great tunes "8 Miles High" and "What's Going On?"
2. Grammar humor. Gotta love, it.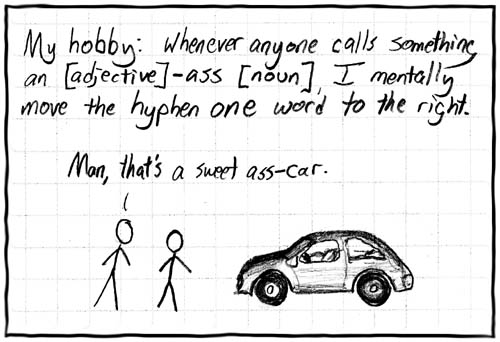 3. An oldie but a goodie. Phantom Broadcast-The Go! Team. Get the entire Help! benefit album from emusic.
4. Smidgen of Ashen Fluff has a recent M.I.A. in-studio set, doing stuff from Kala. I must say, what I've heard from that album doesn't knock me out at all. I liked Arular, but not a lot. This one doesn't even appear to have a catchy single, like her first one did.
5. So Much Silence is a great blog that has been doing a series called, "I Used to Love H.E.R." in which artists and bloggers write about their favorite hip hop album. Such a great idea. You should go check out Passion of the Weiss' entry about GZA's Liquid Swords, a true classic. If I were asked (which I'm sure I won't be), I can't imagine what album I'd pick. Maybe Public Enemy's Nation of Millions, which was playing when I realized how compatible me and my wife were. (She knew all the words to the Flavor Flav jam on the record. Flav, you now officially suck wet farts out of rotting dead baby asses.) Or I might pick U.T.F.O.'s Roxanne Roxanne, 'cause I played it over and over while learning the fine art of wild style tagging. So many to choose from.
6. The great (Boot)log has a Weeping Tiles performance that includes their covers of Hey Ya! (OutKast) and Just What I Needed (The Cars).
7. XTina likes to be mashed by mashuppers.
DJBC's Gaye Boyz (Marvin Gaye- I Heard It Through The Grapevine vs. 69 Boyz- How We Roll vs. Christina Aguilera- Ain't No Other Man vs. Bubba Sparxxx feat. Yin Yang Twins- Miss New Booty vs. Chingy- Hands Up
DJ Ayr's Sniff N' The Tears – Driver's Seat vs. Christina Aguilera – Ain't No Other Man
8. And lucky us, she also likes being nekkid.
9. Y'all should check out BBC America's Jekyll show. It's hot.
10. Ryan posted a neat little tidbit about album leaks, which give all us honest bloggers a band name.