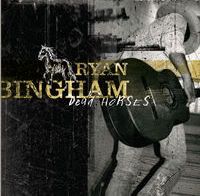 On occasion, I may like me some Dwight Yoakam or Hank Williams, Jr., but for the most part roadhouse country ain't my thang. I like alt-country, though, in doses. (Usually doses of Drive-By Truckers or Whiskeytown.) Maybe that's why I've taken a shine to Ryan Bingham and The Dead Horses, who fall somewhere between twang and blues. Just barely breaking his midtwenties, ex-bull rider Bingham tells tales you'd expect to hear in a saloon from e a wizened, heavily wrinkled man with a missing thumb. Authentic-sounding and dusty, Bingham's latest, "Dead Horses" (produced
by Marc Ford of the Black Crowes) is classic singer-songwriter Americana, a modern-day version of the young Waylon or Willie.
This album deserves a much wider audience. Let's help it get one!
Long Way From Georgia-Ryan Bingham