Actually, 8 reasons and two reasons to love Elvis remixers. And before you start commenting about what an ignoramus I am, I do know that Elvis wasn't much of a songwriter. But I submit that these songs are Elvis covers because the songs wouldn't be famous but for The King's involvement.
1. Little Sister-Pearl Jam. Is there any song Eddie can't sing well?
2. Stairway to Led Zeppelin-Neil Pepper. The only better Stairway parody is "Stairway to Gilligan's Island," which, if you're lucky, I'll post some day.
3. Suspicious Minds-Bush (unreleased studio outtake)
4. Crying in the Chapel Elvish mashed up against the Wailers
5. Suspicious Minds-My Morning Jacket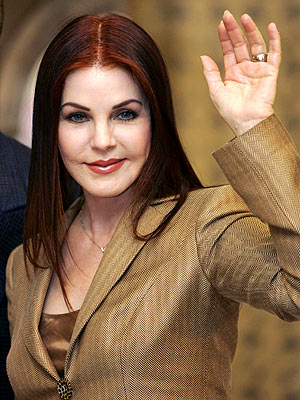 If you get enough plastic surgery, you can impersonate yourself!
6. A Little Less Conversation (dance remix)-Elvis himself
7. Play House-Pee Wee Moore. I love this version.
8. Elvis Presley Stole My Car-Drive By Truckers. Not a cover, a tribute, but hilarious.
9. Go here to find a bunch of remixes of The Pet Shop Boys doing "Always On My Mind." Yeah, they're about as major lable/un-indie as possible, but I always enjoyed this cover.