Issue #8 is a Christmas issue in which Terror dons a Santa suit and fights the Maggia.
This continues to be one of the more gruesome comics on the market, especially given that the premise is a a character who goes to a body part supplier named Boneyard and then wears the arms, lips, etc. of dead people to access their memories, skills and abilities.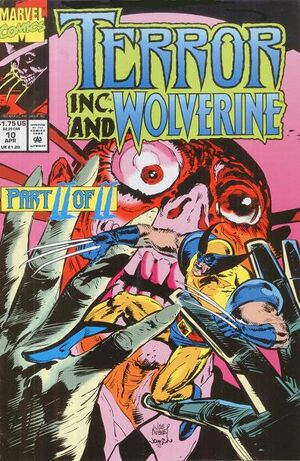 Then Wolverine guest stars in a two-parter.  Terror is hired to kill whoever killed his employer's daughter, and Terror believes Wolverine is the killer.
Wolverine was framed, of course.  By Hydra.
Creators: D.G. Chichester and Horacio Ottolini (#8), Richard Pace (#9-10)
Grade: C
For the complete history of the MU, year by year, go here.