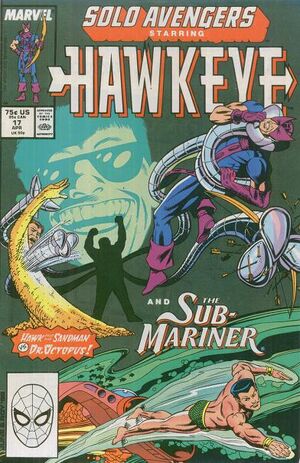 Sandman and Silver Sable are back.
They team up with Hawkeye to fight "Madame Menace."  And Sandman gets a catchphrase, "Welcome to the Sandbox."

It doesn't stick.
Doctor Octopus is also involved—he's trying to purchase stolen tech from Madame Menace.
Sandman should be able to beat both villains easily.  Frankly, Sandman is wicked powerful.
Also, this story shouldn't be able to end in 10 pages.  It's all so compressed and rushed—it's not terrible, it just never has a chance to go anywhere.
Both halves of this book are self-contained stories.  The second half is Sub Mariner versus Goldbug.  Yes, Goldbug. He's looking for sunken treasure under the sea.
Creators:
Hawkeye: Ralph Macchio, Tom DeFalco, Al Milgrom.  Grade: C
Namor: Danny Fingeroth, Dave Cockrum.  Grade: C-
For the complete history of the MU, year by year, go here.
And see my Ratings of Runs on comics here.