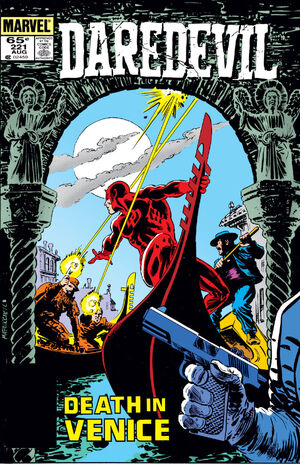 Last issue, Matt Murdock found Heather Glenn hanging in her apartment, the result of a suicide.  Now, he's in Venice trying to track down a sinister group of fascist/anarchists called The Council of Ten, who were responsible for some of Heather's misery.
Honestly, Matt himself did so much psychological damage to Heather that if he's mad at anyone, it should be himself—but I get that he'd rather go punch some people in the nose.
This all gets resolved pretty quickly—in just this one issue—but it's a decent story.  I'm not really a fan when street heroes go international, but O'Neil writes it well and Mazzucchelli could draw the phone book and make it cool.

Also, Murdock shirks his law practice.  Again.
Creators: Denny O'Neil and David Mazzucchelli
Grade: C+
For the complete history of the MU, year by year, go here.
And see my Ratings of Runs on comics here.