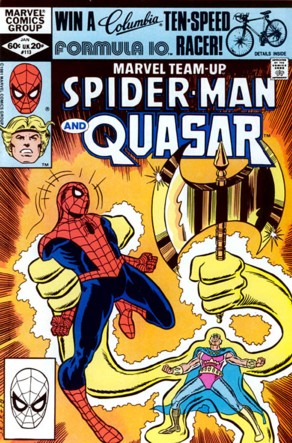 Quasar is not my favorite Marvel hero.  In fact, he's not anybody's favorite Marvel hero.  But I can't remember him having powers like Green Lantern before this.  He uses his Dyna Bands to create giant ram-skull battering rams to hit Spider-Man during their obligatory "pleased to meet you let's fight" interaction.  But he also hits himself with his own ram head.
Incidentally, Green Lantern isn't my favorite DC hero.  And Green Lantern isn't anyone's favorite DC hero.
There's some interesting but undeveloped stuff about Quasar having a paid super-hero gig as the dude in charge of Project Pegasus' security, versus Spider-Man doing his superheroics on a voluntary basis.  This actually seems like an interesting thread—the concept of, essentially, a superhero "fed" vs. an "entrepreneur."  Seems like there could be a lot of mileage here.
Grant Morrison should write about it.
Anyway, the villain here is Lightmaster, who uses the resources of Project Pegasus to regain his human form (when we last saw him, he dissolved into a being of pure light)…
…Which means he can be punched.
It's a pretty funny sequence.
MTU is never an "award winning" book, but this is one of its better entries.  Solid, fun storytelling.
Creators: Mark Gruenwald and Herb Trimpe
Grade: C+
For the complete history of the MU, year by year, go here.
And see my Ratings of Runs on comics here.