The cover to #21 was an inspiration for a Lady Gaga bio comic, which kind of makes sense.  It was a "real" photo.  Lots of mags had real photographs on the covers that month.
And also, I really like the cover to #20.  It's simple: Dazzler in an action pose.  But it's cool.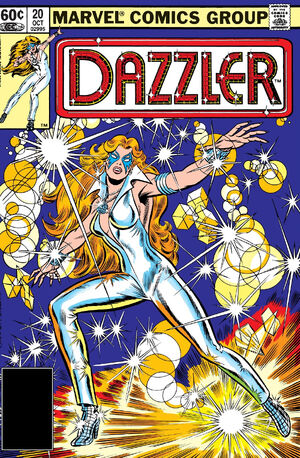 As for the story in these issues: Dazzler's black friend Vanessa is over at Dazz's voice coach's house and finds a room full of Dazzler posters and clippings.  She thinks the coach is a stalker, but it turns out she's Dazzler's mother.  Mom was also a singer, but she ended up with some sleazy industry guys who turned her into a drug addict and her career petered out.
Dazzler also has a big concert, and a whole bunch of superhero teams show up to watch.
To make my life easier, I'm not tagging all the individual heroes in each time.  Because this is hardly a major appearance for any of them.
Meanwhile, Angel has tracked down Alison's dad, and brings him to the concert.  Dazz and daddy make up.  So, between that and Vanessa finding her mom, Dazzler has both her parents back with her now.
After the concert, a surprise party.
Creators: Danny Fingeroth and Frank Springer
Grade: C
For the complete history of the MU, year by year, go here.
And see my Ratings of Runs on comics here.
Dazz, 1982, the FF, the Avengers, Wonder Man, Beast, Spider-Man, daredevil, Power Man & Iron Fist,