Spider-Woman gets a new animal-based enemy: Flying Tiger.
He's an assassin hired by Vietnamese General Nguyen Coy, who is the evil uncle of Karma from Marvel Team Up Annual #4, also written by Chris Claremont.  Best of all, he's black.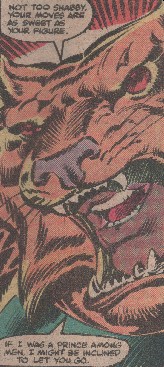 I can't think of any other black Marvel villain form this time period, except maybe Prowler who ended up being more a hero than a villain.  So that's cool.
Creators: Chris Claremont and Stephen Leialoha
Grade: C+
For the complete history of the MU, year by year, go here.
And see my Ratings of Runs on comics here.