Marc Spector is finally reuinited with the man who helped him start his career as a marvel hero: Jack Russel, Werewolf by Night.  And comic book fans get a truly scary looking Werewolf.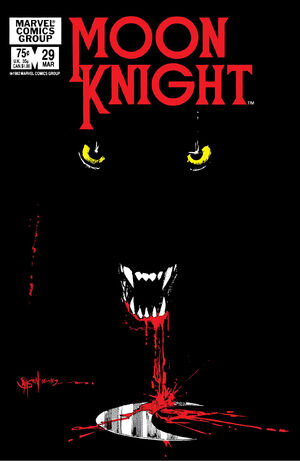 Sadly, these are Bill Sienkiewicz's last issues.
Such a great kinetic artist.
Doug Moench will stay on as writer a little longer.  The book's level of quality sinks without Sienk, first gradually, then steeply when Moench leaves.  It will be cancelled with #38.
In the meantime, look at that staggeringly good cover to #29.
Grade: B
For the complete history of the MU, year by year, go here.
And see my Ratings of Runs on comics here.