It's not the 1990s yet, but the overall quality of Marvel books is already beginning to slide.  Most of the  books I've read that were published in 1989 have been in the C grade range.  This one is worse than that, but I can't blame the 1990s. Alpha Flight hasn't been worth reading since John Byrne left.
In this story Purple Girl, who is the one Alpha Flight character who still has the potential to be interesting, quits the team.  Thankfully, she brings Goblyn, and Pathway with her.
From there, it's more great beasts and sorcerers-the kind of confusing and dumb mystical stuff Alpha Flight seems to be fighting 90% of the time.  They end up wandering through an alternate universe fighting alternate universe Avengers and Spider-Man.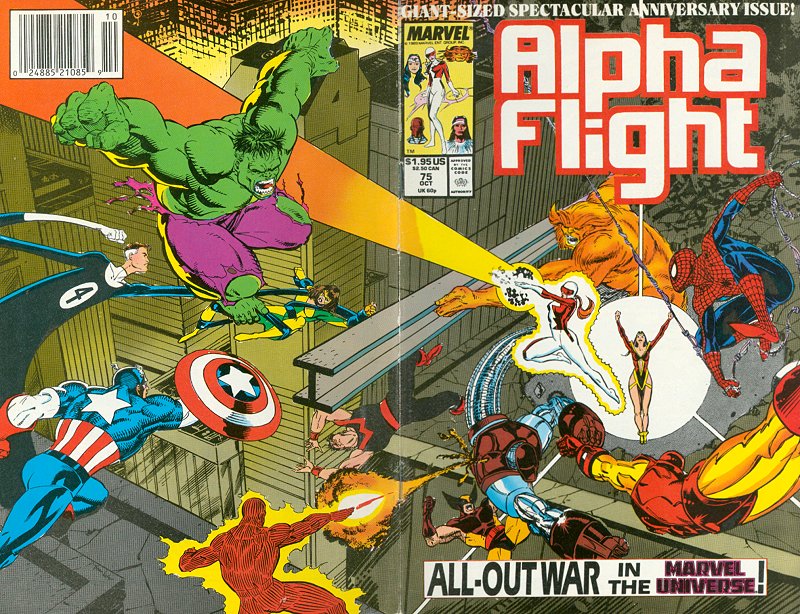 It's all so that they can have major characters that people ACTUALLY want to read about featured on the cover, but, again, it's a bullshit ploy because they're not really those characters.  Very annoying, but I can't blame Marvel for wanting to trick people into reading this book, seeing as how they paid to have it printed and created and all.  I wonder if stunts like this ever lead to loyal readers?  Well, again, we're heading into the 1990s where putting Ghost Rider, Punisher, Wolverine or Spider-Man on every cover was the main business model—so I get it.
Creators: James Hudnall, John Calimee
Grade: D
For the complete history of the MU, year by year, go here.
And see my Ratings of Runs on comics here.