I write these "news" posts so rarely these days, it hardly seems like "new" news.  But anyway, here's some stuff that happened relatively recently that I found interesting…
2019 Eisner Awards.  Congrats to all the winners, and there were some really, really great comics recongized this year: Mister Miracle got best penciller and best limited series; best reality work went to Box Brown's fantastic The Unbelievable Andy Kaufman; best OGN went My Heroes Have Always Been Junkies by Ed Brubaker and Sean Phillips; the highly influential and tremendous work of Bill Sienkiewicz was recognized for the Mutants and Moon Knights… And Assassins archival collection; Tom King got best writer for, among other things, his work on Batman and Mister Miracle.
My Web site continues not to be recognized for an award, but there's always next year.
For our other news, let's start with Marvel Studios, the "big dog" in the room:
MARVEL MOVIES: I'm sure everyone knows the new slate that got announced, and that Deadpool will come in Phase 5.  I'd rank them, in terms of "need to see!" factor:
Fantastic Four.
Shang Chi.  Hoping for a genre film here.
"Mutants."
Guardians 3 (high on the heat map because of fat Thor).
The Eternals (Marvel TV royally screwed up Inhumans, so this is the next best "esoteric and massive" group movie).
Blade.  Why isn't this higher?  Because it will most definitely be PG13.  If it will be a hard "R," it goes right to the top of my list.
Black Panther 2
Doctor Strange in the Multiverse of Madness
Thor: Love and Thunder
Black Widow
Captain Marvel 2.
MARVEL T.V.: In addition to the movie slate, Disney's "plus" subscription service will be pushing out a ton of Marvel content.  Again, in order of heat, starting with the hottest, here's what's coming:
M.O.D.O.K.  A cartoon featuring my favorite villain.  Yeah, I know it has high awful potential, but if they do it right…It will be the greatest thing ever.
What If?  Another cartoon—this one scheduled for release and the first one actually produced by Marvel Studios.  If they get this right—and so far it's pretty rare that Marvel Studios flat-out fails at anything (I'd say Thor 2 is the only complete failure)—this will be…Awesome.  Jeffrey Wright is cast to voice Uatu The Watcher, and many Marvel movie stars will return to play their characters.  We're promised stories involving all the Avengers, Thanos, Collector, etc.  If done well, this could lead to the launch of animated miniseries, following up with minor movie characters like Howard the Duck, etc.  Praying this will be good.
WANDAVISION.  A live-action Vision and Scarlet Witch show, presumably a romance.  Based on the characters' chemistry in the movies, this could be really good.
Hawkeye.  Clint trains daughter Kate Bishop, and we will see more of the Ronin story touched on in Avengers: Endgame.  This could be good but, like Deadpool and the Blade movie (see above), it will undoubtedly be for the all-ages market.  I still think Marvel Studios should be shamed for forcing the cancellation of Jessica Jones and Punisher on Netflix.  The rest of those shows could have been better, I understand, but those two—especially Punisher—were perfect and will never appear again.  Disney's not going to have an R-rated series on their networks.  Never. Daredevil, Luke Cage, etc., could all be revived as tamer versions—but not Jessica and Frank.  I think they're gone for good.  Anyway, I hope Hawkeye is good, but I'm pretty skeptical.  Coming in 2021.
Winter Soldier and Falcon.  Meh.
I guess I'll be paying for Disney+ at some point in 2021.
JONATHAN HICKMAN'S X-MEN.  And moving to Marvel Comics (remember those?), Hickman's run on X-Men has started and it's incredibly good.  It's the X-book I've been waiting for, frankly, since Grant Morrison's run.  I've read that he will also be reviving Excalibur.  So far, the permanent lineup of X-titles (after the current House of/Dawn of X minis end) will be:
Excalibur by Tini Howard and Marcus To, which will bring back Captain Britain and his "otherworld" dimension.
X-Men by Hickman and Leinil Francis Yu, which is the flagship book.
Mauraders by Gerry Duggan and Matteo Lolli, focusing on Kitty Pryde, Emma, Storm, Pyro, Bishop and Iceman as pirates. (I'll pass on this one.)
New Mutants #1 by Hickman and Ed Brisson (coauthors) and Rod Reis, in which the core team of Sunspot, Wolfsbane, Mirage, Karma, Magik, and Cypher bring some new mutants aboard the Starjammers' space ship.
Fallen Angels by Bryan Edward Hill and Szymon Kudranski, built around Psylocke, Cable and X-23.
X-Force by Benjamin Percy and Joshua Cassara, which will have two teams.  One will be the mutant CIA, starring Beast, Sage and Jean Grey, and the other the hit squad, with Wolverine, Kid Omega, and Domino.
Strange to see some very old, esoteric teams in there—including the Marauders who were basically Mister Sinister's hit squad.  Still, in all, very promising.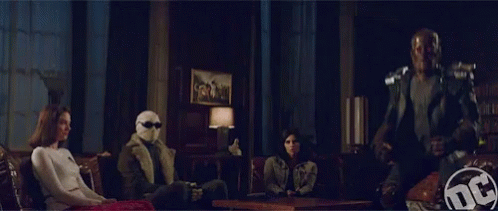 DC UNIVERSE TV.  Marvel kinda sucks the air out of the room, so less was made of the renewals for second seasons of Titans and Doom Patrol in 2020, and Young Justice season 4 is in production right now.  I still haven't seen any of the new DCTV stuff.  I'd like to, but I can't justify subscribing to yet another service right now.
HUSH.  Also, the animated version of the Batman movie is out now on demand, and is coming soon to the
DC Universe channel.  Which I don't subscribe to because, come on, I'm not made of money.  I already have HBO, Hulu, and Netflix.
STRANGE ADVENTURES.  More exciting, to me, than DC's television offerings is this: The next project for the Mister Miracle team of Tom King and Mitch Gerads will be an Adam Strange series.  It's coming in 2020.  I can't wait.  Mister Miracle is one of the best comics of the past 20 years.
AMERICAN VAMPIRE.  Another exciting bit of print news: DC's Black Label will be taking over for Vertigo in producing Scott Snyder's American Vampire book, which will return next year with both Snyder and original artist Rafael Albuquerque on board.  It will take place in the 1970s, and will move the timeline to present day.
THE BANANA SPLITS MOVIE.  Moving from the interesting to the bizarre: Warner Bros is bringing the crude characters from a series of 1960s psychedelic shorts to a (straight to video) movie. A horror movie, at that, about a kid who is trapped when killings break out during a taping of a Banana Splits show.
SANDMAN.  The classic Neil Gaiman comic book series from DC's Vertigo imprint is being developed for TV by Netflix.  Lucifer, which was a spin-off Sandman comic, has already been made into a series.  No word yet on when we'll get to see it, though, and don't get your hopes too high—it's been in development for decades already.
THE CRACK OF DOOM.  Marvel also announced the very unfortunately named "Crack of Doom" comic–a Dr. Doom series featuring him as the world's "most wanted man."