The Hulk ends the year by fighting Zabu.
Ka-Zar is featured in #109 and his story is wrapped up in #110, which is then "Hulkinued"(?) in #111-112.
Then #112 teases #113.  I think Marvel believed if you kept teasing the next issue, you'd never lose readers.  It's almost as if the creators knew the material was pretty weak, so they bled each story into the next one hoping that people would be intrigued enough to move along to the next issue. It seems Stan is allowing Marvel to start experimenting, testing the edges of the "every issue should be an entry point for new readers, each issue should tell a full story" mantra that had been the company's guiding light for several years.
The team up presents some comparisons: Both characters are known as "savage."  And Ka-Zar and Hulk both talk about themselves in the third person.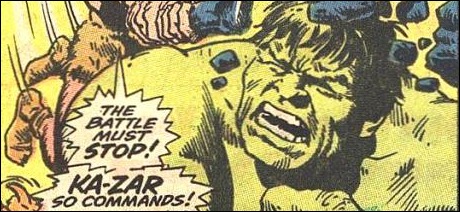 This is also when Herb Trimpe started to come into his own as an artist. He'd stay with Hulk for a very, very long time.
Oh, and just 'cause it's groovy, here's the letterpage masthead:
Creators: Stan Lee and Herb Trimpe
Grade: C+. High average quality.
For the complete history of the MU, year by year, go here.