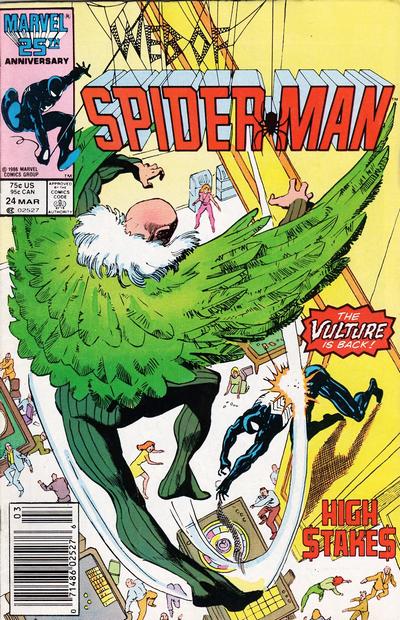 Spidey fights Vulture in Atlantic City, while accompanying Aunt May on a seniors gambling trip.
By the end, Hobgoblin gets involved because The Rose hired him–he's protecting the AC casinos and doesn't appreciate Vulture's presence.
He dresses for the occasion in a disco suit, and thinks he'll stop being Spider-Man soon because it's cramping his Peter Parker style.  Perhaps it's a prelude to this:

During the course of things, he's climbing a tall building in his John Travolta costume and someone reaches out the window and grabs his ankle—and once again his Spider-Sense fails to warn him.
Looks like another Venom Brock sighting!
These initial contacts—throwing him in front of a train or grabbing an ankle—are pretty low-key and lame for a villain as strong as Venom, but I'm assuming the symbiote is just messing around for a while and having some evil fun.
Creators: David Michelinie (plot), Len Kaminski (script), Dell Barras (pencils)
Grade: C
For the complete history of the MU, year by year, go here.
And see my Ratings of Runs on comics here.