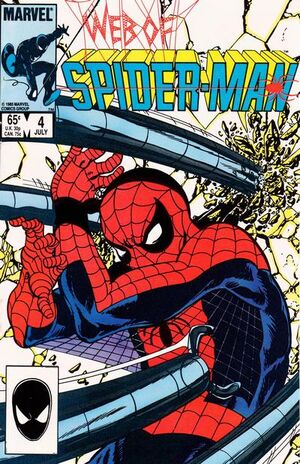 A John Byrne cover (he also does the cover for #5).
An amazing splash page.
Followed by a terrific sequence of Spider-Man punching and wisecracking, with some of Greg LaRocque's best penciling I've seen.
Yeah, this story is off to a good start.  From there, we get a solid recap of what's up in the world of Doctor Octopus since he was committed to a mental institution, and a great punchline to the fakeout on the cover.  He's not the villain!  But his arms are!  They break him out of the prison hospital so that in issue #5 he can be the main baddie.
Look how evil he is—he destroys a word processor!
The ending of this story is pretty funny.  Spider-Man beats the Doc and is about ready to destroy his arms when…
It's ridiculous to think that the instrument of a criminal enterprise would be protected by a court order, but it's a pretty funny and creative way to ensure Doc Ock can return in the future.
Creators: Danny Fingeroth and Greg LaRocque
Grade: B
For the complete history of the MU, year by year, go here.
And see my Ratings of Runs on comics here.