For all of my devoted readers (both of you), I'm sorry I've not been posting news as much as I used to.  I've hit the 1980s on my review of every Marvel book ever published, and I'm really into keeping up with that.
But there have been a few stories of late that have tickled my pickle, so let's dig in.
And please, drop me a comment if you're out there.
COMICS ON FILM and TV
BLOODSHOT.  The good news: Valiant's answer to Punisher, an unkillable, unstoppable human/nanite with ghostly white skin and blood red eyes, is probably the upstart publisher's most accessible character, so they're smart to launch their film universe with him.  The bad news: Vin Diesel stars in the title role.  I don't hate Vin, but he's completely wrong for this part.  It needs to be someone in their late 20s.
SILVER SURFER.  Brian K. (Saga, Runaways) Vaughan is supposedly writing a Norrin Radd movie.  Vaughan has never written a bad comic (he also wrote Y: The Last Man and had a solid run on X-Men).
ROM! Zak Penn, author of many successful movies like Ready Player One and X-Men: The Last Stand, is writing a screenplay.
BLACK PANTHER.  The movie is now the biggest domestic grossing superhero movie ever, and it has beaten Star Wars: The Last Jedi for biggest movie of the year.  It's also the 5th biggest ever, being beaten only by Star Wars: The Force Awakens, Avatar, Titanic and Jurassic World.   ($652.3 million) are currently ahead of the film domestically.  Internationally, it's the third biggest supermovie, behind both Avengers movies.  We'll see how it does against this summer's Infinity War outing.
THE KITCHEN.  Vertigo's limited series about mob wives taking over the family business when their husbands are imprisoned was a really great story by  Ollie Masters and Ming Doyle.  It's being adapted for film by New Line Cinema, and will star Melissa McCarthy and Tiffany Haddish.  The book wasn't a comedy—I'm hoping they're not turning it into one.  With writer director Andrea "Straight OuttaCompton" Berloff also attached, I'm thinking it will retain its tough, dramatic elements.

BLACK HOLE.  Charles Burns' Eisner and Harvey Award winning horror-adjacent maxi-series about an STD that causes monstrous mutation is going to be adapted for screen (written and directed) by Rick "Dope" Famuyiwa.  The project has a long history of getting into and then out of development, so don't hold your breath.  And remember, Famuyiwa last big job was quitting The Flash movie during production.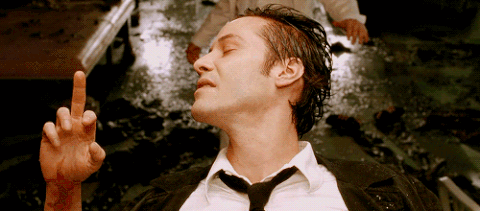 CONSTANTINE.  His live-action show was cancelled, but Warner Bros. is bringing him back in a cartoon that will continue the storyline from the NBC series. The cartoon will exist in WB "Arrowverse" continuity, and will be written by veteran J.M. DeMatteis.
ROB LIEFELD'S EXTREME UNIVERSE.  Most of Liefeld's Image Comics line was bought by Netflix for over a million dollars, and Akiva Goldsman will helm multiple, interwoven adaptations.  It looks like some characters were excluded, presumably because they're his most popular ones and he thinks he can get more money for them, such as Youngblood, Glory and Supreme.
CURSED.  Netflix sure likes comics.  They've also bought Frank Miller and Tom Wheeler's YA OGN, titled Cursed, for a miniseries.  And the comic, which will be a new version of the tales of King Arthur, isn't even out yet!
NO DEADPOOL. Donald Glover's FXX cartoon is being shelved, even after a lot of work went into it.  It looks like Glover and Marvel's corporate bosses had creative conflicts. 
ALSO NO LOCKE AND KEY.  At least for now.  Hulu passed on the pilot, but showrunner Charlton Cuse is hoping for a home at Amazon or Netflix.  Too bad.  The comic seems perfect for television.
THE FIFTH BEATLE.  Vivek J. Tiwary, Andrew C. Robinson and Kyle Baker's Dark Horse Graphic Biography of Brian Epstein, the closeted Fab Four producer, was a shining example of how great comics can be at telling a complex story.  It's now been optioned by Bravo Media for TV.  Tiwary will write and produce.
COMICS ON COMICS
THE STATE OF MARVEL.  Much of the interesting news comes from DC, as Marvel's books are simply not at the level of quality they used to be.  I was excited about Mark Waid doing Avengers, but so far the results have been middling and the current big "event" is a crashing bore—an obvious attempt to do a Bendis or Hickman story, but it's not
working.  To be fair, I'm still reading a lot more of Marvel than DC, but much of it is out of loyalty and history (Avengers, Punisher) or curiosity (Old Man Hawkeye, Damnation Ghost Rider), while others are a combination of loyalty and the fact that they're just pretty good but nowhere near as good as they need to be (Old Man Logan, Moon Knight, Daredevil, Iron Fist).  There are still some high quality books (Black Panther, Thor and Marvel Two-in-One (a very, very pleasant surprise!), and the Infinity stuff (also surprisingly good)) but several of their best ones are ending or facing imminent creative shake-ups that will almost certainly lead to declines (Captain America, Thanos, Jessica Jones and Iron Man).  Again, trying to be fair: The only DC books I'm reading regularly are Batman, Mister Miracle, and the Young Animal stuff.  I keep trying to get into the rest of it, but I'm just not there with them.  Still, DC's forward-looking plans are pretty exciting—see some of them in the stories below
DC BLACK LABEL.  DC has announced a new imprint where all-star creators can play with DC's toy box without having to worry about continuity, and they've signed up some impressive project.  Here's what we'll get:
Superman Year One by Frank Miller and John Romita Jr., coming in August.
Scott Snyder and Greg Capullo will offer Batman: Last Knight on Earth (described as a futuristic and Frank Milleresque take on their shattering, lengthy run on Batman)
Kelly Sue DeConnick and Phil Jimenez telling the history of Amazonia.
Batman: Damned, a graphic novel by Brian Azzarello and Lee Bermejo, which teams Batman and Constantine against the killer of Joker.
Out-of-continuity titles have never been big hits—so this may end up being a big gamble for DC.  On the other hand, it's consistent with their launch of the Young Animal line, Warren Ellis' treatment of the Justice League in his Wild Storm universe, and bringing Brian Michael Bendis' Jinxworld aboard.  And the concepts look damn awesome.
PLASTIC MAN.  Gail Simone is returning to DC for a six-issue series with artist Adriana Melo.  Simone has racked up enough big wins that her work is buy-on-sight for me.
VERTIGO.  DC's also shaking things up over at Vertigo, promising a reboot of House of Whispers and a new Sandman Universe ,with Neil Gaiman a full participant.
MAD #1.  They're also rebooting MAD Magazine, which honestly seems risky.
DC ZOOM.  This will be a line of DC books aimed at tweens and obviously will not be in continuity.  We'll see books about most of the main DC roster.
DC INK.  This one looks very cool—original graphic novels loosely based on periods of DC continuity.  Indie darling Mariko Tamaki and artist Steve Pugh will do a Harley Quin and Poison Ivy book about about them living in Gotham.  This may be the first Harley book I'll actually read.  We'll also see Lauren Myrac on a Catwoman book and Danielle
Paige on Mera.  These books are geared towards teens and, it looks like, specifically teen girls.  Smart.  They're the ones who are reading these days.
JUSTICE LEAGUE.  I have been less-than-impressed with DC's "Metal" event—as well as its merger with the Watchmen universe in Doomsday Clock—but some of the JLA announcements might prove worth reading.  We're looking at a complete, linewide reset that basically copies what Marvel did (successfully) when it created a whole surge of Avengers teams.  We'll see a "No Justice" miniseries by multiple creators, that will lead into new teams.
The main team, by Scott Snyder, Jim Cheung, and Jorge Jimenez, which will have pretty much everyone you'd expect (Martian Manhunter, Batman, Wonder Woman, Aquaman, Superman, Hawkgirl, Green Lantern (John Stewart)) and will operate from an updated Hall of Justice (yes, from The Superfriends cartoon) that will network all of these teams together and, presumably, allow for a lot of crossing over.
Then we'll have Justice League Dark by James Tynion and artists Alvaro Lopez, Raul Fernandez, and Brad Anderson, starring Detective Chimp, Zatanna, Man-Bat, Swamp Thing, and others, led by Wonder Woman, and also featuring The Demon, Zattanna and Dr. Fate.
Josh Williamson and Stjepan Sejic will offer the space-faring Justice League Odyssey, with Cyborg, Azrael, Jesssica Cruz, Starfire and Darkseid.
All this coupled with two new Titans books.  First, Titans by Dan Abnett (Nightwing, Raven, Beast Boy, Steel, Ms. Martian, and possibly Harley Quinn)
And then Teen Titans by Adam Glass, with Robin, Kid Flash, Red Arrow and Crush (Lobo's daughter).
All this might be good—but experience shows that when expansion grows organically, it can build fanbase—when you throw too much at the fan at once, it can just splatter off in every direction.  Frankly, that's what I'm expecting here.