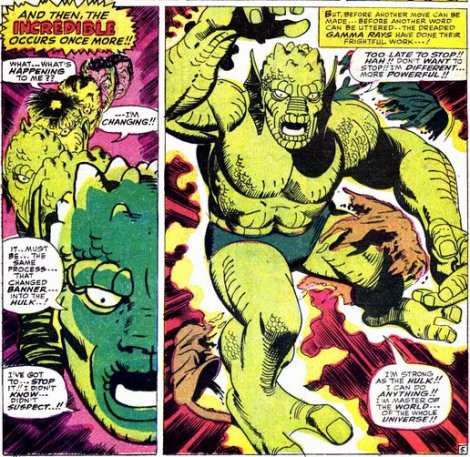 I really want to like these early Hulk stories.  Really.  But Marvel makes it so hard!  At least TtA #90-91 are drawn by a legend—albeit one early in his career.  By the same token, though, many legends have produced some of their worst work on Hulk.  (I'm looking at you, Steve Ditko!)  But besides being drawn by Gil Kane, issue #90 offers the first real arch-enemy for Hulk: The Abomination.  So this should be good, right?
Sadly, it isn't.
Kane's art is some of the worst I've seen him do, appearing rushed and making the brand-new behemoth appear cartoonish.
And then we turn to the Sub-Mariner half of the book, and it's not much better.  Everett, who created Prince Namor way back in the Golden Age, has a style that's outdated and out-of-place.  It's mostly poses that look like still photos, rather than the kind of dynamic art that started in the 1960s to give comics a sense of movement.
Storywise, it's all Atlantis politics.  Ho-hum.
Creators: Stan Lee, Gil Kane (Hulk); Lee, Bill Everett (Namor)
First appearance: The Abomination
Grade: C, bumped up from a D because of Abomination (Hulk); D (Namor).
For the complete history of the MU, year by year, go here.