Haven't reported in a while, so there's some cool stuff to talk about.  Let's do it.
DC's CW SHOWS.  CW's plans are fabulous, even if the network recently announced that they aren't adding any more supershows to their lineup: Flash will host more Gorilla Grodd, and a trip to Grodd's Gorilla City.  Supergirl will feature Superman.  Arrow will feature Ragman.  Flash and Supergirl will cross over for a musical(!).  All three will crossover in what looks like a Flashpoint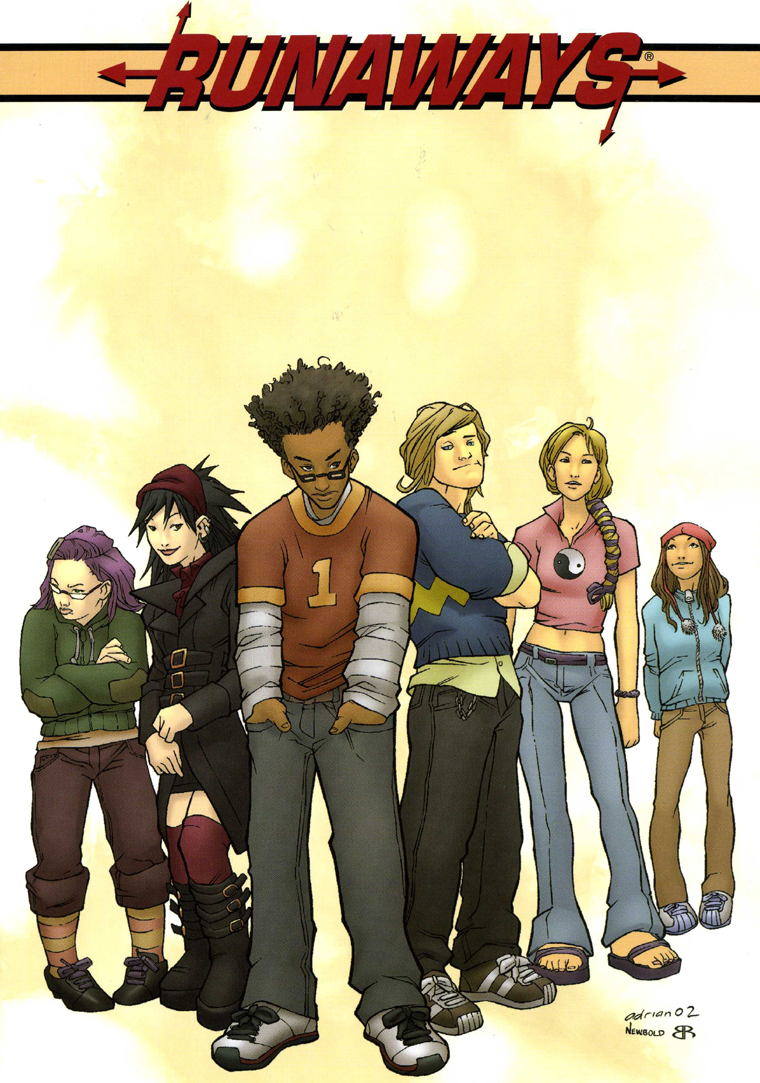 event.  In addition, Greg Berlanti (producer of the CW shows) is not developing a TV show for Black Lightning, which will focus on a retired version of the African American hero, and his daughter.  Apparently, though, they're shopping it outside of the CW.
NEW MARVEL T.V. SHOWS.  Runaways will be adapted for a Hulu series, which sucks because it's one of the best Marvel Comics ever and deserves a well-funded series on a network where people will actually see it.  A New Warriors series in in development as a half-hour comedy series for cable, and will feature Squirrel Girl.  This might not suck, but it probably will.  Cloak and Dagger is going to a YA-focused Disney cable netlet. With all this stuff out there, I'm hoping Marvel doesn't feel compelled to make it all one big shared universe, which works in comics but with all these content providers it would seem to me that continuity could become more important than content.
POWER MAN AND IRON FIST: HARLEM WAR.  If you're not reading David F. Walker and  Sanford Greene's reboot of the best "buddy" comic in all superhero history, you're an idiot.  Really.  But this is a good time to redeem yourself, because a new arc starts with #10 (and, really, Walker's scripts are not continuity-laden so any issue is a fine place to jump in), and the new arc sounds awesome: The duo will continue their streets-based adventures (PM&IF is one of the few Marvel comics that has normal people in it, and actually deals with street-level crime) by combining actual crimelords from Harlem's history (Bumpy Johnson, Stephanie "Queenie" St. Claire) with Marvel's
darkest mobsters: Tombstone, Piranha Jones, Cottonmouth, Black Mariah, and the new leader of the MU Underworld, Black Cat. 
NIGHTHAWK IS CANCELED.  The solo Marvel book, only with more violence, had a great creative team: David F. "Power Man and Iron Fist" Walker and indie superstar Ramon Villalobos.  But I have to say, the book itself just wasn't holding together.  It seemed like it couldn't decide whether it was Punisher or Batman, and ended up being neither.
BOOSTER GOLD IS ALONE.  The Booster Gold movie currently in development will be a standalone film and won't be part of DC's interconnected universe.  Seems like a good idea, given the the DC movie U is very disappointing.  Perhaps Greg Berlanti, the director of BG, will be able to recreate the warmth and heart from his DCTV projects like Flash and Supergirl, which are way better than any of the recent DC movies.
HARD CASE CRIME.  The publisher of books by the likes of Stephen King and Harlan Ellison announced plans to begin a line of crime comic books, in partnership with Titan Comics.  A few
creators associated with the coming books include filmmaker Walter Hill and novelist and comic book writer Gary Phillips.

MARVEL'S MONSTERS UNLEASHED.  Beating Universal Studios' plan to release a series of "classic monster" movies (Frankenstein, Mummy, Dracula) that share a connected universe, Marvel has attached some big name talent (like Adam Kubert, Salvador Larocca, Leinil Yu,Greg Land, Cullen Bunn, and Steve McNiven) to their own monster universe under the banner of "Monsters Unleashed," a series to launch early next year.
BLOODSHOT.  Are you reading Valiant's Bloodshot comic?  Because you should be.  First of all, Valiant is wisely launching a "reborn" title wave, to poke at DC, and in Bloodshot Island (the current story arc by Jeff Lemire), they've got Bloodshots from multiple eras in history all coming together, much like both DC and Marvel have been doing of late.  And then, in the tradition of Marvel's "Spider Island" event (where everyone in Manhattan got bit by radioactive spiders),
everyone in the USA will soon be infected by the nanites that give Bloodshot his powers.  I know it's hard to keep up with a publisher like Valiant which, unlike Image, Dark Horse, etc., has multiple titles all in a shared universe, but Bloodshot is fairly self contained and the premise—a supersoldier dude who kills people—is fairly easy to jump into.
USAVENGERS.  Marvel has tried this kind of thing before, but the new comic "USAvengers" will feature a different character for each of the 50 United States, and, of course, each one gets its own variant cover.  Guys, you who collect variants brought this on yourselves.  I have no pity for you.
KLAUS.  Grant Morrison's awesome book about the origin of Santa Claus will return (in December, naturally), with a new story about Santa in space.