The year is over, so the numbers can speak for themselves: Marvel is the best comic book company, and Saga (which is from Image comics) is the best comic book of the year, at least in terms of sales of repackaged bound volumes. 
Diamond Distributors, who basically have a monopoly on shipping physical comics and graphic novels to specialty stores, reported a modest increase in sales overall (7% over volume sales in 2015), and published its end-of-year body count.  And boy is Marvel happy.  They crushed DC this year—owning 39% of the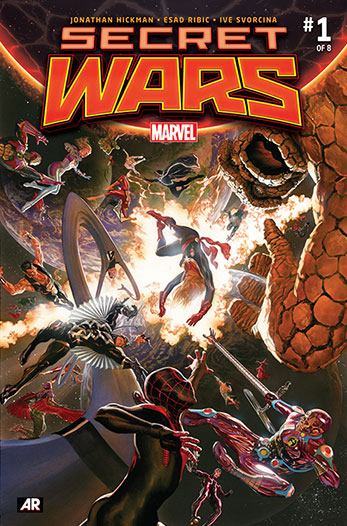 retail market vs. DC's 26%, and in terms of single-issues sold, owning 70% of the top 10 books sold vs. DC's paltry 10%.  Much of that was due to a little-known property that reverted to Marvel via Disney, as you can see in the top 10:
1.  Star Wars #1 (Marvel)
2.  Secret Wars #1 (Marvel)
3.  Bravest Warriors: Tales from Holo John (Boom!)
4.  Orphan Black #1 (IDW)
5.  Dark Knight III #1 (DC)
6.  Star Wars: Vader Down #1 (Marvel)
7.  Darth Vader #1 (Marvel)
8.  Spider-Gwen #1 (Marvel)
9.  Invincible Iron Man #1 (Marvel)
10.  Princess Leia #1 (Marvel)
Before IDW and Boom! start crowing, keep in mind that their comics in the top 10 were included in Lootcrates, so it wasn't an example of people seeking out the books and buying
them. 
It is cool that a new book about a new hero, Spider-Gwen, rated so high, but a little distressing that every single issue was a #1.  Doesn't anyone read #2 any more?  Also a little alarming that only two of the books were original comics without at least some kind of tie-in to movie properties.  It seems comic fans reward unoriginality. 
Or do they?
On the graphic novel front, the news is quite different:
1.  Saga Vol. 4 (Image)
2.  Saga Vol. 1 (Image)
3.  Saga Vol. 5 (Image)
4.  Civil War (Marvel)
5.  The Walking Dead Vol. 23 (Image)
6.  Batman: The Killing Joke (DC)
7.  Saga Vol. 4 (Image)
8. The Walking Dead Vol. 1 (Image)
9.  Saga Vol. 3 (Image)
10.  Star Wars Vol. 1 (Marvel)
Wow.  70% of these are Image, and half of them are Saga—a book with zero tie-ins to movies or television.  And two of the three Big Two entries were reissues of stuff written over a decade ago.  Quite a different story there.