ARMY OF ONE: MARVEL'S A-N, A-D SOLO BOOKS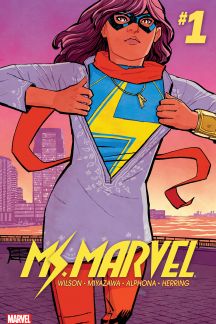 So where we are so far is this: The Avengers lineup does seem to be pretty new and different, but it's not better. Spider-Man and related books, Captain America, Iron Man and Asgard books are all about the same. Not all-new, not very different. And neither much improved nor much damaged, but overall slightly better off. This means Marvel's AN,AD lineup is already a better reboot than DC's New 52.
Now we turn to its solo stories. Group books like The Avengers have taken the limelight over the past decade, but Marvel's roots have always been "one hero" books, and the All-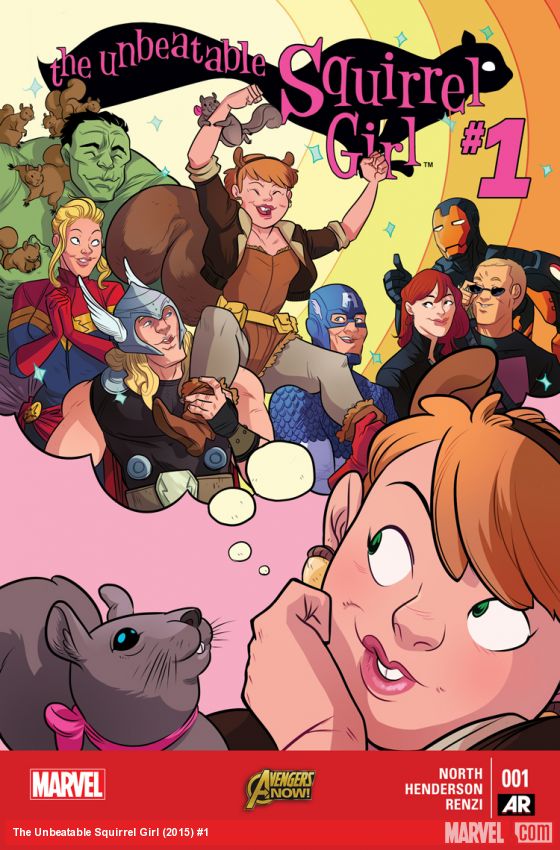 New, All-Different lineup has some interesting changes.
First, what's the same: The jewel in Marvel's crown, Ms. Marvel, will return with the team of G. Willow Wilson and Takeshi Miyazawa—so we can all breathe a sigh of relief. Other books that are returning with identical creative teams: Howard the Duck, Unbeatable Squirrel Girl, Hawkeye, and Ant-Man. The animal books! So this is good news if you liked those books, bad if you didn't. Personally, I only dig Ant-Man, and I've found it's post-Secret Wars books to be…Less fulfilling. But I'm willing to give it time, and let the impact of the event fade away.
The biggest change is the multiple-Eisner winning team of Mark Waid and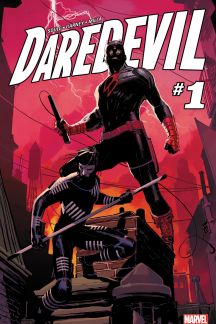 Chris Samnee leaving Daredevil, and Charles Soule and Ron Garney taking over. The new book is very different, and we're still early in the run, but so far, so good. Not as good as Waid/Samnee, but really that kind of magic rarely happens. I'm happy and comfortable with the changes.
I'm not as happy that Cullen Bunn and Declan Shalvey are leaving Moon Knight in the hands of Jeff Lemire and Greg Smallwood. Other than Green Arrow, I've never read a big two Lemire book that I liked (but I love his indie stuff). Smallwood will be fine, but I don't know if I'll be sticking with Moon Knight. Which is sad, because I've read every issue to date.
Hulk looked like he'd be better off because he lost Gerry Duggan, the worst writer in Marvel's stable, but the new Totally Awesome Hulk by Greg Pak and Frank Cho isn't even close to being interesting. That's sad, but no loss: A bad Hulk book is replaced by a bad Hulk book.
There are two more potentially sad changes, as Nathan Edmondson and Mitch Gerads have ended their Punisher run and Edmondson and Phil Noto ended their Black Widow story. Both books were phenomenally good. I don't know what Edmondson will be doing next, if anything, for Marvel, but I'll
follow him. The potentially good news is that Frank Castle's stories will now be told by Becky Cloonan and Steve Dillon, and Widow will inherit the afore-mentioned super-team of Waid/Samnee. I'm looking forward to both books, and I think we'll be fine. Phew.
So far, I'm really only bothered by the changes in Moon Knight—the rest seem to be proceeding as before.
But the big change is in the cancellations and new projects. Iron Fist is gone, despite being the subject of a Netflix show. Deathlok is dead. And look what's coming instead:
Solo books for Hyperion and Nighthawk, both of the Squadron Supreme
A Starbrand and Nightmask team-up book
Mockingbird by Chelsea Cain and Kate Niemczyk
Moon Girl and Devil Dinosaur by Amy Reeder and Brandon Montclare, and Natacha Bustos
Red Wolf by Edmonson and Dalibor Talajić
Black Knight by Frank Tieri and Luca Pizzari
Doctor Strange by Jason Aaron and Chris Bachalo
Hercules by Dan Abnett and Luke Ross
Lots of stuff, and most of it is not for me. I don't understand why Marvel is doubling down on its DC satire group, Squadron Supreme; Red Wolf is terrible, despite what I just said earlier about following Edmondson anywhere; Black Knight is boring …I like Jason Aaron but Bachalo's art on Dr. Strange is just awful. I don't understand why people like him. And I was totally looking forward to Hercules but it seems I don't like my Abnett without some Lanning thrown in—sadly, the writing duo are no longer working together.
So what am I looking forward to?
Patsy Walker A.K.A. Hellcat by indie darling Kate Leth and Brittney Williams
Power Man and Iron Fist by David Walker and Sanford Greene
Black Panther by Ta-Nehisi Coates and Brian Stelfreeze
Blade by Tim Seeley and Logan Faerber
That's a lot of good stuff to look forward to, particularly Blade by Tim "Revival" Seeley and I'm very curious to see what Coates comes up with. I've read his work, and I don't see how he gets to comics, but I'm hoping for something very fresh and new.
Pull list: Pretty good here. Blade, Black Panther, Power Man and Iron Fist, Hellcat, Punisher, Widow, and, of course, Daredevil and Ms. Marvel. And who am I kidding, I'll be reading Moon Knight at least at first. So my list is different from before the reboot only because there's lots of new stuff to choose from—not because I'm going to start reading something I didn't read before.
I'll call this a win overall.
NEXT: Marvel's Merry Mutants.