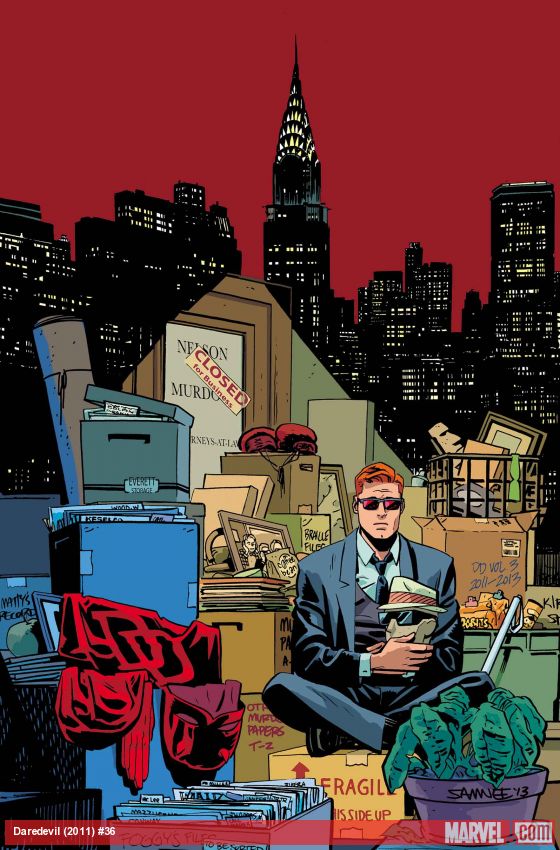 I know I haven't been writing nearly as many columns about comics these days.  Too busy.  But there's always time to recognize greatness.  As they always do, the Baltimore Comic Con folks held the annual Harvey Awards recently.  These awards are one of the two big awards given by the comic industry, and their picks generate all kinds of sales and attention.  So how did they do this year?
 Well, not surprisingly, they gave the most love to Image and the least to DC.  DC is doing almost nothing worth noting anymore, so so far the Harveys are spot on.  Here's the
major categories and winners:
Best Writer.  Mark Waid, for Marvel's Daredevil, beat some stiff competition: Jason Aaron (Southern Bastards), Jen Van Meter (The Death-Defying Doctor Mirage), Brian K. Vaughan (Saga), and G. Willow Wilson (Ms. Marvel).  Waid's DD work has done a slight spin-down in quality, but it's still easily better than all but two of the other nominees.  But Saga wins all the awards every year and Wilson is everyone's new favorite, so it made sense to give it to a veteran who is stepping down from the title.  Plus, Waid gave Daredevil something it hasn't had in over 30 years: Optimism.  It takes a lot
to successfully rebrand a character, and he did this while the cynical version was making headlines on TV.  Hats off, Mr. Waid.  You will be missed.
Best Artist.  Waid's partner on Daredevil, Chris Samnee, was unable to take the crown from Fiona Staples, who won for Image's Saga.  See what I mean about it winning all the awards?  Valiant had two nominees in this category: Clayton Crain (Rai) and Roberto de la Torre (The Death-Defying Doctor Mirage).  I don't read a lot of Valiant books, but I'm always impressed when I do.  Jillian Tamaki also got a nomination for one of the best original graphic
novels of 2014: This One Summer.  In all, I probably would have gone with Staples as well—she's just so radically different and imaginative, but Samnee would have been very close.
Best Cartoonist.  The great Terry Moore won for Rachel Rising.  Can someone please explain to me the difference between a cartoonist and a comic book artist?  All the other nominees do comic book.  I've never understood this distinction.
Best Inker.  Danny Miki for Batman (DC).  I mention this mostly because it's a rare DC
win (and Miki's work is good), but also because inkers really can make or break comic art.  Valiant got two nominations again in this category—and Image got none. 
Best Colorist.  Dave Stewart, Hellboy In Hell (Dark Horse).  Another guy who wins all the time.  But in this category, the competition was tough.  Elizabeth Breitweiser does incredible noir work on Velvet (Image), and Jordie Bellaire's work on Moon Knight (Marvel) was damn good, too—and it's hard to color a dude who is all white.  The coloring by Matthew Wilson on The
Wicked + The Divine (Image) is fine, but that book just got too dense for me, and I'm not familiar with the final nominee, Laura Martin, Armor Hunters (Valiant).  So, I'll say they got this one right.
Best Cover Artist.  Fiona Staples' Saga again beats Samnee's Daredevil, but his covers have been so cool I would have given him the edge.  But I might have picked Francesco Francavilla's covers on Afterlife With Archie over both of them.  I loved his work last year.  The other nominees were fine, but didn't deserve the win: Mike Del
Mundo (Elektra) and Jenny Frison (Revival).  I think Harvey got this one wrong, but not by much.
Best New Series.  I love the winner, Southern Bastards (Image), but I would have given this to Bitch Planet (Image) because it's so different from other books on the market.  As for the others, I don't see how Ms. Marvel (Marvel) and Lumberjanes (BOOM!) are still considered "new," and The Wicked + The Divine (Image) went off the rails after its first arc.
Best Continuing or Limited Series, aka, best "old" series.  Here we found Saga winning again, beating After Life With Archie, Daredevil, The Valiant, and … Southern Bastards?  How can this be nominated in both the "new" and "continuing" categories.  I don't know.  But I support the Saga vote.
Best Original Graphic Album.  I haven't read the winner (Jim Henson's The Musical Monsters Of Turkey Hollow (Archaia/BOOM!), or one of the runner ups (Athena Voltaire Compendium (Dark Horse/Seconds), and I didn't care for The Wrenchies (First Second).  But I have to disagree with Harvey here.  This One Summer (First Second) was simply amazing—one of the best autobiographical comics I have ever read.  It should have won.
Well, those are all the awards I care about.  Not much "big two" love this year, and lots of awards to Image and other smaller companies.  In all, though, a good show.