THE ALL-NEW AND IMPROVED BERKELEY PLACE TOP 25 DAREDEVIL STORIES
25.  Daredevil #42-46: The Jester (1968).  Previously: N/A; CBSBG: 50.
The first appearance of The Jester, Daredevil's version of Joker, in a story by Stan Lee and Gene Colan.  I feel like Colan's work should be recognized on this list—because it was great—and this story also has DD fighting Captain America.  So that's cool.
24.  Daredevil #7: In Mortal Combat With…Sub-Mariner (1965).  Previously: N/A; CBSBG: 12
Just as Colan needed representation, so did Wally Wood.  This story by Stan Lee has Daredevil fighting Sub Mariner.  Yes, Namor.  A super-powerful dude.  But really, it's about Matt Murdock's lawyering skills as he takes a case of Namor suing humans for their damages to Atlantis.  Classic.
And check out that Wally Wood pin-up….
23.  Daredevil #146: Duel.  Previously: #17, CBSBG: 42. 
When I was a kid, I put Gil Kane's terrific cover of this issue on my wall. The story—Bullseye vs. DD in a TV studio—is a little dated. It's written by Jim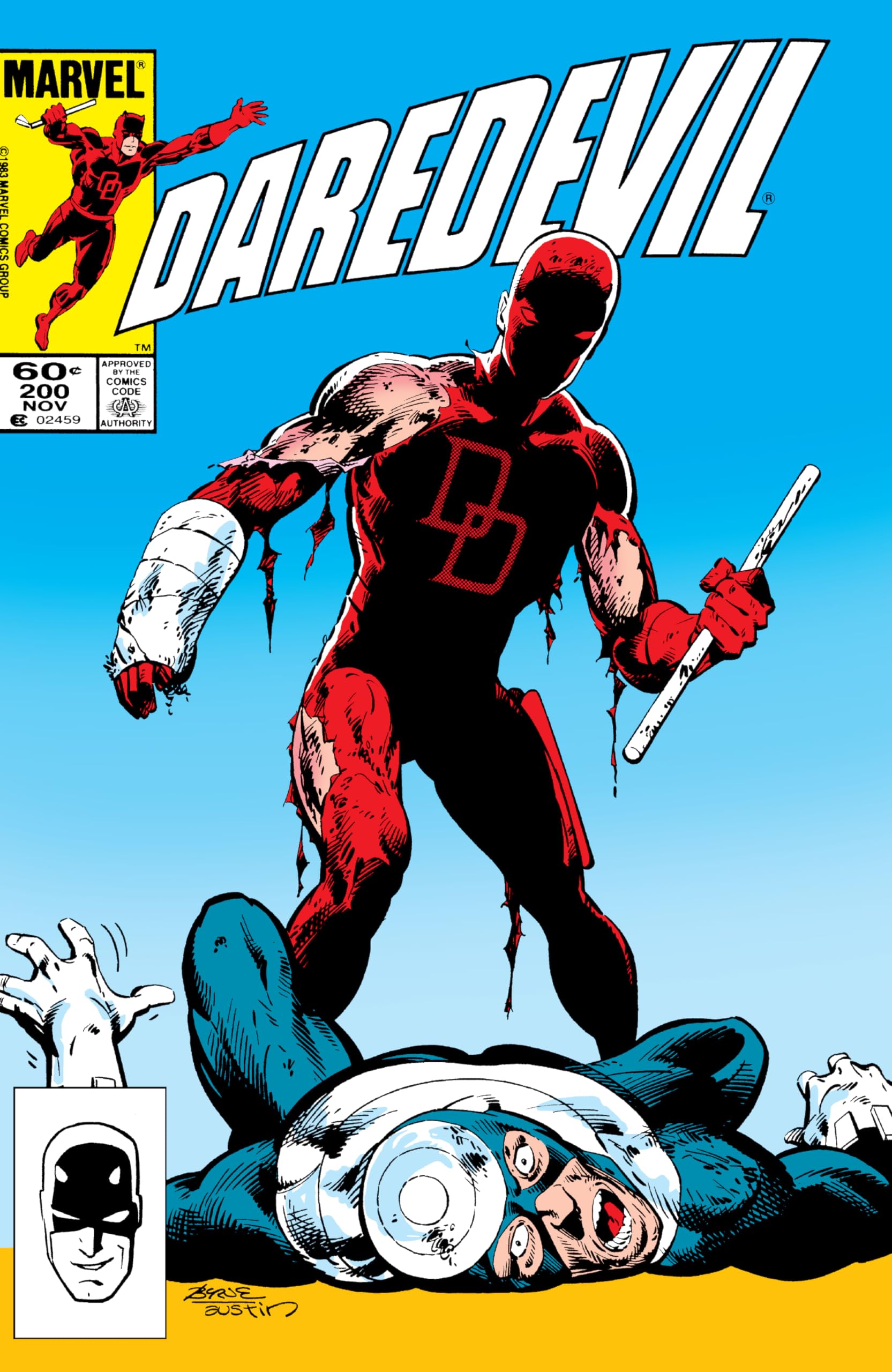 Shooter, after all. But it's drawn by Gil Kane with Klaus Janson, so the art is terrific. It's also got a behind-the-scenes big bad, The Purple Man, who proves to be a recurring problem for DD and DD's side characters. (For the best use of Purple Man, see Brian Michael Bendis' "Alias" series.) 
22.  Redemption (Daredevil #200) 1983. Previously: #16.  CBSBG: N/A.  The issues leading up to this, #196-199, have Daredevil going to Japan to try to figure out where Bullseye is being holed up and healed up. They're good, but not great. But in #200, with a fantastic John Byrne/Terry Austin cover, a script by Marvel editor Denny O'Neil, DD and Bullseye meet in the same ring that Battlin' Jack fought in when Matt was a kid and, with a broken hand, Daredevil beats the living crap out of his greatest adversary. The William Johnson period isn't a great one artistically, but this story has merit as a chapter in the Bullseye/DD legend, and also for its use of Matt's personal history.
21.  Daredevil #163-164: Blind Alley/Expose (1980).  Previously: 12.  CBSBG: 49.
I'll be honest, this isn't really a two-part story.  But when I saw that CBSBG readers chose #164 and left off #163, which was #12 on my prior list, I was stunned.  Then I read why and remembered how good Roger McKenzie's run could be.  In issue #163, Daredevil defeats the Hulk.  Yeah, that's right.  And later, Ann Nocenti would have him defeat Ultron using only a stick.  DD's a badass.  In #164, Daredevil is laid up in a full body cast after his fight with the green giant, and we see through a series of news headlines and conversations of superhero well-wishers, what happened to him.  It's also when Ben Urich figures out Murdock is Daredevil.  Lots going on, along with early art by Frank Miller and Klaus Janson, in a story that planted the seeds for the Urich/DD friendship that would characterize Miller's run, which started a few months later.
20.  Daredevil #41-45: Lowlife (2003).  Previously: 10; CBSBG: 32.
The Owl selling mutant growth hormone.  Bendis writes Luke Cage for the first time.  And Stilt-Man.  But the best part is the introduction of Milla
Donavan. She's smart, sexy, blind, and Matt's future wife. A great little story that relates heavily to the surrounding arcs, but still can be read on its own. 
19.  Daredevil: The Man Without Fear.  Prevously: 18.  CBSBG: 3.
I obviously don't love this miniseries as much as many do, but Miller and John Romita, Jr.'s retelling (with much detail added) of Daredevil's origin is really good—and serves as the basis for a lot of the flashbacks in the Netflix series.
18.  Daredevil #1: The Origin of Daredevil (1964).  Previously: N/A.  CBSBG: 26
I can't believe I left this one off my original list!  It's the first one ever!  Stan Lee's scripts are often dated, so you have to excuse that, but his ideas and the way he could steer a story are still crisp.  In fact, more comics today could use the Stan Lee style: His love and excitement for the medium explode out of every page.  And Bill Everett (with Steve Ditko) wasn't too shabby either.  It's too bad he couldn't stay on the book longer (although it's hard to complain since we ended up getting some work from Wally Wood).
17.  Daredevil: End of Days #1-8 (2013).  Previously: N/A.  CBSBG: 16
A much maligned miniseries by Brian Michael Bendis and David Mack, with art by Mack, Klaus Janson and Bill Sienkiewicz.  People hated this book, and I don't understand why.  Other than Frank Miller (and arguably Ann Nocenti), just about every important Daredevil creator since 1980 was involved in this future murder mystery investigating who killed Daredevil.  Yeah, it borrows heavily from Citizen Kane—but who cares?  Plus, the depiction of Punisher in this comic was terrific.
16.  Daredevil #266: Beer with the Devil (1990).  Previously: N/A.  CBSBG: 39
I know what you're thinking: You left Ann Nocenti off your first list, and now she's on twice?  (You'll see when you read on, and I'm sure you can guess which story is on the list.)  Well, I hadn't read it when I did my first list and it was truly ahead of its time.  I flirted with including issue #276, where Daredevil fights alone against Ultron, because it was just so awesome (and the rare example of an event tie-in that actually worked), but went with this story instead.  It's a simple coversation–Matt Murdock having a drink in a bar with a mystery lady on Christmas Eve.  It's also a good pallette cleanser between extremely heavy and emotional issues in Nocenti's run.
15.  Daredevil Vol.2 #76-81: The Murdock Papers (2005).  Prevously: 18.  CBSBG: 14.
The conclusion to the second-most heralded Daredevil run of all time, Brian Michael Bendis and Alex Maleev, exemplifies everything that made the run great.  Kingpin seeks immunity from prosecution by offering up Daredevil's secret identity to the FBI.  There are shades of "Gotham Central" here, as we see how the lives of law enforcement are made more complicated by the presence of a costumed vigilante who is far more competent than they could ever be.  Plus, we get to see a threesome between Matt, Elektra, and Black Widow.  Okay, not really.  But there is clear sexual tension.
14.  Daredevil #169: Devils (1980).  Previously: 7.  CBSBG: 39. 
Not only does Frank Miller make fun of one of the most obnoxious talking heads of his day by renaming Tom Snyder "Tom Snyde," but this issue manages to show the lighter side of a terrifying, hallucinating, homicidal maniac. In this issue, Bullseye goes on a killing spree when he thinks that everyone he sees is Daredevil. This issue marks the first (of many) times that the reader has to ask: Why is Bullseye still alive, let alone out of prison? Bullseye is to Daredevil what Spike is to Buffy: A perpetual pain in the ass who just can't seem to disappear.
13.  Marvel Graphic Novel #24: Daredevil: Love and War (1982).  Previously: 9.  CBSBG: 28
While this is certainly not Frank Miller's most "important" Daredevil work, it may be his most innovative (unless you include the Elektra work he did as "Daredevil" work).  He and master illustrator Bill Sienkiewicz tell the story of Vanessa and Wilson Fisk's estrangement.  The story is in continuity, but a character study of Kingpin isn't something vitally necessary to understanding Marvel canon.  If you're getting this, it's because you appreciate it as a standalone work of art by two of the best comic-book creators of the 1980s.
12.  Daredevil #208: The Deadliest Night of My Life! (1983).  Previously: #8; CBSBG: 47.
I can't remember how many times I've written aobut this book, written by Harlan Ellison and Arthur Byron Cover with pencils by David Mazzucchelli, but it's not enough.  It still doesn't exist in a full-color reprint collection.  The entire issue is Daredevil working his way through a booby-trapped house.  It's like if Rube Goldberg wrote DD.  Issue #209 followed up on the story, but it's not essential.  Track this issue down at your local comic shop.  Trust me, it's well worth it.
11.  Daredevil #116-500: The Return of the King (2009).  Previously: 15; CBSGB: 25.
The final arc in the Ed Brubaker/David Aja run, a worthy successor to Brian Michael Bendis, brings back Kingpin and sets up Daredevil as as the leader of The Hand. The reason this is one of the greatest stories ever is the introduction of Master Izo, an immortal ninja who was Stick's sensei—making him sort of like DD's grandpaw. Izo's character is hilarious and scary, and this tale recalls Brubaker/Aja's amazing work on the Iron Fist title.  I'm sure Izo won't appear in the Netflix series, but you can imagine how awesome that would be?
Unfortunately, this comic is an example of the law of unintended consequences: After Brubaker came Andy Diggle's run, and the abysmally bad Shadowlands.
Hit next for the top 10!