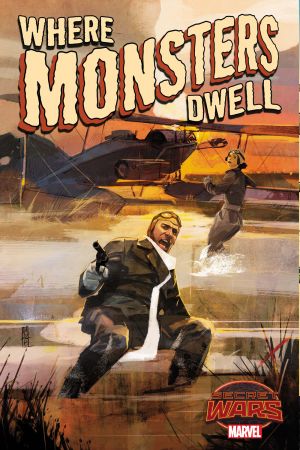 So I haven't done a news post in a bunch of weeks now and lots of little items have stacked up.  Many are probably old news to you, but in case they aren't—or in case you want to know what I think about them—here's a news post just on Marvel.  Tomorrow, I'll finish gathering up DC and everyone else and do another news post on those things.
WEIRDWORLD.  Marvel has released the teaser image (above) for Jason Aaron and Michael Del Mundo's revival of the old (way, way, very old) Marvel comic about swords and sandals and is that…Arkon on the cover?
SECRET WARS: THE INFINITY GAUNTLET.  So, I'm torn.  The Secret Wars tie-in comic will be a tribute to one of the best Jim Starlin works of all time, and a great chapter in the life of Thanos—who I love.  And it's drawn by Dustin Weaver, whose work on Jonathan Hickman's SHIELD miniseries was revelatory.  He's probably the best artist working in comics today (or at least he's up there with Declan Shalvey and Sean Phillips).  But it's written by Gerry Duggan who has never written a single comic book I've liked.
BUT WHAT ABOUT THE INFINITY GAUNTLET MOVIE?  The two-part threequel to Avengers won't be directed by Joss Whedon.  He'd pretty much already said so, and everyone assumed that the Russo Brothers, who directed the second-biggest superhero movie of all time (Captain America: The Winter Soldier) would inherit the mantle.  They will—they're signed to direct Avengers: Infinity War films, slated for release in 2018 and 2019 (why are you making us wait a year!?!).  It's also not clear whether the main stars will be returning for those movies.  Robert Downey Jr. has said he came back for Captain America: Civil War, which comes out in 2016–to work with Chris Evans again, but Evans has also said he's done being Captain America.  So Civil War may be the last one with the current gang, and Marvel will have to decide whether to re-cast the actors or replace the characters.  Bucky Cap?  Rhodey Iron Man?  Girl Thor?  She-Hulk?  I'm in for all that.
THE AVENGERS ARE COMING…TO TV!  The team will appear on the April 13 episode of Jimmy Kimmel and on Good Morning America on April 24. I'm sure both appearances will be canon and in-continuity.
A-FORCE PRESENTS.  Looks like the promised all-female Avengers/X-Force title won't be an ongoing series.  (But the A-Force team of women will still appear in Secret Wars.)  The book will be a six-issue anthology series of graphic novels, produced bimonthly, with a price tag of $14.99.  It will feature a Marvel women who currently have solo books: Thor (the girl one), Captain Marvel, She-Hulk, Spider-Gwen, Silk, Black Widow, Ms. Marvel, and Unbeatable Squirrel Girl.  Issue #1 will be all reprints: The first issues of their solo comics.  Is this what Marvel means by "nothing will be the same" after Secret Wars?  Will it be doing more expensive, bigger books and moving away from floppy issues?  Or is this just a way to give an entry point for the growing number of female comic book buyers?  Some of these books have alrady been cancelled (She-Hulk), but others just launched and one—Thor—is selling better than it did before he became a she.  So I can't imagine they'll be cancelling all those titles…We'll see, I guess, won't we?
LUKE CAGE.  Everybody probably knows that after Daredevil comes AKA Jessica Jones, and then a Luke Cage Netflix series starring Mike Colter.  Well, Marvel is lining up some great talent: Cheo Hodari Coker, a journalist who has experience on two excellent "street level" TV shows (Southland and Ray Donovan) will serve as showrunning and will write at least the first two episodes.
CAPTAIN BRITAIN AND THE MIGHTY DEFENDERS.  I suppose with a Netflix project culminating in a "Defenders" TV show it was inevitable that Marvel would start reviving the team in its comics.  It looks like this will be another post-Secret Wars book starring a new Captain Britain, She-Hulk, and White Tiger, among others.  They'll be fighting an evil
version of Luke Cage.  Frankly, all these world-melds involving versions of the same characters are starting to make my brain hurt.
REMEMBER CRASH RYAN?  Me, neither.  But if Lucifer wasn't an esoteric comic book, this one sure is.  It was a 1984 creator-owned comic by Ron Harris—one of the first published by Marvel under their Epic Comics banner—about an air force pilot in a fictional 1935 war against a global conqueror called "Doom."  Seems strange with all the comics out there that this is one that gets optioned….