These are my favorite single issues of ongoing series every published. Or, at least, that I ever read. One-shots and graphic novels don't count. Annuals don't count either, because they're basically designed to be one-shots (at least most of the time). It has to be a single issue from an ongoing. And the final caveat: I needed to make sure that this wasn't too heavy with issues from great runs (especially old Lee/Ditko and Lee/Kirby books, and Frank Miller's Daredevil), so I only included a few issues from a single run or creative team.
Please read along over the next several days, and add comments of your own favorite single issues!
THE 100 BEST SINGLE ISSUE COMIC BOOK STORIES OF ALL TIME: The Countdown begins!
100. FLASH #123
One of the most famous comics ever—and the one credited with originating the multiverse: "Flash of Two Worlds." Barry Allen meets Golden Age Flash Jay Garrick (the dude with the helmet).
99. SUPERMAN/BATMAN #26 (2006)
The famous "Sam's Story," plotted by Jeph Loeb's dying son and written and illustrated by just about everyone. Geoff Johns, Ed McGuiness, Jim Lee, Tim Sale, Brian K. Vaughn, Allan Heinberg, Paul Levitz, Brad Meltzer, Joe Kelly, Art Adams, John Cassaday, Joe Casey and Joss Whedon.
It's a great "buddy book," but by the end…Wow.  If this book doesn't at
least choke you up (or even bring out some genuine sobs), you just don't have a heart.
98. THE FURY OF FIRESTORM #7 (1982)
Gerry Conway and Pat Broderick's Firestorm comic was one of the finest DC produced in the early 1980s.  It wasn't too serious, wasn't stupid, it was just good old honest superheroics.  Plus, you got great pages like the one above.
#7 was the issue with Plastique, a terrorist who strapped bombs to her body.  And who was hot.  Great issue.
97. THE AMAZING SPIDER-MAN #225 (1983)
Foolkiller was one of my favorite comics—Steve Gerber in 10 issues told the story of a freaky vigilante that reflected the anger and righteousness of New York in the 1970s. The character returned in this one-off issue, which is a book I've re-read dozens of times. I know lots of people don't even remember it, but we're towards the bottom of my list so I can be sentimental.
96. HAWKEYE #11 (2012)
Matt Fraction and David Aja's groundbreaking series goes one step further than it ever has before and tells the entire story from the point of a view of a dog.
95. BIRDS OF PREY #8 (1999)
A great comic by Chuck Dixon and Greg Land about Nightwing going out on a date with Barbara "Batgirl" Gordon. Very sweet.
94. SUPERMAN ADVENTURES #41 (2000)
Another of just a few "all ages" books on the list, this one was written by Mark Millar—who had a pretty well known run on this book. In this, his final issue, he created a series of one-page stories drawn by the likes of Darwyn Cooke (among others).
93. THE UNCANNY X-MEN #162 (1984)
Wolverine fights the Brood. It was everything X-fans wanted from a balls-
out Wolverine tale. And since Wolverine #1 can't make the list (it was from a limited series, not an ongoing) this one will have to suffice as a great of example of the bezerker being the best at what he does.
92. FANTASTIC FOUR #60 (2002)
Mark Waid and Mike Wieringo's famous "9 cent" issue, one of the best-selling comics of all time (due to the price), not only retold (and slightly retooled) the team's origins, but it was the first time we learned why Reed Richards picked the name "Mr. Fantastic."
91. SHE HULK #4 (2004)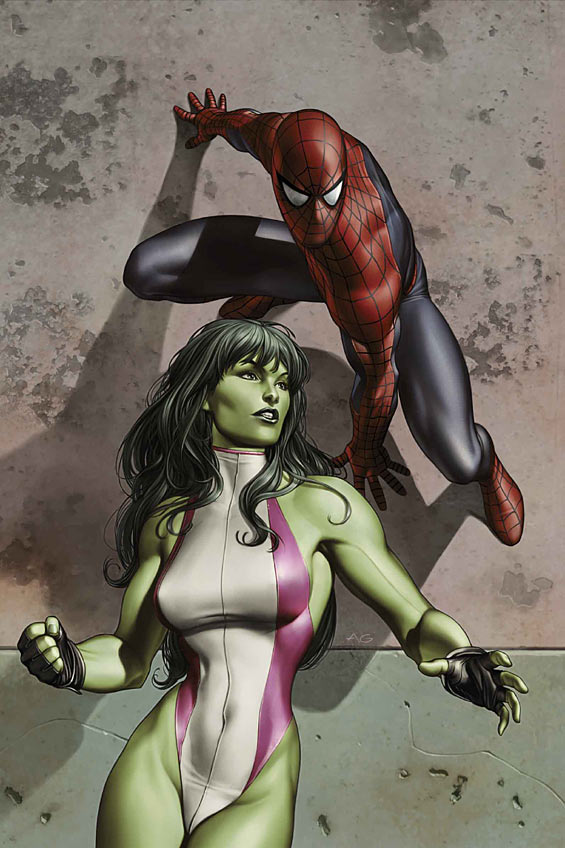 Four issues into his first run writing She-Hulk, and Dan Slott proved he had something to say. Something so obvious, so wonderful, that it was amazing nobody had thought of it before. Spider-Man sues J. Jonah Jameson for libel!
These are the seeds for Dan Slott's brilliant (and incredibly long) run on The Amazing Spider-Man.