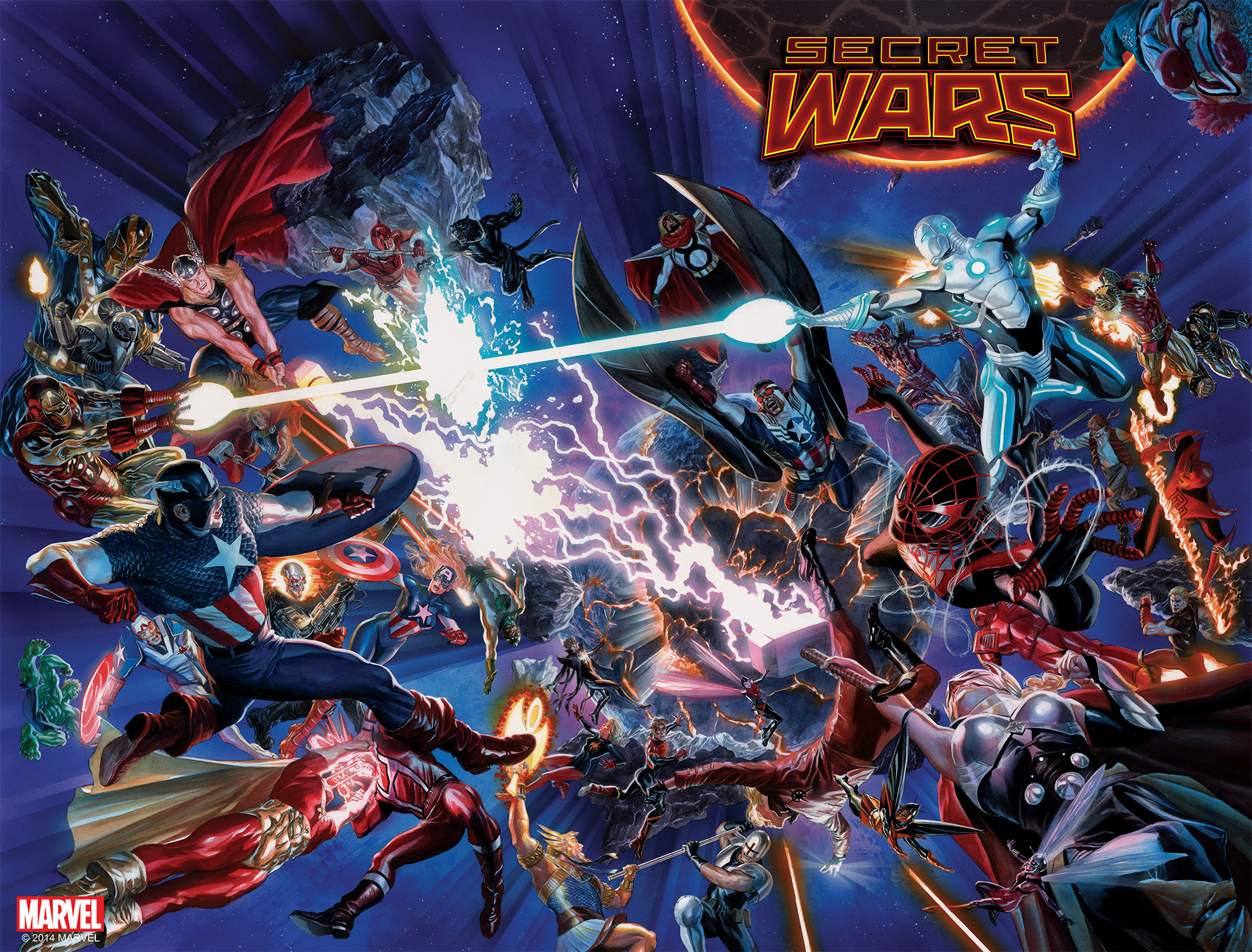 Unless you live under a rock or just don't care, you know that in a few months "time runs out" and all of Marvel's various universes and time periods will collapse inward and coexist on one, giant planet: Battleworld.
What does this mean for "normal" people? What happens to Earth? What about the freakin' children!?!
We don't know.
But there's much to be excited about…
FIRST, THE EVENTS
Marvel's universal restructuring will start with a retelling of all major Marvel events, including their first one, Marvel Super Heroes Secret Wars in 1985, many focusing on a particular Marvel brand. Oh, and by the way, if the inclusion of no less than 6 mutant events (not including Avengers vs. X-Men) doesn't calm some of the conspiracy theorists who believe Marvel is phasing out the X-Men from the Marvel Universe, I don't know what will.
X-Men: Days of Future Past, Old Man Logan, House of M, Inferno, X-Tinction (the Genosha v. X-Men story), and Age of Apocalypse
Hulk: Future Imperfect and Planet Hulk
Iron Man: Armor Wars
Avengers: Korvac
Spider-Man: Spiderverse
Cosmic: Infinity Gauntlet
Everyone: Secret Wars, Age of Ultron vs. Marvel Zombies, Civil War, and Avengers vs. X-Men
THE LAST DAYS
Before it all ends, several books will have a "last days" banner. Whether this is an actual end or a transformation remains to be seen (but nothing is forever dead in comics, right?). So far, these heroes will get a final tale: Winter Soldier, Magneto, Ms. Marvel, Silver Surfter, Loki, Punisher, the Mighty (aka Black) Avengers, and Black Widow.
EVERYTHING ENDS AND IS REBORN
All Marvel comics will end. All of them. And then we'll see their publishing slate gradually build back up. And along the way there will be a bunch of one-shots and tie-ins. It's not entirely clear which are limited series and
which are going to be new ongoings (and it will probably also depend on how much interest there is in these books), but here's what we know about the Marvel slate looking beyond Secret Wars, and what you should (and shouldn't) look out for:
The Good (starting with the best on top):
A-Force. Ms. Marvel's G. Willow Wilson gets a second ongoing, an all-female Avengers team, with art by Jorge Molina. This isn't just good, it's excellent.
Where Monsters Dwell. Garth Ennis hasn't written a Marvel comics in years—maybe even a decade(?)—and he is one of the industry's best. Plus, this is barely a Marvel comic. It's about a Golden Age pilot hero in a land of dinosaurs.
Ultimate End. The guys who started it all, Brian Michael Bendis and Mark Bagley, end it all.
The Return of Grant Morrison's New X-Men. Trapped on a world where mutants are the majority, the Morrison team (sans Fantomex) will find themselves no longer persecuted but, instead, large and in charge, in "E is for Extinction" by Christos Gage. New X-Men is one of the two X-Men runs I've actually re-read more than once (the other is Joss Whedon's), so I'm in for this one. Plus, the art is by Ramon Villalobos. Very, very excited.
Renew Your Vows. There's gonna be something related to Spidey's wedding, which was undone by J. Michael Straczinski years ago in the "One More Day" storyline—probably the most controversial event in Spider-Man's past (and that includes when Doc Ock took over his body in 2012). It will be written by Dan Slott, who is the architect of all things Spidey at Marvel, so I'm there. I'm so there.
X-Men 92.  The early '90s team is a fan favorite, and this is written by Brian Michael Bendis.  Is that a good thing?  Not sure.  His latest X-works started strong but didn't stay that way.

Deadpool's Secret Secret Wars. Cullen Bunn's Deadpool miniseries have mostly been good, so we'll assume this one will be, too. The idea is great: It's actually about the 1985 Secret Wars, telling a story about how Deadpool was actually there, even though we never saw him.
The Meh (also starting with the best on top):
Giant-Size Little Marvel: AVX. Cartoonist extraordinaire Skottie Young gets a book that will be cute, without a doubt. But will it actually be funny? Time will tell.
Guardians of Knowhere. Brian Michael Bendis with art by Mike Deodato Jr. tell a "mystery" story starring Drax and Gamora. Bendis' Guardians work has been Meh for many months, but Deodato elevates this to a potentially good buy.
Master of Kung Fu. Wasn't a fan of 2014's Elektra, also written by Haden Blackman, but I really, really want this to be good. Art by Dalibor Talajic.
M.O.D.O.K.: Assassin. If MODOK is in the title, I'll buy it. Even if it is written by Chris Yost. But I recognize the major meh potential here.
Thors. So Jason Aaron's Thor work has been very uneven—some of it has been terrific, the rest boring. This one will have spaceknight Thor and Beta Ray Bill, Ultimate Thor, girl-Thor, Odin, etc., and art by Chris Sprouse. None of that makes this a must-buy for me, but it does make me very curious.
Runaways. We've waited over a decade for a follow-up to one of Marvel's most loved comics of all time. But what we're getting is essentially the same story: A group of kids in High School find out that their parental units are actually evil. So it remains to be seen whether this will be worth anyone's time. Created by Noelle Stevenson and Sanford Greene.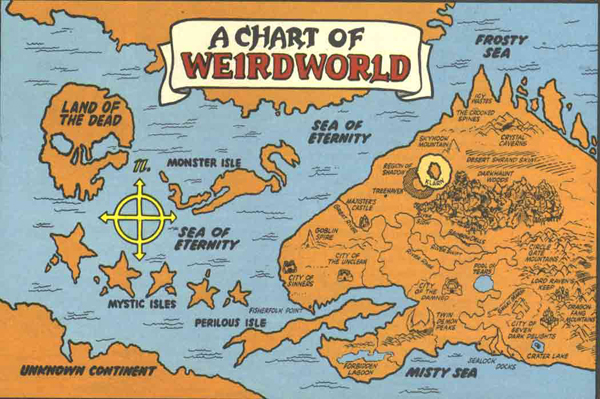 Weirdworld. Jason Aaron and Mike Del Mundo telling a "kind of Conan" stry. Not my genre, but I'm open to it if it gets good word of mouth.
The Bad (all bad–no amount of hype will get me to buy any of these):
Ghost Racers. I wasn't a fan of Felipe Smith's Ghost Rider reboot. This one will include the Western Ghost Rider and a bunch of others.
Mrs. Deadpool And The Howling Commandos. If it says written by Gerry Duggan, stay away. Far away.
Inhumans: Attlian Rising. I don't' get how Charles Soule can write a comic as magnificent as 2014's She-Hulk, and turn around a mediocre snoozefest like "Inhuman." He's continuing his work here with the latter, not the former, so…No.
Star-Lord and Kitty Pryde. If you like Sam Humphries work on the current Star-Lord book, you'll probably like this. I don't.
Secret Wars 2099 (including Avengers 2099). It's unclear if this is a miniseries or a new ongoing that will launch after the "event" ends, but either way, there hasn't been a good 2099 book in decades. But at least it will be written by Peter David, so it's got a shot at being worth reading. By someone other than me, though.