Okay, so the big news is Spider-Man, but I'm sure all of you have heard it already. Over and over. He'll show up in Captain America: Civil War, and then he'll get his own film in 2017—which means Black Panther is bumped back a year. But it also means T'Challa gets a summer release, making him officially a "tentpole" in the Marvel Studios schedule. Sony is also still going ahead with a Sinister Six movie to be directed by Drew "Cabin in the Woods" Goddard, but it won't be coming out in the next few years. Probably not even in the next decade.
But the question everyone is asking is: Does this mean we have to see another origin story? I think it's clear that Peter Parker will be Spider-Man, not Miles Morales, but since he'll be introduced as one of an ensemble in Civil War, does that mean his solo film will build on that and be in Marvel Cinematic Universe continuity? Or do we get another reboot? I know I'll be in the theater either way (I think I feel a cold coming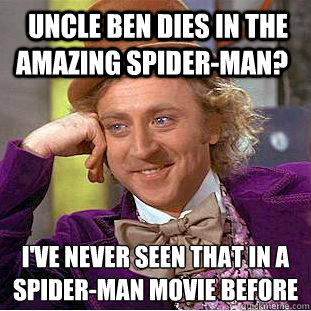 on for July 28, 2017—I can't make it into work!), but I do think they should stay away from another origin. I don't think anyone will ever do it better than Sam Raimi.
Sony still retains control of the Spider-Man franchise, so it's not entirely clear what all the details of this might be, but one thing seems certain: Goodbye, Andrew Garfield. At last.
And in other news….
COMICS ARE GOOD FOR YOU! The America Library Association gave This One Summer, by Mariko and Jillian Tamaki (First Second) both Caldecott and Printz honors. I told you it was good! Also, Cece Bell won a Newberry Honor for her autobiographic novel El Deafo—it's the first time they've givin a Newberry to a comic (they traditionally go for pictureless stories). It may mean the awards group is ready to recognize comics as a valid form of literature.
DC FOR THE KIDS, MAN! Warner Bros is bringing back animated shorts of the classic Super Friends line-up to help promote the new toy line of the same name, and a Batman: Unlimited cartoon movie for another new toy series.
MODOK: Assassin. Everyone's favorite encephalitic will get a solo series under the Secret Wars' Warzones! banner of books. See? I just started reading every appearance of the little bastard for an upcoming series on this site.  I am ahead of the trends. And there's more evidence of my comic nerd hipness below…
IT LOOKS LIKE THEY'RE SERIOUS ABOUT A LIVE-ACTION TEEN TITANS ON TNT. Nerdist reports that the team is confirmed to include Robin (not Nightwing), Barbara Gordon (wheelchair version), Hawk and Dove, Raven, and Starfire. This is all rumor, but it would be very interesting to see Robin and a team of women. The pilot is scheduled to begin production this year.
SUPERMAN HAS A NEW POWER. He's like a human super-nuke. Because he wasn't powerful enough already. I do like Geoff Johns and John Romita, Jr.'s current run on Superman, but things like this are what make him a completely unrelatable character. Focus more on the story and the person, less on bigger powers and fights. The Geoff Johns everyone used to love knew this when he worked on Teen Titans and Action Comics—almost a decade ago.
SUBSCRIBE TO COMICS! When I was a kid, I subscribed to at least 10 Marvel titles a month. Even though they didn't always arrived undamaged (but they were mailed "flat!"), it was cool to come home from school and find the X-Men in the mailbox. Now, Retrofit is bringing that back: For $75 ($65 if you order quickly), you can get all twelve of their 2015 roster of original graphic novels which will include new books by Box Brown (who created the best biography GN of 2014, Andre the Giant: The Life and Legend), Kate (Kate or Die) Leth, and Harvey/Ignatz award nominee Steven Weissman; and a translation of Ollie Schrauwen's Mowgli's Mirror.
GARTH ENNIS RETURNS TO MARVEL! Yes! Yes! Ennis hasn't written for Marvel in a long time, but he's been recruited to write a "Where Monsters Dwell" miniseries as a Secret Wars tie-in. It will be about World War One pilot (and Golden Age hero) Phantom Eagle fighting dinosaurs and giant monsters.
AND FINALLY, CONGRATULATIONS TO ALL YOU WINNERS! The following have gotten movie deals:
Scott McCloud's The Sculptor. Sony just bought the film rights to the latest graphic novel by the creator of the well-regarded nonfiction works "Understanding Comics" and "Making Comics." The OGN was just released (I haven't read it yet)
Dreadstar. Wow. I've been meaning to re-read Jim Starlin's space-pirate series for years, and possibly feature it here on my blog—and last weekend I got my old bagged-and-boarded issues out of the closet. No sooner had I re-read "The Price" than a movie deal was announced.
The Descender by Jeff Lemire and Dustin Nguyen. Another Sony purchase, and the creators will get executive producer credit. The Image Comic hasn't even hit the stands yet.
Patrick Stewart. Although he won't be in X-Men: Apocalypse, he will return as Professor X in the next Wolverine solo film.
Morena Baccarin. Jim Gordon's girlfriend from Gotham and Brody's wife from Homeland will next hook up with Deadpool in the 2016 movie starring Ryan Reynolds.