 Another year over, and a new one just begun.  In 2014, we saw quite a few bright spots in the comic book world.  Image earned double-digit market share participation, which forced Marvel to up its game and release corporate titles that almost feel creator owned, such as She-Hulk, Black Widow, and Secret Avengers (all followed the rampant success of Hawkeye, which was Marvel's toe-in-the-water on this).  DC finally released Grant Morrison's long-gestating Multiversity project, and it is as "big" and awesome as we all expected.  Jonathan Hickman's Avengers books finally started to make sense and move forward.  But it also had some dark spots: The X-books, which started out strong under Brian Michael Bendis, have become a slow-moving and silly exercise in giving characters face-time without really changing them (or making them interesting, even).  The "events" of the big two all fell flat: The entire DC lineup feels like a non-stop event, and on the Marvel side "Original Sin" started good but its ending was ponderous, but "AXIS" has been a completely convoluted train wreck that feels irrelevant.  And DC treated its creators like…Well, like shit.
So, what are the best reasons to plan to keep reading in 2015?  Here's some things to look forward to:
THE TOP TEN REASONS TO 

LOOK FORWARD TO COMICS IN 2015

10.  Saga.  Because no top 10 list can be without mentioning the greatest comic book of (all time?).
9.  A Duck and a Squirrel.  With cautious optimism, I look forward to the return of Howard the Duck in a solo book written by Chip Zdarsky (illustrator of "Sex Criminals") and illustrated by Joe Quinones.  To date, only one writer has ever made sense of Howard the Duck, and that was Steve Gerber—who was probably one of the top 10 comic book writers of all time.  (Marv Wolfman and Bill Mantlo each hqd serviceable issues, but nobody "got" Howard like Gerber.)  Likewise, nobody's ever really made Howard look right other than Val Mayerick and Gene Colan.  The original series wasn't for everyone.  It was a weird mash of political satire and horror, which served as a platform for Man-Thing stories, strange amalgams of real life and fiction (like Truman Capoultry), and off-the-wall experiments in comic book storytelling (like the final issue, which was basically one long letter from Steve Gerber about how he couldn't think of what to write anymore).   But it's been a long time since we had a Howard book, and a long time since Gerber passed away, so maybe the time is right for a resurgence.  Chip Zdarsky has written a few odd books, but he's also done some great creative activities like tweeting back and forth with Appleby's and running for the mayor of Toronto, so he might be exactly what we need for this to work.
And if that's not your cup of tea, we've been promised a Squirrel Girl solo book, by Ryan "Dinosaur Comics" North and Erica Henderson.  Along with signing up Zdarsky, this is Marvel digging deep into the fringe to find creators who can find books that, hopefully, will successfully occupy a space deep in the fringe.
Give me another entry in Pet Avengers, and color me satisfied.
8.  The rebooted Archieverse. 
Who would have thought that Archie Comics was capable of producing innovative, mature, even scary comic books?  Before 2014, nobody.  And then came Afterlife With Archie, a book that had creative chops, superb artwork, and a zombie story that had real (ahem) bite.  It wasn't just "let's watch the brainless eat Reggie and Jughead."  It took the characters we've all known for decades and made them feel … Real.  A neat combination of nostalgia and horror, told with the modern comic book techniques.  Next year, a new Archie #1 will debut, created by no less than Mark "I've rebooted everyone and they're always better when I'm done" Waid and Fiona "Saga" Staples.  The publisher promises a new take on the 60-year-old characters, one that will be topical and edgy, as well as funny—but will still be appropriate for young audiences.  Of course, these days 10 year olds are the new teenagers, so expect the book to be something above what you used to read in the 1970s.
7.  The Return of Manhattan Projects (Image).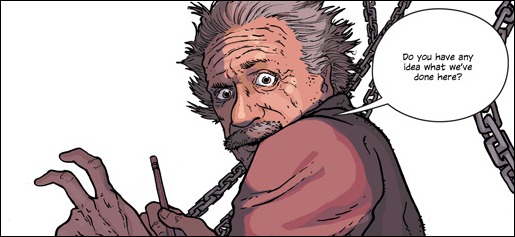 Jonathan Hickman and Nick Pitarra's "sort of" history book will return in 2015 with a completely new arc and, apparently, a new way of telling the story.  The first "arc" was basically two-and-a-half years' worth of comics telling one sprawling, gruesome, often tasteless epic.  But smart.  That's right, smart and tasteless.  I truly can't wait to see what they come up with next year.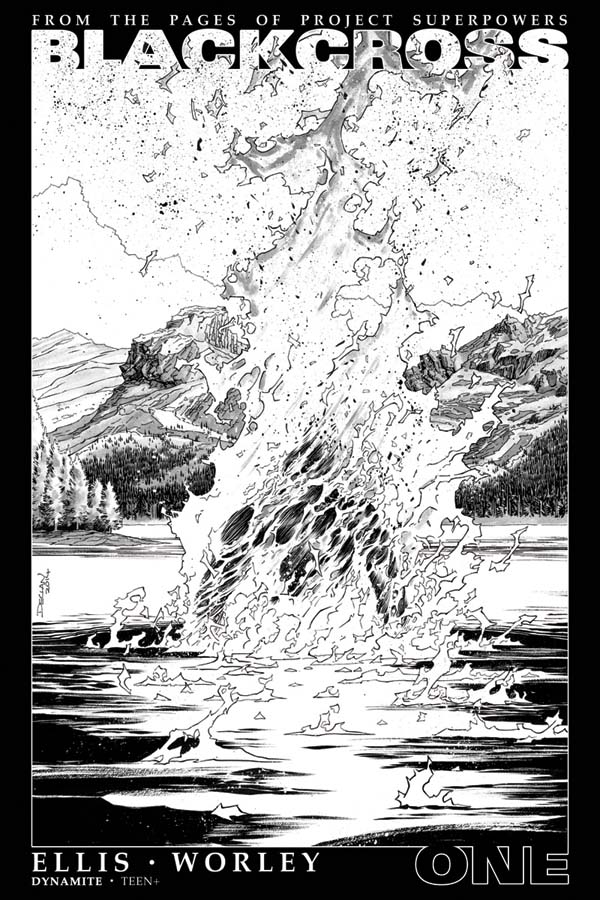 6.  Warren Ellis Takes Over Project: Superpowers (Dynamite). 
It's been known for some time that Ellis, one of the greatest comic book writers of all time, will be rebooting the "Project: Superpowers" line for Dynamite Comics (based on Golden Age heroes who are now public domain).  But we finally know where he's going to start: Blackcross will lead the charge.  It will be a comic focusing on the supernatural.  A whole line of superheroes supervised by Warren Ellis?  There's very little chance that this won't be awesome.
5.  Criminal: Special Edition (Image).  Coming in January, the great team of Ed Brubaker and Sean Phillips offer a new one-shot (oversized) entry to their groundbreaking crime series.  Criminal has never been bad, and has never disappointed, so I feel safe saying this won't, either.  Best of all, it involves recurring character Teeg Lawless.
4.  Free Comic Book Day (Everyone).  It falls on May 2 this year, and there will be no less than fifty(!) free books.  Yeah, lots of them will be fluff and nonsense, but we'll also get some meat with our potatoes, such as previews of Keiron Gillen's Sci Fi book Mercury Heat (Avatar); Kate Beacon's new Drawn and Quarterly book; and the next volume of Mike Raicht and Brian Smith's brilliant "Stuff of Legend" series.  We'll also get original material from Marvel (Secret Wars #1) and DC (a "top secret" book, not yet revealed), and an all-new Tick adventure by Jeff McClelland…And a 48-page, all-new anthology from 2000AD featuring work by Matt Smith, Norm Breyfogle, Pat Mills, Dave Gibbons, John Wagner, Alan Grant, and more.  So FCBD promises to be a great event this year—but don't wait until May to start reading comics!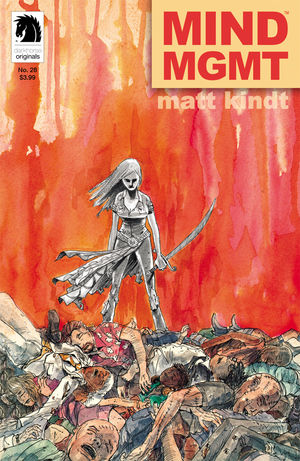 3.  The end of Mind MGMT (Dark Horse).  Matt Kindt's series has been nothing short of mind-altering.  It's the kind of book you have to read several times because you know you've missed stuff.  And he's ending it with issue #35, coming in March from Dark Horse.  Which means (a) maybe we'll get an omnibus; and (b) it's the perfect time to reread it from issue #1 (again!).  I know I use superlatives all the time in this blog, but this really is a comic book series that is unlike any other and makes the most out of the comic book medium by developing new ways to tell a story on a printed page—so it's great from both a technical standpoint and as a gripping work of fiction.
2.  Grant Morrison (DC and Boom!). 
In 2015, we will see the last DC work of one of comics' greatest creators.  Morrison's mind-bending "Multiversity" series ends in the first half of the year (and let's hope DC's "Convergence" doesn't completely screw it up the way the New 52 screwed up Morrison's Batman run), and his Wonder Woman graphic novel should also arrive in 2015.  After that, he's said he's walking away from the Big Two—possibly forever.  What's next for Morrison?  Well he's already doing the most-Grant-Morrison-like comic of his career for Legendary Publications, and that series ("Annihilator") will conclude in 2015.  From there, he's going to Boom! Studios for a project announced earlier this year with no details.  Boom! has never been the greatest comic book company, but when they hit it right, they really score.  Mark Waid's greatest work ("Irredeemable") was put out under the Boom! banner, it's probably the best producer of kids' comics today (e.g., the award winning Muppets and Adventure Time comics), and, of course, they're the guys who backed Mouse Guard. 
1.  Marvel And D.C. Bring The Nostalgia (Marvel and DC).  
Together, they typically own over 75% of the comic book market.  And in 2015, they both appear to be doing the same event: Heroes and stories from all eras of these long-standing companies will fold together, on top of themselves, and the DC and Marvel Universes will emerge different.  Or so we're told.
Marvel Super Hero Secret Wars is regularly recognized as the first line-wide "event" comic, and a remake of it will serve as the tentpole for whatever it is the Marvel universe is building to—which, it seems clear, will include revisiting every event since that "first event."  Over the past couple years, the Marvel Universe has been going crazy.  Old and new X-Men live together.  There are at least seven monthly Avengers titles and usually the entire universe is in jeopardy in at least four of them.  Spider-Man is jumping through universes and time to meet every other iteration of himself.  We're being promised that this is all building up to something.  And I'm confident that Marvel will get it more right than not.  Or, at least, more right than DC.  Marvel will be Gallant to DC's Goofus.
As for DC's Convergence, to quote Robert Plant: "Does anybody remember laughter?"  DC's lineup has been a mess since the New 52 started—the continuity is chaotic, there has been a real lack of consistent creative teams (except really for the self-titled Wonder Woman and Batman books), and the books have just not been that good.  And the constant pounding of how "important" everything is has left everyone but the most avid DC fan feeling numb.  But the idea of a complete time-fold, where any DC character from any era might pop up and into the DCU, sounds like it has the potential to be incredibly fun.  That's right, fun.  DC doesn't emphasize fun in their comics or their movies—every since Frank Miller got all serious in his Dark Knight series.  Fun would be a good thing.  And if they can fix the New 52 mess in the process, that would be even better.