This will be the last "news" post of the year, and rather than do a retrospective, I'll just do what I always do: Hammer you with tidbits I've spotted around the interwebs, laced with my usual wit and brilliant insight.
GERRY CONWAY RETURNS TO SPIDER-MAN.  Remember when Amazing Spider-Man was published three times a month with rotating creative teams?  Well, it seems Marvel is coming close to that schedule again.  Dan Slott is a dynamo, and he'll retain control over the main Amazing books, but issues #16-20 will each have a "point one" issue (16.1, 17.1, etc.) to be written by Gerry Conway, the legendary writer best known for killing Gwen Stacy.  It will take place after Spiderverse ends, and Conway's tale will be about Spidey fighting crime lords (Conway created Hammerhead).  Street crime hasn't been a focus of the title for decades, but back when the Mafia mattered in the real world, Spidey fought its Marvel analog (the "Maggia") all the time.  In fact, folks forget that Kingpin started in Spider-Man before migrating to Daredevil.  Often big-name creators from the '70s and '80s write work that feels dated, so we'll see how well Conway does, but I look forward to Spidey returning to his street crime roots.  Nobody's doing that these days—every threat has to be huge and global.
NO GUARDIANS/AVENGERS CROSSOVER IMMINENT.  Writer/Director James Gunn recently said that his team and Joss Whedon's team won't be appearing together any time soon.  "We have our own galaxy to save. Earth is the Avengers' province," he said.  I, for one, think that's good news.  Neither franchise needs each other, and not everything has to be codependent.  Marvel could do a lot to expand its cosmic franchises separate from the Avengers and its spin offs.  I know Marvel can't use Silver Surfer (at least not yet), but what about Adam Warlock, The Eternals, Star Brand, ROM, Gladiator, etc.  If they really need to tie-in, we could have a Nova solo film to bring the storylines together without too much unnecessary crossover.  Or, even better…Beta Ray Bill!!!!!
MOON KNIGHTS NEW CREATIVE TEAM.  Warren Ellis and Declan Shalvey brought us one of the best comics of 2014 with just six issues of Moon Knight.  Brian Wood and Greg Smallwood's issues since then have been good, but very different.  I like the way Marvel lets creators pretty much do whatever they want with Moon Knight and keep him separate from the "events" in the big MU.  Marvel has announced that Cullen "The Sixth Gun" Bunn and Ron Ackins will be taking over the series.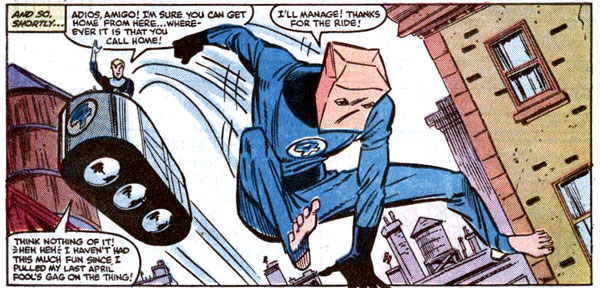 THE STATE OF THE SPIDER-MAN MOVIES.  Lots of stuff has been released based on the hacked Sony e-mails, but none of it amounts to much.  Yes, Sony and Marvel negotiated for Spidey to be in Captain America 3: Civil War, but it looks like it all broke down over which company would have creative control.  Yes, Sony is worried about the fact that the last two movies kinda sucked.  But the real news?  Sony rejected bag-head Spidey!  True fans know that in Amazing Spider-Man #258, the symbiote ran away leaving Peter Parker naked so he had to borrow an extra Fantastic Four costume and put a bag over his head.  If Sony rejected the rights to that costume, then the rights revert to Marvel—which means they could use Spider-Man if he's dressed like that.  I say they should go for it.  Sony also rejected Peter Porker the Spectacular Spider-Ham, so we could see him in a movie as well.
SUICIDE SQUAD HAS ITS AMANDA WALLER.  And it's Viola Davis.  That must be why she's thinner in the new 52.
LUKE CAGE IS CAST.  Now that the first Netflix series, Daredevil, is done filming, it's time to go on to the next ones.  Luke Cage will be played by Mike Colter, who will appear in "AKA Jessica Jones" (played by Krysten Ritter), and then get his own series. 
PYONGYANG ADAPTATION CANCELLED.  A film version (to be directed by Gore Verbinski) of the Guy Delisle graphic novel Pyongyang has been axed in light of the fallout about the film The Interview.  The comic was basically a news report about the writers experience on a work visa in North Korea in 2001, where he worked for a film company for a few months before the government accused him of being a spy.  It talks about what life is like there, ranging from the food to walking the streets at night and talking to locals.  I highly recommend the book.  And I can't believe we're caving in to these terrorist threats.
CONSTANTINE RETURNS.  Speaking of ghost stories, the TV adaptation of Vertigo's Hellblazer series, titled Constantine, will in fact return—to an 8pm time slot, no less, but on Friday nights (recognized as the night where shows are sent to die).  I liked the show enough in the beginning but got bored because there's no real sense of danger or threat.