So the movement in comic publishing is towards lots of #1 issues.  Start a series, end it quick, and relaunch it.  But how good are they?  Most of Marvel's #1s really introduce story arcs, not characters, so in my view they're not really "#1 issues."  They're just renumberings to sell units.   Not that there's anything (necessarily) wrong with that.  But a true #1 is an introduction to a concept—it launches something different, something new.  Most of the #1s on this list didn't make my "best series" list because I was trying to avoid too much duplication.
But in some cases, particularly with Ms. Marvel, it's appropriate—I can't praise that book enough.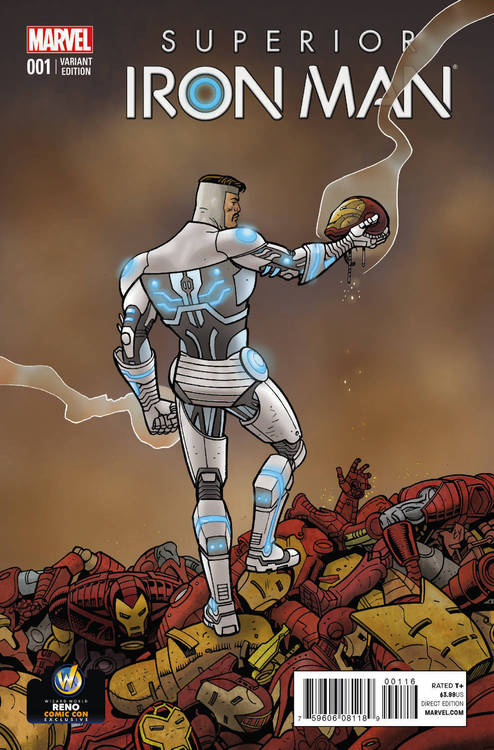 Here were my five favorite debuts of the year….
BERKELEY PLACE'S TOP 5 #1 ISSUES (ONE IS A DEBUT OF A NEW CREATIVE TEAM) OF 2014
5.  Superior Iron Man #1 (Marvel).  
I had zero interest in an Iron Man book that rehashed Dan Slott's brilliant Doc Ock Spider-Man, but when I saw it would be written by
Tom "Injustice: Gods Among Us" Taylor, I decided to give it a try.  And I was very surprised.  It's not just "evil Tony."  (Actually, we already got that in Civil War.)  It's Tony on steroids.  True, it's not the most original comic around.  There's a lot of the tired rich playboy conventions here, but it's so well-executed that it makes my list.  Plus, in terms of its introduction to a new take on a character it was seamless.  I'm definitely interested in staying with this book. 
4.  Rai #1 (Valiant)
I didn't know anything about this character going in, and bought this solely based on Matt Kindt being the writer (his creator-owned Mind MGT is a regular "best of the year" entry for me).  I was delighted to find the painted art of Clayton Crain, who I'd never heard of before this.  And even better, Kindt's writing in superhero books has never thrilled me, but in this odd amalgam ghost story/legend/super tale, he excelled.  A great #1 that introduced a brand new world that felt at once new and exciting and familiar enough to be comfortable.
3.  Superman #32 (DC). 
Unlike many, I enjoyed Grant Morrison's opening shot across the New 52 bow with his short run on Action Comics.  But like many, I found every other N52 Superman book quite lacking.  Boring, even.  In a super-hyped move, the all-star team of Geoff Johns, John Romita, Jr., and Klaus Janson revamped the character and, in a single issue, brought him back into focus and made me eager to read more.  
Maybe the oddest thing about this issue was that in an era of constant reboots and renumberings, DC did not take advantage of a clear opportunity to rebrand their flagship character–even when sales are lagging dramatically.
2.  The Kitchen #1 (Vertigo). 
2014 may have been a good year for horror but it wasn't so kind to crime stories.  Ed Brubaker had two books, Fatale and The Fade Out, and both are good but they didn't feel fresh.  They felt like what we already knew he could write.  Then in mid-November Ollie Masters and Ming Doyle dropped The Kitchen.  The first issue quickly established the premise: Three mobsters go to jail, leaving their wives behind to keep their protection rackets going.  It's a neat idea, even it if feels vaguely familiar, but what sells it is the location: 1970s Hell's Kitchen.  It was the neighborhood of Frank Miller's Daredevil, but this time there's no avenging angel.  The atmosphere is tough,
the dialog and characterization is tight and crisp, and the art is Ming Doyle.  Which means it's fantastic.
1.  Ms. Marvel #1 (Marvel).  
The first issue of one of the best series of the year.  Hell, best of the decade as far as I'm concerned.
Next: Enough stalling.  My favorite comics of 2014.