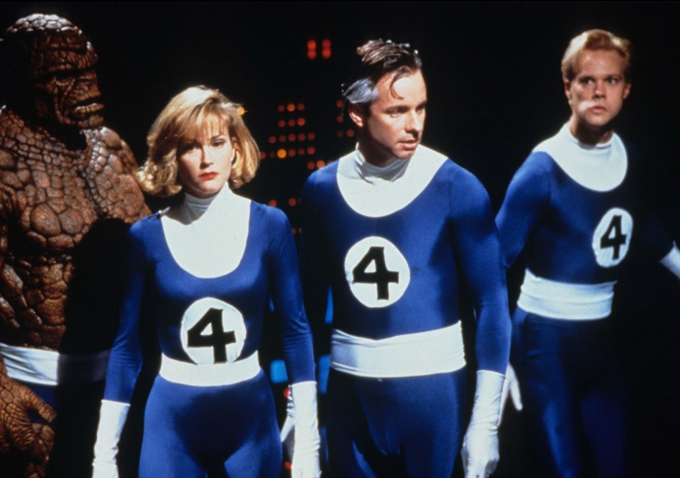 This is still in the deep rumor department, but it looks like Marvel is limiting or eliminating production of stuff they don't own the movie rights to. The Fantastic Four comic, as well as Ultimate FF, will end right about the time Fox plans to start production on the movie. And the F4 have been cut out of the Marvel 75th Anniversary trading card deck—along with Doctor Doom, Galactus, Silver Surfer, and other side characters. And, of course, Marvel just killed Uatu The Watcher. On a related note, there are no new solicitations for X-Men toys and no toys came out to accompany the Days of Future Past film. It seems very unlikely to me that Marvel would cut out these properties—and Spider-Man as well(?)—just to spite Mark Millar and Fox Studios.
And this is all made the more suspicious by Marvel's parent company, Disney, snagging Josh Trank (director of the Fantastic Four reboot) for a Star Wars spinoff, which presumably would tie him up from doing more work for FOX.
In other news, I can't wait to see Guardians of the Galaxy. Find out why in the bullets below….
DIRECTING DOCTOR STRANGE. Marvel has supposedly tapped Scott Derrickson to direct an as-yet-unscheduled Dr. Strange movie. Derrickson's resume includes two terrible movies: The Exorcism of Emily Rose and The Day the Earth Stood Still. But several Marvel directors hadn't done anything special before their first Marvel movie, so that's not necessarily a bad sign. It's not a good one, either. This is just me speculating, but with Edgar Wright dropping out of Ant Man, maybe they'll fast track this movie in its place—I can't imagine an Ant Man movie without Wright, and in the past Marvel said that his vision was the whole reason they were making the movie in the first place. Ant-Man is slated for a July 17, 2015, release. The clock is ticking.
DAVE SIM IS COOL WITH YOU STEALING HIS STUFF. He recently issued a memo telling people that a complete digital version of Cerebus is being remastered, and you can buy it at http://www.cerebusdownloads.com. It's the same as the illegal pirated version, only it's been cleaned up by artist George Peter Gatsis. But Sim says that if you can't afford to buy it, "please feel COMPLETELY free –and GUILT-FREE" to steal it via torrent sites and donate whatever you can afford at the site now, on in decades to come when you have the money. And thus, Sim becomes the Radiohead of comic books.
BRIAN WOOD ON MOON KNIGHT! As I feared, Warren Ellis and Declan Shalvey's run on Moon Knight, which has been controversial for some but was loved by me, ends with #6. That's the bad news. The good news is, they're being replaced by Brian Wood and Greg Smallwood (who did Dark Horse's terrific "Dream Thief" series—this is his first work for Marvel). They'll start with issue #7—not an All-All-New #1—and will continue to use the done-in-one format established by Ellis.
JOSH BROLIN IS THANOS. In the Guardians of the Galaxy movie, and probably beyond. The mad titan will be in GotG, but he's not the star. Or the big bad. He's the boss of the summer film's main villain, who is Ronan the Accuser. Best guess is that the Avengers will take on Thanos after they beat up Ultron in Avengers 2. That means we're probably 5 years away from the real Infinity Gems movie—and probably there will be several cameos before then, like the end-credits scene for Thor 2, which featured The Collector. I'm okay with that. It's cool that Marvel can do such a decompressed story, with so much build-up.
VALIANT MOVIES. The reboot of the Valiant universe has been pretty darn good. They've attracted big name talent like Matt Kindt, Joshua Dysart, Fred Van Lente, and James Asmus. Books like Quantum and Woody and Bloodshot proved that there was life in the old, defunct publishing line, and the recent Rai #1 proves that Valiant can be as good as Image Comics. It's fantastic. So, it makes sense that they're moving forward with media deals. Matthew "Kick Ass"/"X-Men First Class" Vaughn will direct a Bloodshot movie (remember Matthew, he's the one who said the superhero movie was dead); J. Michael Straczynski is working on a script for a Shadowman movie (JMS' run on Thor is widely recognized as the inspiration for the first Thor movie); and their movie line will be produced by Sean "The Mummy movies" Daniel.
MORE HORROR IN THE ARCHIEVERSE. Afterlife with Archie was so great, and so successful, that the publisher is reviving Sabrina the Teenage Witch, with the same writer (Roberto Aguirre-Sacasa). Like Afterlife, it will be a teen-plus oriented book, and will take place in Riverdale in the 1960s. It doesn't look like they're trying to tie it to Afterlife, but it would be kind of cool to have an adult version of the Archie universe