No news post this week—the end of December is traditionally slow. Instead, here's a look at what I'm most excited about in comics that are coming our way in 2014…
10. LESS BAT-SCOTT SNYDER, MORE GREATNESS. Scott Snyder and Sean Phillips left The Wake halfway through on a big "what the Hell"?!? cliffhanger and then suddenly stopped. It returns in February. Also, Snyder has hinted at more American Vampire comics next year, which would be delicious. I'm not a fan of his Batman work anymore—his non-superhero work is vastly better.
9. GETTING PAST THE INTROS…The end of 2013 brought in some really great books: Sex Criminals, Alex and Ada, Afterlife with Archie…But they didn't get to release enough issues to get real momentum. I can't wait to see what happens when all the groundwork is laid and the stories can really get going.
8. GOING BACK TO HIGH SCHOOL. I'm hot-and-cold with Rick Remender, but his high concept comic "Deadly Class" promises intrigue at an ultraviolent school designed to teach people to be ultraviolent. It has the potential to be a serious, darker version of Five Weapons. Speaking of which, Jimmie Robinson's hilarious, inventive, and smart comic returns in 2014 as well. Yes, the original series' ending was anticlimactic, but the book on the whole was such a thrilling, twisty ride that it left nothing behind but great memories and anticipation for the next installment.
7. PHONOGRAM: THE IMMATERIAL GIRL. A sequel to Kieron Gillen and Jamie McKelvie's brilliant debut comic book about music and mysticism? I can't wait.
6. INJUSTICE: SEASON TWO. Injustice was the best DC comic of the year, by far. Nobody expected it to have legs, but it looks like we'll be getting more of this alternate universe in which DC heroes act like…Real people. (Which is to say, they act like assholes.)
5. MONKEYBRAIN COMICS. Image (deservedly) got most of the credit for best-books-of-the-year, but meanwhile Chris Roberson and Allison Baker's little Texas company produced some really, really special books: Edison Rex, Anti-Hero, D4VE, Kinski, and the award-winning Bandette—just to name a few. The digital-only distributor is proving, along with publishers like Thrillbent and DIY projects like Bryan Vaughn and Marcos Martin's Private Eye, that digital comics are indeed a force to be reckoned with.
4. SOUTHERN BASTARDS. Jason Aaron and Jason Latour on a crime comic that takes place in Alabama and sounds like it will do for Southern stereotypes what Scalped did for ones about Native Americans.
3. MOON KNIGHT. The only thing that could make me more excited than Warren Ellis returning to write a regular ongoing series for Marvel, and one about a character who has been undernourished and underdeveloped for decades, would be art by Declan Shalvey.
2. HELL, JUST MARVEL IN GENERAL. Announcements for 2014 include rebooting Punisher, relaunching Daredevil with the same great writer (Mark Waid) who will take the book in an all new direction, Dan Slot and Mike Allred writing a Silver Surfer book, a Thanos graphic novel by Jim Starln, a brand new, Muslim Ms. Marvel, and an Elektra ongoing written by Haden "Batwoman" Blackman. Sure, Image Comics gets all the awards for innovation and experimentation in the genre, but in an era of corporate control, Marvel has shown that superhero comics can still be balls-out awesome. Whether it was bringing back the original X-Men, confining Bullseye in a steel life-support cocoon, Doc Ock taking over Peter Parker's body, the brilliant mix of metaphoric and "actual" mommy issues in Young Avengers, or the bro-dialog in Hawkeye, Marvel proved that it has the best toys…And it's not afraid to use them. Sure, there were missteps (Deadpool is awful and Avengers is sprawling and ponderous), but you have to crack some eggs to make a cake. And I can say for the first time in years that I can't wait to see what Marvel does next.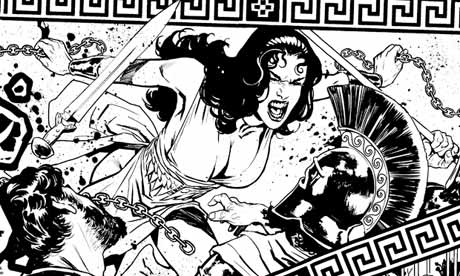 1. GRANT MORRISON'S LONG-PROMISED, FINAL DC WORK. For what seems like the better part of a decade, Morrison has been talking about Multiversity, and it looks like it will actually come to light in 2014: Nine issues packed with a murderer's row of Morrison artists (Cameron Stewart, Frank Quitely, etc.) about the old Charlton Comics groups of heroes. And the second hit of the one-two punch will be his meticulously researched Wonder Woman graphic novel, illustrated by Yanick Paquette. Yeah, it's the book that got Greg Rucka fired from DC—so it better be worth losing him.