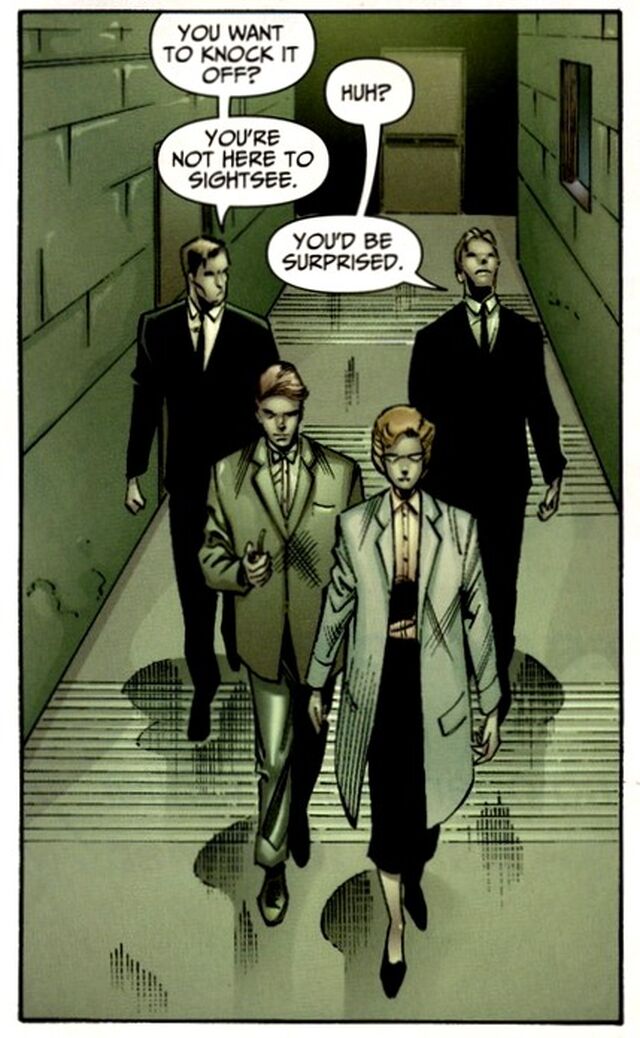 Just about every comic book around has buzz about being adapted to a movie or TV show, even ones you've never heard of like Michael Chiklis' Pantheon comic.  So what are the ten I'm most interested in?  Glad you asked!  Note: I'm not including shows that have already begun filming or casting, because they're a definite go (like Ant Man, e.g.) or ones that seem clearly to be done deals (like DC's The Flash and Hourman TV shows, or Marvel's Netflix series).  These are ones that are on the bubble or under it, but I say…Fund it!
10.  Suicide Squad.  DC's fan-favorite series, and one I've just started reading as a possible contender for my "panel from every issue" series, was mentioned once by Variety as being looked at for adaptation, but there's been nothing further.  Seems like a longshot, but we can hope. 
9.  Black Panther and Runaways.  Two concepts: One features a black male lead, the other has an ethnically diverse cast and tremendous potential as a serialized TV show.  Both have been the source of constant rumor.  Neither appears to have gotten much further than that.
8.  Powers.  An adaptation of the humans-who-investigate-superhuman homicides comic created by Brian Michael Bendis and Michael Avon Oeming.  It's been having a lot of trouble getting off the ground at FX, but done right it could be terrific.
7.  Thief of Thieves.  Robert "The Walking Dead" Kirkman's book about the world's best catburglar is a better-than-average comic that has the potential to be a really charming, fun ride of a Network show.  The status of the project has cooled in light of Kirkman pushing another horror-themed project instead (Outcast).
6.  Sleeper.  Big names are attached to this one (Ben Affleck, Matt Damon, and Shawn "The Shield" Ryan) for a movie version of Ed Brubaker and Sean Phillips' book about super powered criminals and the government agency tasked with stopping them.
5.  iZombie.  I know I just got through saying the CW DC shows haven't risen above the mediocre, but this one wouldn't be a superhero show.  It would adapt Chris Roberson and Mike Allred's brilliant Vertigo comic about a zombie who looks and acts like a cute, smart young woman…As long as she keeps eating brains.  It's being developed as a procedural drama (think a supernatural CSI) by Rob "Veronica Mars" Thomas.
4.  After Life With Archie.  Just kidding.  Or thinking wishfully.  Aside from the title being a tremendously cool sequel to the classic comic book "Life with Archie," Francesco Francavilla is (ahem) killing it with this book.  It would be a fantastic direct-to-DVD cartoon, or even a hilarious Sci Fi channel movie of the week or miniseries.
3.  Rachel Rising.  In April of 2013, Alcon Entertainment bought up the TV rights to Terry Moore's third and latest long-form, creator-owned saga.  I've sang the praises of this book again and again.  And unlike his most famous work, Strangers in Paradise, which was an extremely decompressed personal saga, Rachel Rising seems perfect for either a movie or TV adaptation: It's a horror story with nuance, deep mystery, and, of course, zombies.   Talk around the series seems to have cooled, but I'd actually pay kickstarter money to get something like this done.
2.  Gotham.  The optimist in me hopes that DC will finally get it right.  Smallville was an okay show, but it wasn't great.  The Arrow, same thing.  Man of Steel: Terrible.  The Batman movies were good, but they seem like something other than true DC stuff (Batman in those films was unrecognizable from the Batman of the comics).  Despite the fact that DC is saying this won't be like Gotham Central (one of the best comic books DC ever produced), there's the potential for at least some that in this early, pre-Batman story about Commissioner Gordon's days as a beat cop and the early freaks of Gotham—who apparently existed even before The Bat.
1.  Criminal.  Another Brubaker/Phillips project, this has been rumored in development with HBO for about a decade.  It's straightforward crime stuff, but written with a crispness and toughness that's as good as any old Bogart film.  Waaaant!