The Incredible Hulk was rarely a great comic, but it was often a good one.  Most other times, it was mediocre.  I've read many, many issues but too many runs are just not worth posting on.  Hence, I did an "evolution of the Hulk" series focusing on key issues.  Below are links to my posts on particular issues and, sometimes, a note on their signficance.
The Incredible Hulk Volume 1 (1962) by Stan Lee and Jack Kirby.  Their initial run lasted only six issues, but it established the character–starting out as a sort of Frankenstein's Monster who changed with the moon.  Grade: B. 
Tales to Astonish (1964).  After his solo book was cancelled, Hulk moved to Tales to Astonish.  The stories were fairly generic and uninspired.
By Stan Lee and Steve Ditko (#60-68).  Grade: C.
By Lee and Kirby (although Kirby often did layouts only) (#68–87).  Grade: B-
By Lee and Marie Severin (#88-101).  Grade: C+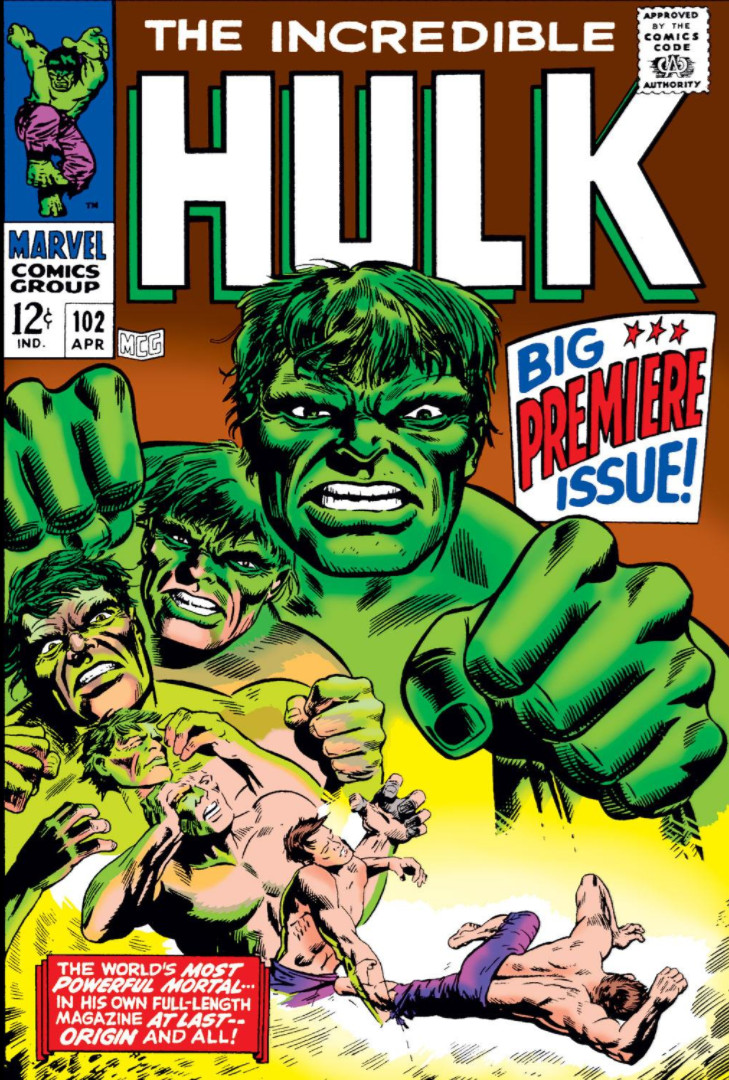 The Incredible Hulk Vol. 1
By Gary Friedrich/Stan Lee and Severin/Herb Trimpe (#102-119).  TtA was cancelled, and the character returned to his own book–starting with #102.  Back then, higher numbers meant something.  Now it's all about that number one.  Sigh.  Grade: C 
By (mostly) Roy Thomas and Herb Trimpe (#120-145).  Roy Thomas started playing with the character in different ways, having him fall in love with the green-skinned Jarella, splitting him from Banner, and otherwise trying to expand him beyond the big guy who gets pissed and breaks shit.  Grade: B
By (mostly) Archie Goodwin and Herb Trimpe (#149-157).  A brief run with a very interesting concept: What if Hulk were held legally accountable for his actions?  Great idea, handled fairly well for its time.  Grade: B
By Steve Englehart and Herb Trimpe (#159-173).  I'm a huge Steve Englehart fan, but this is far from his best work.  A few good ideas but otherwise miserably bland.  Grade: C+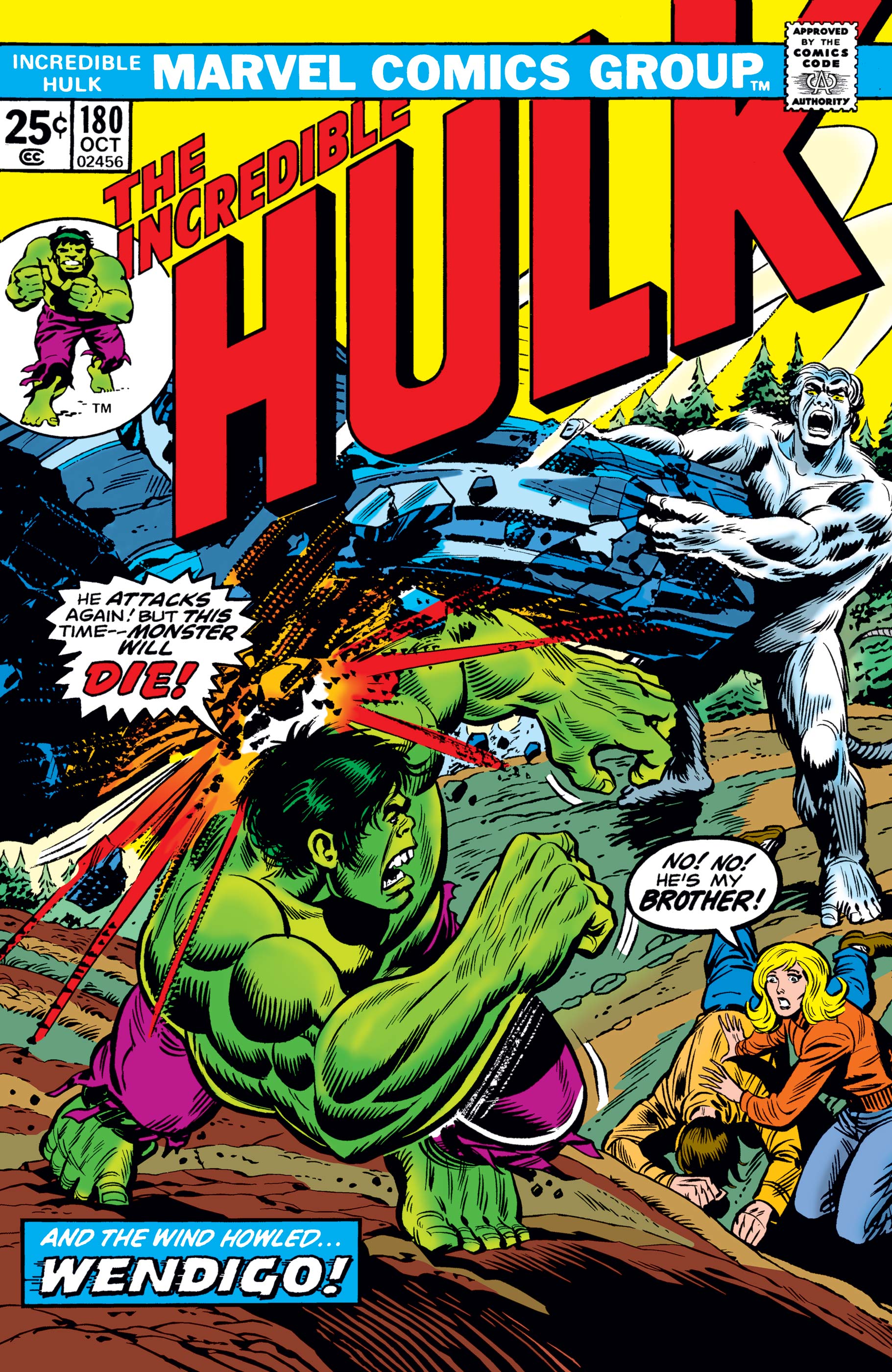 , 176 (first time Hulk is banished into space)
By Len Wein and Herb Trimpe (#179-193).  Wein wrote Hulk for four years.  The first part of his run, with Trimpe, is known for one thing: Wolverine.  Grade: B-
180 (first appearance of Wolverine)
By Len Wein and Sal Buscema (#194-220).  In the second half of his run, Wein got a little better, but still only a little better than average comics overall.  Grade: B
197, 201-209 (Jarella dies), 122
By Roger Stern and (mostly) Sal Buscema (#221-244).  Stern was one of Marvel's most imaginative "standard" creators, by which I mean he wasn't wild and crazy like Steves Gerber or Englehart, and he didn't break new ground with his characters; rather, he pulled the best possible stories out of them.  He may be the best corporate writer of all time–it's got to be either him or Brian Michael Bendis.  Grade: B+ (and several moments of A-ness).
By Bill Mantlo and (mostly) Sal Buscema (#245-313).  The Hulk represents some of Mantlo's best work–as well as Sal Buscema's.  Grade: A-
254 (first appearance of U Foes), 255, 256 (first appearance of Sabra), 271 (first Rocket Raccoon), 279 (Hulk has Banner's brain again), 289, 290, 291-299, 300 (Hulk vs. Everybody), 301, 302-303, 312 (Banner's abusive childhood explored)
By John Byrne (#314-319).  In the 1980s, John Byrne was the undisputed master of Marvel Comics–and the brief stint he had on Hulk was no exception.  Grade: A
314, 317 (Betty marries Bruce)
By Al Milgrom (#320-329).  I really dislike Al. Sorry.  Grade: F.
By Peter David and Todd MacFarlane (#331-346).  Peter David begins his 12-year run paired with the man who would become a founder of Image Comics and one of the wealthiest comic book artists of all time.  Grade: B+.
331, 336-337 (vs. X-Factor), 340 (the famous "vs. Hulk" issue; check out the post for variations on the classic cover)
By Peter David and Jeff Purves (#347-367).  In these issues, we get into the thick of the "Mr. Fixit" persona–wherein Hulk runs a Vegas Casino–and the battles between Hulk and Banner for control of their shared body.  It sounds ridiculous, but it is unadulterated awesomeness.  Grade: A+.
347 (first appearance of Mr. Fixit), 353, 354, 355, 357, 361, 362 (vs. Werewolf by Night), 363 (vs. Dr. Doom and Grey Gargoyle), 368 (art by Sam Keith)
By Peter David and Dale Keown.  During this part of his run, Peter David turned Hulk into a super-soldier for SHIELD.  It's not as great as the Mr. Fixit stuff, but it's still damn fine–and Dale Keown's art is damn good, too–and there's plenty of Fixit in this run as well.  (#369-398).  Grade: A-.
359 (vs. Blob), 376, 377 (more on Banner's abusive childhood), 378, 390, 395 (vs. Punisher), 396
By David and Jan Duursema (#399-402).  Not a lot to see here, but it's only threee issues.  Grade: B-.
By David and Gary Frank (#403-425).  One of comicdom's most celebrated artists joins David to tell a bunch of stories that return Hulk squarely into the mainstream Marvel world.
403 (more on Banner's daddy issues), 406 (with Captain America), 409, 413, 417-418 (Rick Jones gets married), 421
By David and Liam Sharp (#426-432).  Grade: B
427 (guest art by Darick Robertson), 431 (Hulk cosplays as Savage Dragon)
By David and a series of artists (#433-467).  Toward the end of his run, David worked with a bunch of artists, but many were excellent.  Terry Dodson, Andy Kubert, Mike Deodato, and others.  At this point in the run, David killed off Betty Ross, and Marvel editorial wanted him to return Hulk to the savage "Hulk smash!" persona.  David refused, was fired, and the book was cancelled soon after.  Grade: B-.
434 (vs. Punisher), 447, 449 (first appearance of Thunderbolts), 454, 467
By Joe Casey and Javier Pulido (#468-474).  Joe Casey takes the series to its end with a handful of decent but forgettable stories.  Grade: C+.
Hulk Magazine (1978) by various creators.  Grade: B.  Post.
The Hulk: Future Imperfect (1993) by Peter David and George Perez.  Takes place between The Incredible Hulk #417 and 418.  Grade: A+.  Post.
The Hulk Volume 3 (1999)
By John Byrne and (mostly) Ron Garney (#1-7).  Byrne and Garney launched the series, but Byrne left at #7.  A string of creators
followed.  Soon after, "The Hulk Volume 1" became "The Hulk Volume 2" (with no renumbering).  Grade: C
By Paul Jenkins and (mostly) Ron Garney (#12-32).  Jenkins took over the series and it became "Volume 3," again with no renumbering.  Jenkins' thing was to make Hulk almost schizophrenic.  Meh.  Grade: C.
By Bruce Jones and various artists (#34-76).  And, finally, we get a truly amazing run–one that blends horror, action, and superheroics.  One of the best Hulk runs of all time.  Grade: A+.
34 (John Romita, Jr.'s run begins), 35, 36, 38, 39, 40 (Lee Weeks takes over art), 46 (Stuart Immonen takes over art), 49, 50, 51 (Mike Deodato's run begins), 54, 59, 74, 75 (Darick Robertson), 76
Hulk vs. Thing: Hard Knocks (miniseries by Jones)
By Peter David and various artists (#77-87).  Peter David returns, but the bloom is off the rose.  All he can muster is C+ and B- grade stories.  After this, we get some truly awful work by the likes of Daniel Way and others and the book completely runs off the rails.  Until Greg Pak signs on and brings back the savage Hulk we all knew and loved from the old Roger Stern days.  Grade: C+
78 (Fin Fang Foom)
By Greg Pak and Carlo Pagulayan (#92-115).  Extraordinary.  After this, the book became Incredible Hercules.  So here ends my examination of Hulk.  Grade: A.
92-108 (Planet Hulk), 109-115 (World War Hulk)
Hulk: Smash by Garth Ennis and John McCrea (2001).  Grade: B.  Here.