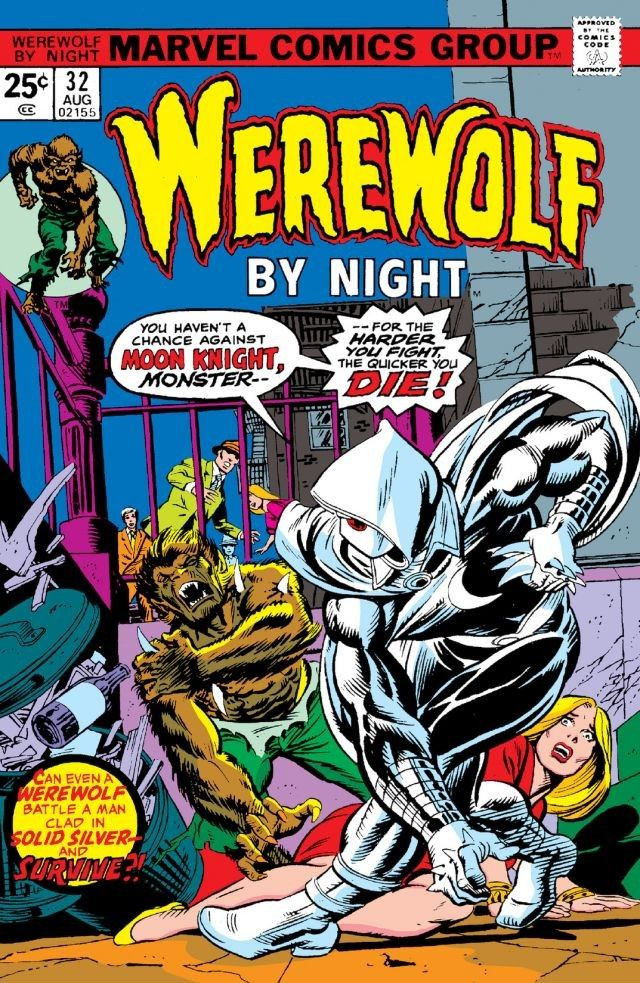 He's not Batman.  He's not Punisher.  He's both and neither.
Moon Knight was the first character I really felt like I owned a piece of, because his comic debuted around the time I started collecting, and I got every single one–and then went to conventions to find his appearances in Werewolf by Night.  I've read every one of his appearances, and captured them under the tag "the evolution of Moon Knight."
Links to posts, and grades of runs, below.
Early Appearances
Werewolf by Night 32, 33, 37 by Doug Moench and Don Perlin (1975).  Grade: B.  In these books, he's basically just a monster hunter.
Marvel Spotlight #28 by Moench and Perlin (1976).  Grade: B.  First appearances of his multiple secret identities and most of the side characters.
Spectacular Spider-Man #22-23 by Bill Mantlo and Mike Zeck (1978).  Grade: F.
Hulk Magazine (back-up stories) by Moench and Bill Sienkiewicz (1978).  Grade: A
Marvel Two-In-One #52 by Steven Grant and Jim Craig (1979).  Grade: D
Moon Knight Volume 1 (1980)
Moench and Sienkiewicz, sometimes with Klaus Janson
as inker.  Grade: A
1 (canon origin), 2, 3, 5, 6, 7 (first moon copter), 8, 9, 13 (with Daredevil), 14 (updated moon copter), 15 (Marvel's first direct market only comic), 20, 25, 26, 28, 29-30 (with Werewolf by Night), 31 (from here, Alan Zelenetz and Bo Hampton took over)
Power Man and Iron Fist #82.  Grade: B+
Moon Knight Volume 2 by Alan Zelenetz.  Grade: F.  Entire run (and end of Volume 1) is discussed here.
Moon Knight in the West Coast Avengers by Steve Englehart and Al Milgrom (1985)  Summary of the run is here.  As Moon Knight comics go, these are Grade C.  But as Avengers comics go, they're better than that.
25 (Moon Knight leaves the East Coast to join up with the WCA)
Marc Spector: Moon Knight by various creators (1989-1984).  Entire series is discussed here.  Grade: B-/C+.
Moon Knight: The Resurrection War (4-issue miniseries) (1998) by Moench and Tommy Edwards.  Grade: B+
Moon Knight Volume 4 (2006)
Charlie Huston and David Finch.  #1-6, 7-8.  Grade: B+.
#14, 30 (by Mike Benson, various artists).  Grade: F
Vengeance of the Moon Knight (2009) by Greg Hurwitz and Jerome Opena.  Grade: C+.  Here.
Moon Knight (2011) by Brian Michael Bendis and Alex Maleev.  Grade: B+.  Here.
Moon Knight (2014)
Warren Ellis and Declan Shalvey.  #1-6.  Grade: A+
Brian Wood and Greg Smallwood.  #7-12.  Grade: A
Cullen Bunn and Declan Shalvey #13-17.  Grade: B
Moon Knight (2016) by Jeff Lemire and Greg Smallwood.  Grade: B