I have read every single issue of The Avengers, but sadly many of my "panel a day" posts lost their pictures due to a mix up.  Arg!  Anyway, here's the group tag [A Panel From Every Issue of The Avengers].
And the issue-by-issue coverage is being moved to my page on the complete history of Marvel!
Avengers Volume 1
1-35 Stan Lee, Jack Kirby/Don Heck.  Grade: A+.
36-104   Roy Thomas/(mostly) John Buscema. Grade: B+.  

105-150 Steve Englehart/various.  Grade: A.  
123, 124, 125, 126, 127, 128, 129-135 (The Celestial Madonna Saga), 131-132 (Legion of the Unliving), 136 (Beast Meets Avengers for the first time), 137, 138, 139, 140, 141-149 (The Serpent Crown Saga), 150.  Giant Size Avengers #2

151-157  Englehart, Shooter, and Conway take turns and cowrite a group of largely forgettable issue.  Art by John Buscema and George Perez. Grade: C.
151, 152, 153, 154-156 (more Serpent Crown fun), 157
158-177  Jim Shooter/George Perez.  Grade: A+
158-159, 160, 161, 162 ("The Bride of Ultron"), 163, 164, 165, 166, 167-168 and 170-177 (Korvac Saga), 169

178 Steve Gerber pens a wonderful fill-in Beast story.  Grade: A+  Here
179-180 Tom DeFalco/Jim Mooney.  Grade: F  Here
181-187, 190-205, 223 Jim Michelinie/various.  Grade: B+
181, 182, 183-184 (vs. Absorbing Man), 185-187 (expanded origin of Quicksilver and Scarlet Witch), 190-191 (first
Daredevil team-up!), 192-193, 194, 195, 196, 197, 198-199, 200 (Ms. Marvel raped), 201, 202, 203, 204-205, 223 (Hawkeye and Ant-Man vs. Taskmaster)
188 (Bill Mantlo fill-in issues) Grade: C+  188, 206, 209-201
189 (Steve Grant fill-in, solo Hawkeye)  Grade: A-  Here
207-208 (Bob Budiansky/Gene Colan)  Grade: D  207, 208
Avengers Annual #10 (Chris Claremont/Michael Golden, first appearance of Rogue)  Grade: A+  Here
211-218, 224.  Jim Shooter returns to tell the tale of the fall of Hank Pym.  Grade: B
211, 212-213, 214 (Ghost Rider), 215-216, 217, 218 (with JM DeMatteis), 219-220, 221, 222, 224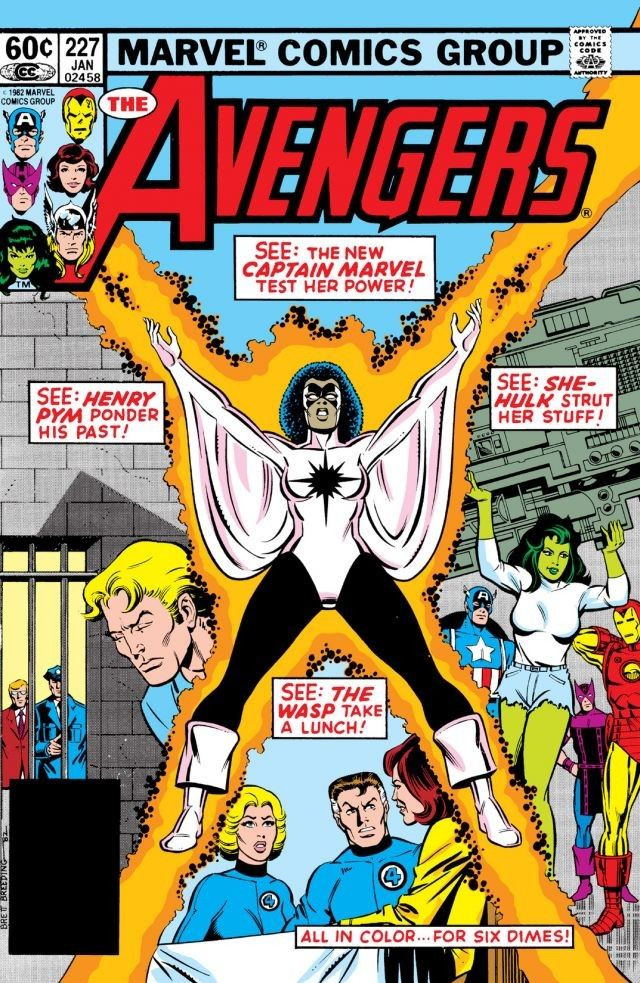 225-226 (Steven Grant) Grade: D  Here

227-250 Roger Stern/(mostly) Al Milgrom.  Grade: A-
227, 228, 229-230, 231, 232, 233, 234, 235-237, 240-241, 242, 243, 244-245 (ROM crossover), 246, 247-248, 249 (crossover with Walt Simonson's Thor), 250
251-287  Stern/(mostly) J Buscema.  Grade: A
251-255 (Conquering Vision), 256-257, 258-259, 260-261 (Secret Wars II), 262, 263 (Return of Jean Grey), 264, 265, 266, 267-269, 270, 271, 272, 273-277
(Under Seige), 278-279 (Captain Marvel becomes leader), 280, 281-285 (Assault on Olympus), 286, 287-290 (Stern plotter only)
291-300  Walt Simonson/J Buscema.  Grade: B
291-293, 294-297, 298, 299-300
301-333  Lots of fill-ins, none very good.  Grade: C.  Only a few issues are worth reading:

316-318 (Spider-Man joins the team for the first time), 325 (Vision is raped)
326-333  (Larry Hama/(mostly) Paul Ryan).  Grade: C+
326-328 (first appearance of Rage), 329, 330-331, 332-333
334-351, 355-375  Bob Harras/(mostly) Steve Epting.  Grade: C
334-339, 340, 341-342, 343-347, 348, 349-351, 352-354, 355-356, 357, 358-359, 360-363, 364-366, 367, 368-369, 370-371, 372-375, 376, 377, 378-379, 380-382, 383-384
384-399  Harras/various.  Grade: C-
385, 386-389, 390-396, 397-400, 401-402
Avengers Volume 1 ended with #402
Avengers Volume 2 (Heroes Reborn)
1-13 Created by Rob Liefeld, Walt Simonson, Michael Ryan, others.  Grade: B

Avengers Volume 2 ended with #13
Avengers Volume 3/Volume 1
Note: Avengers Volume 3 started with #1, but was subsequently renumbered to fit within Volume 1 numbering
1-34 Kurt Busiek/(mostly) George Perez.  Grade: A-/B+ (after Perez leaves)
416, 417 (featuring…Dreadstar?!), 418, 419, 420-421
(Squadron Sinister), 422, 423, 424, 425, 426, 427, 428, 429, 430 and 434-437 (Ultron Unlimited), 431-433 (art by Jerry Ordway), 438, 439, 440, 441 (Stuart Immonen art), 442, 443-445, 446-449 (art by Alan Davis), 450-452, 453, 454-455, 456, 457-463, 464 (Nuff Said), 465, 466-469, 470, 471
57-76 Geoff Johns/Various. Grade: B-
472-475, 476, 477, 478, 479, 480-485 (Red Zone),
486, 487-490 (Search for She Hulk), 491
77-84 Chuck Austen/Scott Kolins. Grade C
492-495 (Lionheart of Avalon), 497-499
500-504, New Avengers Vol. 1. Brian Michael Bendis/Various. Grade: A
New Avengers Volume 1

Note: All Issues Written by Brian Michael Bendis
1, 2-3, 4, 5, 6, 7 (first appearance of Illuminati), 8-10, 11-13, 14, 15, 16-20, 21-25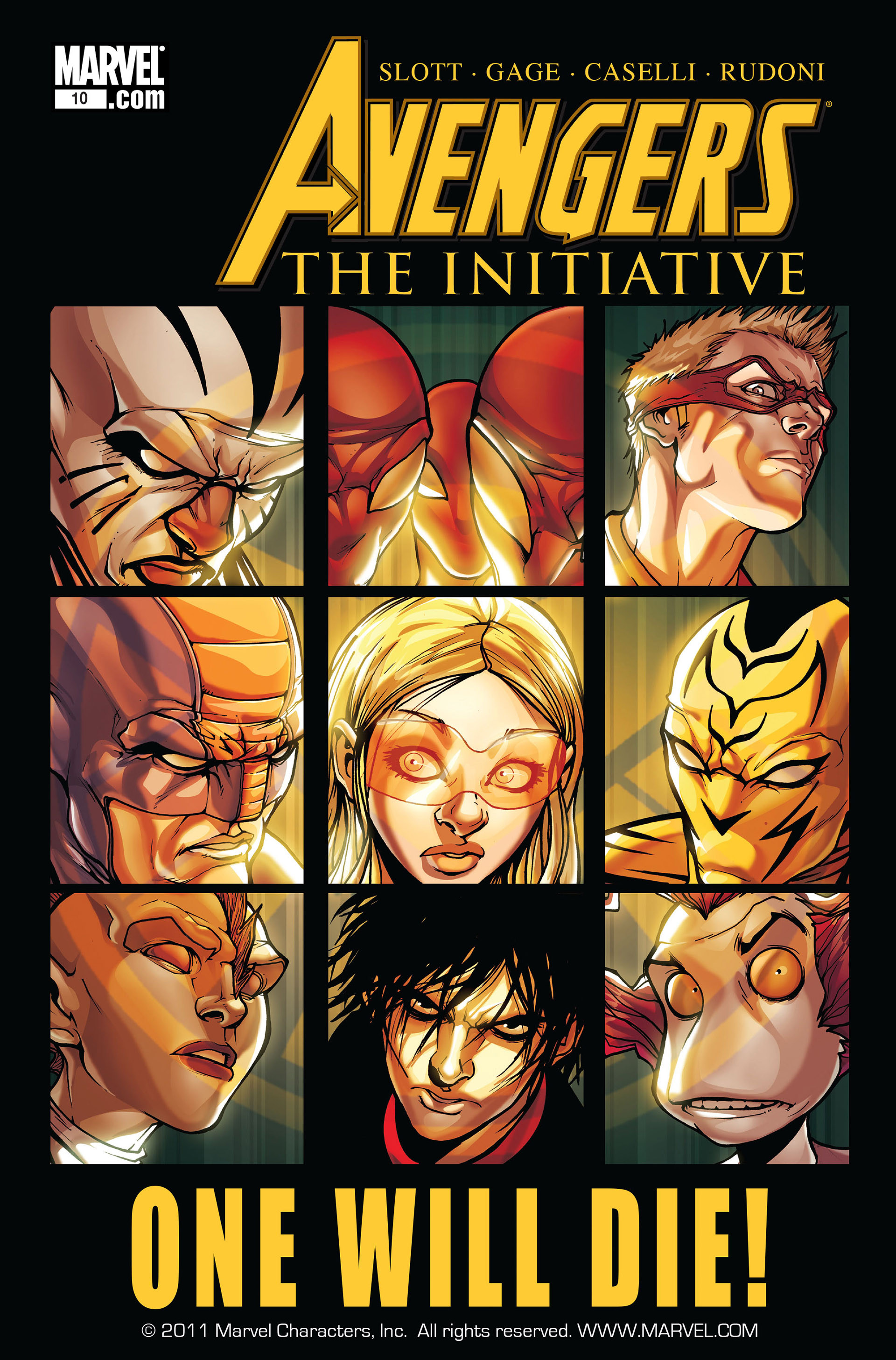 New Avengers: Illuminati #1
ONE-SHOTS, SHORT SERIES, AND MINISERIES


The Avengers: Celestial Quest by Steve Englehart (Thanos).  Grade: B+.  Here.

The Avengers Initiative.  Grade: B.  Here
OTHER SPECIAL AVENGERS FEATURES
Avengers in Pods!  (A photo feature of Avengers being put in tubes or stuck in walls by their enemies.)  Here
The Top 10 Avengers Lineup Changes!  Here
The History of Vision and Scarlet Witch's Twins.  Here