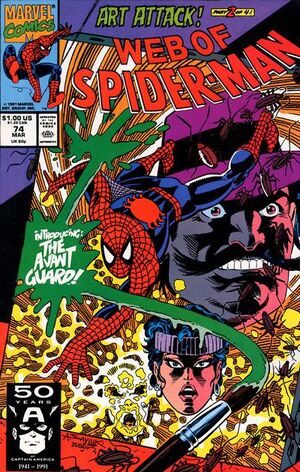 Last issue took place at an Alicia Masters art opening, and this three-issue arc involves some super-powered performance artists called the Avant-Guard who blanket New York in a freak snowstorm.
A bunch of other heroes from Avengers, X-Men and New Warriors help New Yorkers manage the weather, which enables this…
…All three characters from Spider-Man and his Amazing Friends, together.  Nice.
Also, Superman and Lois Lane.
It's a reasonably fun issue with lots of guest stars—has a very 1980s feel, which is nice given how the rest of Marvel's books are getting pretty dark, pretty fast.
Creators: Tony Isabella, Alex Saviuk
Grade: C
For the complete history of the MU, year by year, go here.
And see my Ratings of Runs on comics here.