Gerry Conway left Web of Spider-Man to work on The Father Dowling Mysteries….
In which Richie Cunningham's dad became a priest/private eye.  This was also around the time of Highway to Heaven and Murder She Wrote—lots of shows about old and/or religious vigilantes.  And speaking of vigilantes…
…A nazi is killing people who witnessed his war crimes.  Spidey stops him, with the help of Silver Sable's crew.  There's an army of heavily armed Nazi assassins, but even so, how is it Spidey needs help here? I guess for the detective work aspects.  But if he'd teamed up with Father Dowling, maybe he would have gotten this done in one issue.  But he does have an octogenarian assistant…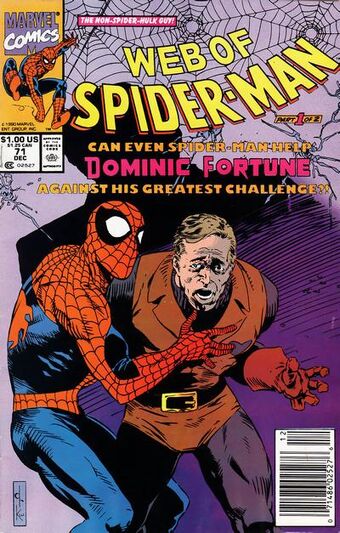 …Dominic Fortune
This story is pretty dark in tone, marking this book's movement into the way-too-serious and always-on-steroids 1990s.  Conway's scripts had been very old fashioned, so there was a hope that maybe a few Marvel titles would have a different mood than the rest of the books, but no luck.
Web of Spidey will be an orphan for about a year, with various creators stopping by to tell stories.  John Byrne is next.
Creators: Danny Fingeroth, David Ross
Grade: C
For the complete history of the MU, year by year, go here.
And see my Ratings of Runs on comics here.