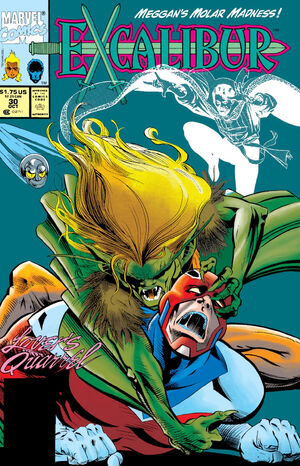 Chris Claremont takes a break from what may be his worst book and we get two fill-ins with guest-stars to goose sales.  And both are better than what Claremont has been doing with this book, so I guess this is a good thing.
First, a Halloween story in which Meggan is turned into a vampire.  Dr. Strange helps save the day, after an attempt at a funny who's-on-first exchange with Wong.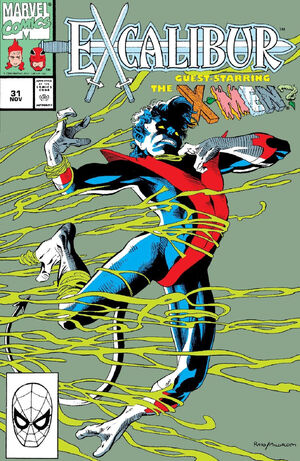 Then, Scott Lobdell auditions (he'll become the regular writer very soon) with a story about Nightcrawler going on vacation to an island that is actually the child of Krakoa The Living Island, where natives worship Easter-Island-sized busts of The X-Men.
Creators:
#30: Dana Moreshead, David Ross.  Grade: C+
#31: Scott Lobdell, David Ross.  Grade: C
EXCALIBUR, 1990, Dr. Strange, Meggan, Nightcrawler, Rachel Summers, Rintrah, Widget,
Captain Britain
For the complete history of the MU, year by year, go here.
And see my Ratings of Runs on comics here.