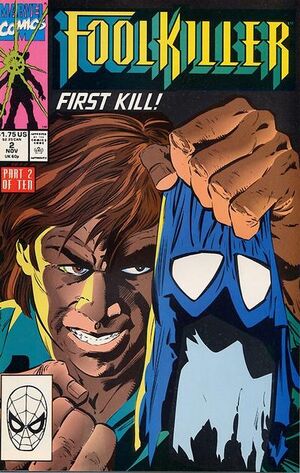 It's a little baffling why, in 1990, when Marvel was hyping up to be a company that only published comics about Wolverine, Ghost Rider, Punisher and Spider-Man, they allowed 1970s offbeat creator Steve Gerber to spend 10 issues on a character study of Foolkiller.  But I'm glad they did.
I'm not going to go super in-depth on the summary because, other than the fact that Spider-Man appears, I'm not sure this is canon, but I will tell you: READ THIS.  It's easily one of the best books of the 1990s.
Foolkiller (Greg Salinger) was last seen being taken down by Spider-Man and committed to a mental institution.  The essence of this tale is that a copycat starts corresponding with Salinger via a televised talk show that is based on the Morton Downey/FOX news style of television journalism (rabidly conservative, and angry) and then via internet bulletin boards.  (You kids won't remember bulletin boards—they were the earliest forms of social media.)
So the new Foolkiller, on instructions from the institutionalized Salinger, starts his own wave of vigilante-style serial killing.
The story progresses in a vein pretty similar to Taxi Driver until, inevitably, Kurt Salinger escapes and the two killers must face each other.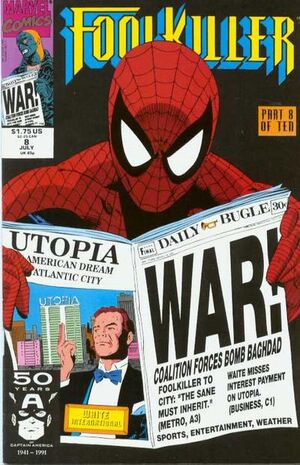 Spider-Man is on the cover to issue #8, but he's only in a few panels of the issue.  This is really a darkly disturbing, fantastic character piece that, frankly, needs to be made into a movie.
Creators: Steve Gerber, J.J. Birch
Grade: A+
For the complete history of the MU, year by year, go here.
And see my Ratings of Runs on comics here.