Last issue's splash page had Nightcrawler kissing his girlfriend.  This one has a bunch of college kids swarming Beast.
Hotties in the MU love blue guys, I guess.
Other than that, this is a standard Beast story.  I liked Beast, so this is a fine one-off.  And the first appearance of Killer Shrike, a villain named after an annoying bird.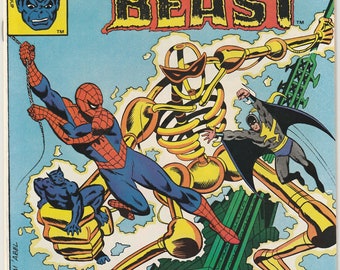 One continuity question.
How does Beaset know that Spider-Man uses web shooters rather than organically developing webs?
Creators: Steven Grant and Mike Vosburg
Grade: C+
For the complete history of the MU, year by year, go here.
And see my Ratings of Runs on comics here.