Once again, I'm grouping together a bunch of the 8-page stories appearing in MCP.  Let's start with #51, which has Mark Bright auditioning for his future role as the Iron Man solo book artist in a story where the hero flies two giant nukes into space.
Then, original Iron Man artist Don Heck updates us on what France's Le Peregrine is doing these days.  Turns out he's working with Silver Sable.
For issue #52, the two short stories are both done by writer/artists.  Richard Howell tells us that Rick Jones is at an island resort getting beaten up by a gang that wears animal masks, while Ron Wilson has Hulk, in his Mr. Fixit days, fighting aliens who want to destroy Earth as part of a video game they're playing.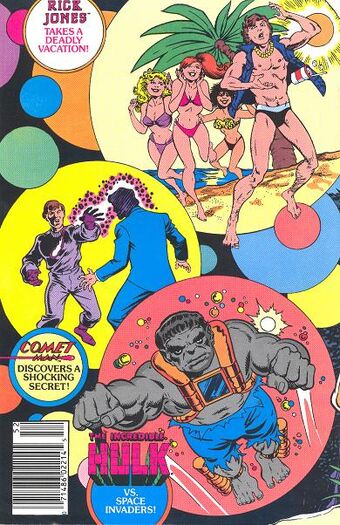 It's cool to see Ron Wilson drawing Hulk, even if this story isn't his best work.  It appears rushed.
In issue #53, it's time for more Silver Sable, as she and Black Widow are featured in a story by two of Marvel's biggest rising stars: Fabian Nicieza and Rob Liefeld
It's the best story of the lot.  The two characters find themselves in competition to take down the same target.  I particularly liked this sequence:
Issues #54 through #56 each only have one solo story each—with the other three tales in each issue being parts of a larger story.  Issue #54 has Steve Ditko drawing Shround, and it's lame.
Issue #55 has Collective Man arguing with himself as his various bodies visit their mom, on her deathbed.
This is the character's final appearance.
Finally, the Speedball creators get YET ANOTHER chance to prove this guy can carry a solo story, as he takes on a crew of villains who have masks like dice.  They look an awful lot like Spot will look—in twenty years, when he's created in the pages of Amazing Spider-Man.

Creators and Grades:
Iron Man: Steve Safel, Mark Bright.  Grade: C-
Le Peregrine: Fabian Nicieza, Don Heck.  Grade: C-
Rick Jones: Richard Howell.  Grade: D
Hulk: Ron Wilson.  Grade: C+
Silver Sable/Black Widow: Fabian Nicieza, Rob Liefeld.  Grade: B
Shroud: Steve Ditko (plot and art), Hollis Bright.  Grade: D.
Collective Man: Scott Lobdell, Greg LaRocque.  Grade: C-
Speedball: Mary Jo Duffy and Steve Ditko.  Grade: F
For the complete history of the MU, year by year, go here.
And see my Ratings of Runs on comics here.