On the Hulk side, Thunderbolt Ross finally captures Hulk with the help of new character Colonel Glenn Talbot.
Rick Jones finds out, and Captain America gives him permission to fly to New Mexico and free Hulk.
Yes, Cap tells Rick it's okay to interfere with a military mission that captured a monster responsible for millions of dollars of destruction.
Rick ends up on the same plane as Chameleon, who is going to NM at the behest of The Leader to see if he can steal the robot Ross and Talbot used to capture Hulk.
Chameleon fails, despite doing his best Bruce Banner impression, so Leader builds some androids to finish the mission.
It's worth noting that Leader is a servant of the Communist government in Russia.
Meanwhile, Rick Jones tells President Johnson that The Hulk is Bruce Banner to try to get the Prez to free Hulk.  Nick Fury enters a plea as well.  Eventually, it's Hulk versus the commie robot squad–Leader's "Humanoids" robots.  Leader escapes, and Bruce Banner is believed to be dead.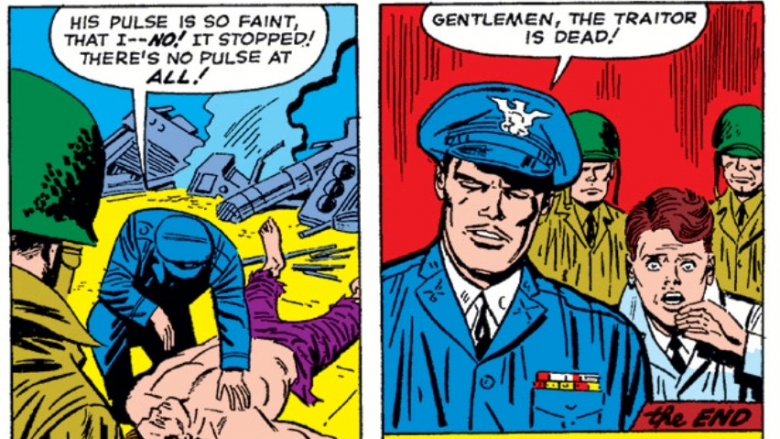 Note: Although this is an eight-issue story, it's really more like 3 or 4 comics, since this is a split book.
These are very decent comics and, considering that Hulk had rarely been worth reading, above average Hulk comics.
On the Giant-Man side, Egghead escapes from prison in issue #61, and builds an android that Hank and Wasp have to fight.
Then there's some miscellaneous crime stories, in which the pair even take out a couple hoods in their plain clothes.
In #64, GM and Wasp fight Attuma.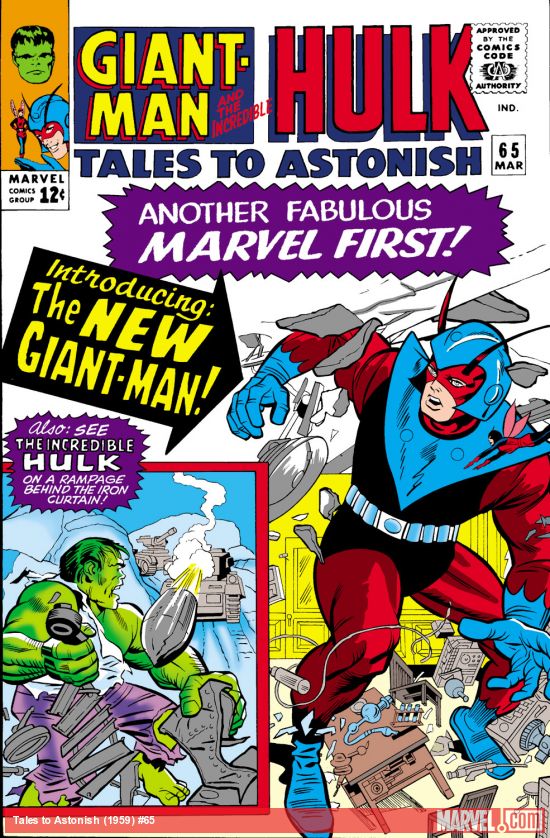 In issue #65, Giant-Man gets a new costume with a helmet.  Thankfully, this outfit doesn't last.
In #66,Hank fixes the TV antenna.
Human Top returns in issues #68-69.  At the end of #69, Hank Pym says he has to quit being Giant-Man because the growing is causing him serious health problems and will eventually kill him.
Creators: Stan and Ayers (Giant Man and Wasp tales), Stan and Steve Ditko (#60-67) and Jack Kirby (#68 and 69) (Hulk).
Grade: Giant-Man: F.  Hulk: C+.