Steve Englehart's genius shows as he continues the story of this non-team and finds the best use of Hulk ever: As comic relief!
And it makes sense that he can be the source of humor for this book, because his power level is pretty much equal to his compatriots: Namor, Strange and Valkyrie.  In the scene above, Val is fighting Hawkeye in a misunderstanding-fight, and Hulk finds it funny.  Then Clint sees Namor come along…
The rest of this story involves The Defenders fighting Attuma and Red Ghost.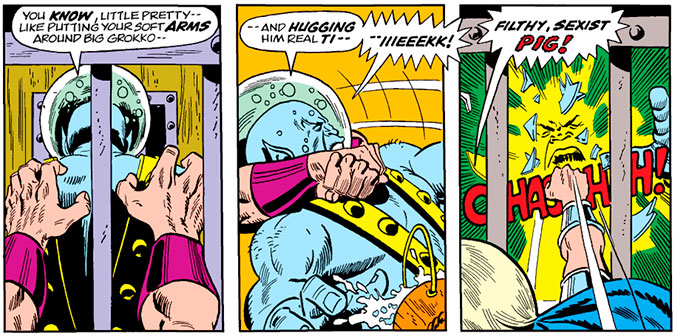 In one scene, the team is captured an imprisoned.  Hawkeye nabs the jailer and Val smashes the helmet that the Atlantean uses to allow him to breathe.  So, does that mean Val killed him?  I think so.
It looks like Hawkeye is on the team now.  And Dr. Strange and Silver Surfer have a little side-adventure, so it looks like Norrin may be joining us again soon.
Creators: Steve Englehart and Sal Buscema
Grade: B-
For the complete history of the MU, year by year, go here.