The Awards will come in a few days, on February 24th.
The People's Choice Awards were baffling.  What's gonna happen?
Best director. 
Nominated:
Adam McKay, "Vice"
Alfonso Cuarón, "Roma"
Pawel Pawlikowski, "Cold War"
Spike Lee, "BlacKkKlansman"
Yorgos Lanthimos, "The Favourite"
I haven't seen two of the movies (Roma and Cold War), but out of the ones I've seen I really think Vice should win direction.  The movie had so many good cuts and flowed brilliantly while portraying a potentially very dry subject.  That said, BlacKkKlansman is the best Spike Lee move in many years.  He's finally figured out how to convey the consciousness of Do The Right Thing, the politics of Malcolm X, and the anger of [insert early Spike film name here] into a package that feels so humorous that it ends up being his most subversive film yet.
Plus, Lee has NEVER WON AN OSCAR and his tour-de-force on racial politics, Do The Right Thing, lost to…Ahem…Driving Miss Daisy.  A fact so ridiculous that Public Enemy wrote a song about it ("Burn Hollywood Burn").
That said, Roma will win.
Best picture
Nominated:
"A Star Is Born"
"Black Panther"
"BlacKkKlansman"
"Bohemian Rhapsody"
"The Favourite"
"Green Book"
"Roma"
"Vice"
First of all, both Panther and Klansman were nominated.  Good news.  Second, Bohemian Rhapsody should NOT WIN.
I've seen all but one of these movies, and they're all pretty good, but let's be real: Best Picture should go to something that will have impact on future films.  That eliminates A Star is Born (excellent movie, but ultimately forgettable); Bohemian (which simply wasn't good); The Favourite (mostly harmless); and Vice (excellent, but too similar to other Adam McKay films).
Black Panther should win.  I won't be sad if they give it to Klansman or Green Book, but Panther spawned a cultural shift, had a huge impact, and built upon the "credibility" of Dark Knight by adding a sincere political message.  Bullseye.
But it won't win.  I predict Roma or Rhapsody.  Panther, Green Book, and Klansman will spit the votes of people who want more racially conscious films, The Favourite might have garnered the woman vote if it had had Meryl Streep in it, and I just don't see Bradley Cooper getting an Oscar.
Best actor.
Nominated:
Christian Bale, "Vice"
Bradley Cooper, "A Star Is Born"
Willem Dafoe, "At Eternity's Gate"
Rami Malek, "Bohemian Rhapsody"
Viggo Mortensen, "Green Book"
My pick would be Viggo.  And I think he has a strong chance here.  It's between him and Malek, so this might actually be a time when the guy I want actually wins.
Best actress
Nominated:
Yalitza Aparicio, "Roma"
Glenn Close, "The Wife"
Olivia Colman, "The Favourite"
Lady Gaga, "A Star Is Born"
Melissa McCarthy, "Can You Ever Forgive Me?"
First of all, no way Gaga gets it—even though she did a great job.  Glenn has been nominated six times and never won.  I think it's her year.  I don't have strong feelings personally about this category because I didn't see Roma, The Wife, or Forgive Me.
Supporting Actor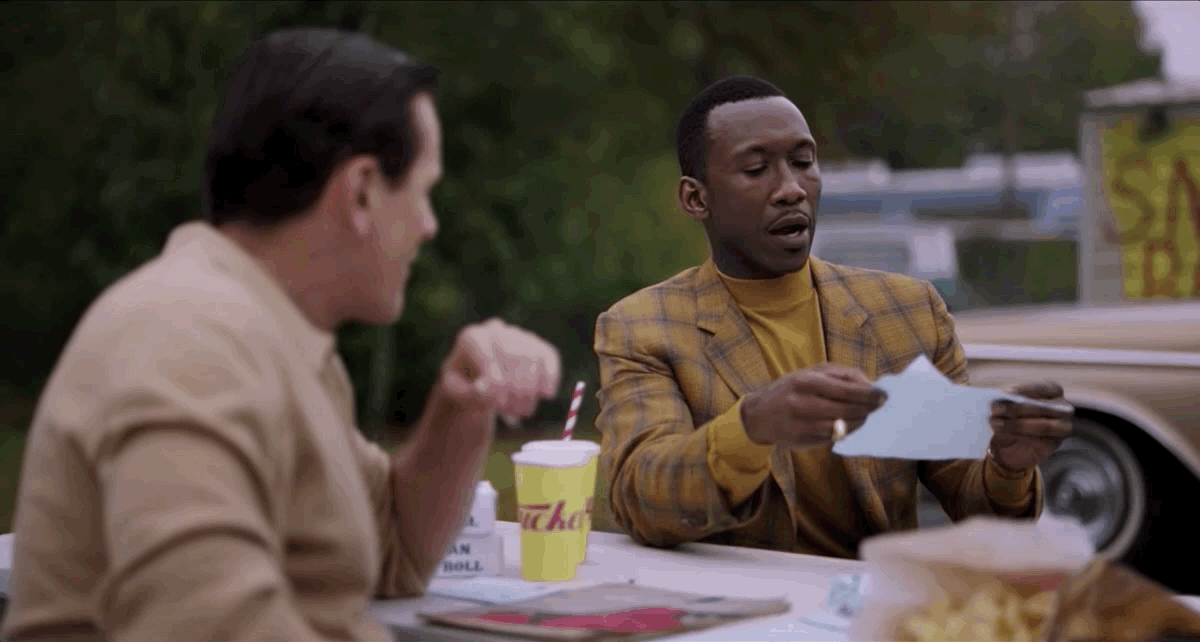 Nominated:
Mahershala Ali, "Green Book"
Adam Driver, "BlacKkKlansman"
Sam Elliott, "A Star Is Born"
Richard E. Grant, "Can You Ever Forgive Me?"
Sam Rockwell, "Vice"
Wouldn't it be great if Panther got best movie and Ali got best actor?  Adam Driver was fine in Klansman, but that's not an Oscar caliber role.  Ditto for Rockwell, but voters do love him.  I'm going to say Ali should get it, but he'll have tight competition from Rockwell.  I'll also note that I've seen four out of five, and they're all solid picks.  Sam Elliott was fantastic in the surprisingly good Star is Born.
Good year for acting.
I'm going to have to say Rockwell will edge out Ali though.
Supporting Actress:
Nominated
Amy Adams, "Vice"
Regina King, "If Beale Street Could Talk"
Emma Stone, "The Favourite"
Marina de Tavira, "Roma"
Rachel Weisz, "The Favourite"
Adams got heavy and Weisz got nasty.  Oscar voters like that.  But Regina King kicked ass in her role.  I'm picking her.  I have no idea who will actually win, but if I had to put money on anyone it would de Tavira.  Stone and Weisz will split each other because they play very similar characters in The Favourite, and not enough people are seeing/talking about Beale Street.
Best original screenplay
Nominees:
"The Favourite," Deborah Davis and Tony McNamara
"First Reformed," Paul Schrader
"Green Book," Nick Vallelonga, Brian Currie and Peter Farrelly
"Roma," Alfonso Cuarón
"Vice," Adam McKay
First Reformed was truly brilliant.  The only actually "brilliant" movie out of all the nominees for all the awards.  I hope it wins, but I think this is where Oscar will give some love to Green Book, which is the kind of "feel good about how far we've come" movie they tend to like.
Best adapted screenplay
Nominated:
"A Star Is Born," Eric Roth, Bradley Cooper and Will Fetters
"The Ballad of Buster Scruggs," Joel Coen and Ethan Coen
"BlacKkKlansman," Spike Lee, Charlie Wachtel, David Rabinowitz and Kevin Willmott
"Can You Ever Forgive Me?," Nicole Holofcener and Jeff Whitty
"If Beale Street Could Talk," Barry Jenkins
Here's where Star or Beale could get some love.  I don't see Oscar rewarding the Coens for going to Netflix.  My pick would be BlacKkKlansman because I loved the writing in it, but I see Star/Beale winning here.
Best animated film
Nominees:
"Incredibles 2"
"Isle of Dogs"
"Mirai"
"Ralph Breaks the Internet"
"Spider-Man: Into the Spider-Verse"
What a great year for cartoons!  Spider-Man should win.  No question, hands down.  It broke all preconceptions and was a smart and innovative movie.  Dogs was good.  Incredibles 2 was good but not nearly as good as the first one.  I didn't see Mirai and Ralph is just filler for the category.
I bet Incredibles wins.  But Spider-Man should.
I'm not weighing in on the other awards, except to say that if they give Black Panther some lame consolation prize like "Best Original Score" or "Best Sound Mixing" I'll be upset.
That is all.