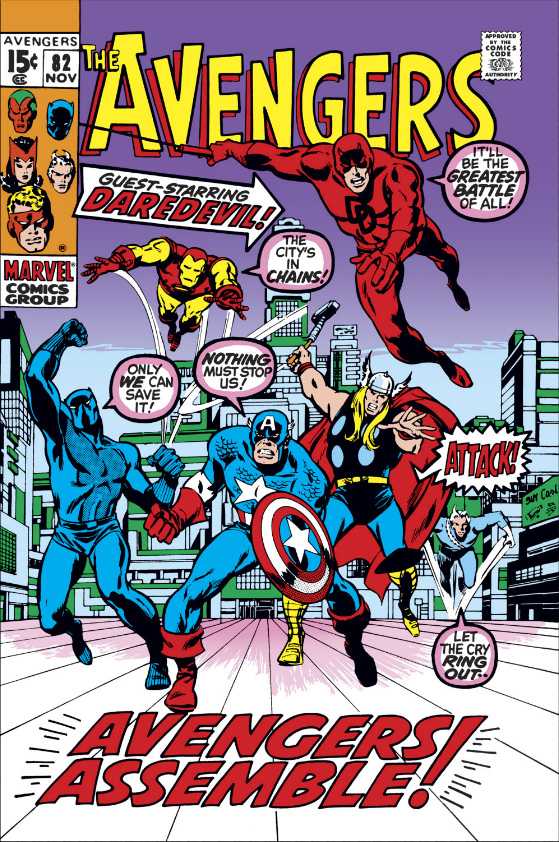 This one is a little nuts, but in that great Marvel early 1970s fashion.
Zodiac have become a set of villains that are sticking around issue in and issue out.  In this story, they managed to capture and hold hostage the entire city of New York.
Why anyone lives in MUNYC is beyond me.
Anyway, that means we get cameos from lots of other heroes–but they're too busy to help.  Seriously.  6 million people held for ransom, and the Fantastic Four are too busy.
Anyway, Daredevil is available so he fights alongside the Avengers for the first  time.
But he really does his best work as Matt Murdock, where he gets the people of NYC to rise up and shake off their oppressors.  Along the way, Richard Nixon is shown as an agent of the Secret Empire.
It looks like Aries is killed by Thor at the end.
In an epilogue, we're reminded that Black Panther knows that Daredevil is blind.
Creators: Roy Thomas and John Buscema
Grade: B
Black Panther
,
Captain America (guest and team appearances)
,
Celebrities and Politicians Appearing in Comics
,
Clint Barton (Hawkeye/Goliath)
,
Daredevil (Guest Appearances)
,
Daredevil's Secret Identity is Blown...Again!
,
Iron Man (Guest and Team Appearances)
,
Marvel 1970
,
Marvel Superheroes Who Kill
,
Quicksilver (Pietro Maximoff)
,
Scarlet Witch (Wanda Maximoff)
,
The Avengers (Complete Series)
,
Thor (Guest and Team Appearances)
,
Vision the Synthezoid
,
Zodiac (Marvel Villains)