MARVEL'S OLD MAN VERSE.  They're killing Old Man Logan, apparently, which is too bad because Old Man Logan continues to be an above-average book and, as such, is the only X-related book I'm reading these days, and nd Ethan Sacks' Old Man Hawkeye mini-series has ended (it was pretty good, too!).  Next: "Old Man Quill," set in an alternate universe.  Yes, Star-Lord gets the dystopian treatment.  No word on the creative team yet, but the Old Man books have been good so far, so I'm game.
KINGSMAN 3.  I loved Kingsman, and to my surprise I loved the completely-over-the-top sequel.  Matthew Vaughn, creator of both movies, is working on the next one, but star Taron Egerton won't be back to play the lead character, Eggsy.  Instead, it will be a prequel and will focus on Ralph Fiennes.  It should be arriving in theaters in less than a year.
BLUE DEVIL ON TV.  DC Universe, their streaming platform, just hired Ian Ziering to play Blue Devil as part of its Swamp Thing series.  Too bad I refuse to join another streaming service.
BATMAN.  Tom King has plotted out the next 50 issues of Batman and is starting to tempt us with what's to come on the best run on the title since Grant Morrison's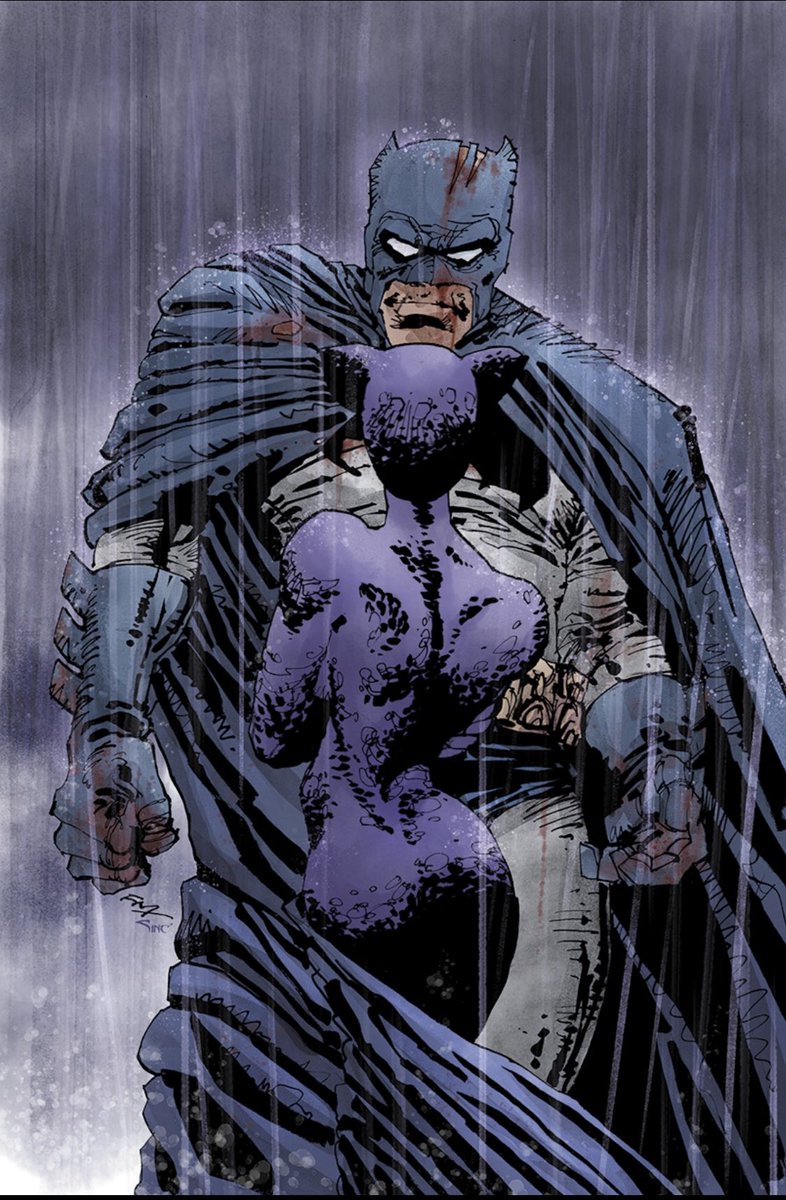 epic, unbeatable one many years ago.  His latest tease is that Frank Miller will return to draw a story!  He's also indicated that with issue #75, he will begin a "huge bat event" that will take the character all the way through issue #105 and the end of King's run.  If you're not reading this book, you're an idiot.
DOMINO: HOTSHOTS.  Gail Simone is doing great work on the ongoing Domino series, and Marvel is rewarding her by establishing an all new female team led by the character.  Because if one is good, two is better.  That's just Marvel logic.  Still, I have high hopes because Simone is best at writing ensemble books (see: Secret Six and Birds of Prey).  Her team-mates will include Black Widow, White Fox, Atlas Bear, Outlaw and Diamondback.  The artist will be Dave Baldeon and the first issue should arrive in March 2019.
SONY SKYBOUND.  Robert "Walking Dead" Kirkman's Skybound Entertainment and Sony's T.V. division have formed Skybound Galactic, which will bring Image Comics properties to TV.  So far, they're working on Nailbiter, a terrific serial killer comic by Joshua Williamson and Mike Henderson, with Scott "Bates Motel" Kosar in charge; Thief of Thieves, a heist book written by
Kirkman; and two Top Cow series: Think Tank and The Darkness.
NOW ON THE WAY TO MOVIES OR T.V.:
Vertigo comic Survivor's Club (survivors of being possessed by a demon now fight a new demon insurgence) by Lauren Beukes, Dave Halvorsen and Ryan Kelly, under development for The CW.
The Prince and the Dressmaker.  Jen Wang's graphic novel, released earlier this year, about the relationship between a prince and his seamstress, has been purchased by Universal for a movie.
The Invisibles.  Universal Cable Productions has made a deal with Grant Morrison that seems similar to Netflix's deal with Mark Millar, wherein the creator will work with the distributor to develop material for series.  One of the first works will be Morrison's 1994 cult favorite, The Invisibles, about a group of magic-wielding freedom fighters.  He'll also be bringing a second season for Happy!
Sharkey the Bounty Hunter.  Another Mark Millar comic book launch, arriving in stores on Tuesday, will be made into a movie as part of Netflix's deal with his company, Millarworld, which is already adapting The Magic Order and Prodigy.
SARA.  Garth Ennis returns to what he loves writing, war comics, with Steve Epting for an original World War 2 graphic novel for TKO Studios.  It will focus on a Russian female sniper.
NEW VALIANT BOOKS.  The upstart publisher is putting some darn fine content, and in 2019 it will expand its offerings with what it is calling a "Breakthrough" line, with some really good talent including Joshua Dysart on a Harbinger spin-off; "Fallen World" by Dan Abnett and Adam Pollina, which will spring out of Valiant's 4001 AD book; Cullen Bunn and Adam Gorham doing a 5-issue "Punk Mambo" series, about the occult, in April; and Killers, about a group of assassins in a global competition to kill each other and win a prize, by B. Clay Moore and Fernando Dagnino.
CONAN THE AVENGER.  Yes, Jason Aaron has managed to shoehorn Cimmeria into the Avengers.  Coming in the March issue ofAvengers: No Road Home.