PLEASE SAVE DAREDEVIL!
This is the lead story: An open request to Marvel editorial to get your shit together and stop shitting on one of Marvel's oldest heroes.
DD is one of my favorite characters ever, and there have been some truly epic, medium-changing runs on the title.  I'm not just talking about Miller and Bendis and Brubaker and Waid., either, although frankly that should be enough to convince anyone that Daredevil is an important character.
DD was the first book to change it's masthead and share space with a female lead: Black Widow.  He was the first
handicapped superhero.  And the first lawyer hero!
If you haven't heard, they're killing him in a "Death of Daredevil" arc/event.  I'm not naive.  I know this won't be the end of DD.
But still.
Guys.  Haven't you learned?  Killing Wolverine was a stupid mistake, and the return of Wolverine has been a snoozefest.  And by the way: Both the Deaths of Wolvie and DD are written by the same dude: Charles Soule.  The upside: He's leaving Daredevil after he kills him, so maybe there's hope?  Maybe they should be promoting the end of Charles Soule instead of Daredevil?  The "death" will be followed by Man Without Fear, a weekly series dealing with the fallout and created by Jed MacKay and Danilo S. Beyruth, has been announced as a regular series—not a mini—so expect it to drag out way, way too long  What is going on at Marvel these days?  Has all the good talent gone to their film and studio shops?  Anyway, MWF will be.
Also, didn't we already get a Death of Daredevil story. By no less than Bendis and Mack? (Daredevil: End of Days–the 17th best DD series of all time.)
Now for other news…
BENDIS AT D.C.  It was inevitable when DC lured Brian Michael Bendis away from Marvel that the continuity-loving, minor-character-obsessed creator would start to take on an increasing number of projects, and would begin to reshape the DCU the same way he did for Marvel's Ultimate Universe. So, yeah, he's creating a Wonderverse (a line of books geared for teens) that will take place inside DC continuity and will feature…
Young Justice.  With artist Patrick Gleason, Bendis is reviving the "kid" team of Robin, Superboy and Impulse (Kid Flash), but he's adding the much more obscure Amethyst of Gemworld to the cast, along with a new character, Jenny Hex, who can trace her lineage back to Western character Jonah Hex.
Batman.  In a Walmart-only comic drawn by Nick Darington.  Seriously.
Naomi.  A miniseries about a woman of color who was adopted by a white family—much like Bendis' own real-life daughter—cowritten with David Walker and drawn by Jamal Campbell.
Dial H for Hero.  Bendis won't write this one, he'll just serve as curator.  It will be created by Sam Humphries and Joe Quinones.
The Wonder Twins by Mark Russell and Stephen Byrne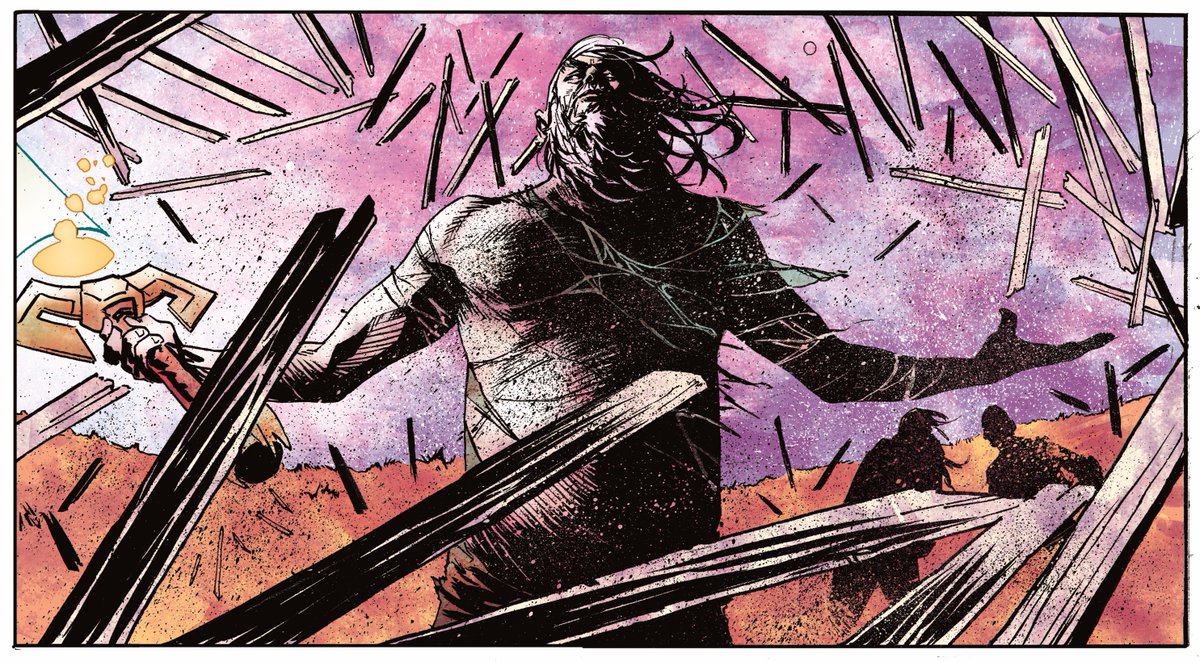 GOD COUNTRY.  The excellent Image mini by Donny Cates and Geoff Shaw is being developed for a movie.  It was one of the best—and most unusual—comics of last year, and Cates himself will be penning the screenplay.  It's about a grandfather with Alzheimers who finds a mystical sword that restores his youth and makes him powerful enough to rout
demons who threaten to destroy his son's farm.
IT'S YEAR ONE AGAIN.  Frank Miller's reboot of Superman has been pushed back (and obviously it can't be canon since Brian Michael Bendis is currently rebooting Superman), but that hasn't stopped DC from announcing that regular Flash writer Joshua Williamson, whose work so far has been pretty good, will be rebirthing Flash in a Year story to be published within the Flash monthly book (just like Batman: Year One, by Frank Miller, started in Batman #404).  Flash Year One will be drawn by Howard Porter and will arrive in early 2019.
SECRET SIX ON T.V.  One of my all-time favorite DC comics, Gail Simon's Secret Six book about a group of villains who are kinda trying to go straight, sort of, as a team, is being developed for CBS with the pilot being written by the producer of the USA show "Suits."
CONAN.  Marvel has gotten the rights back from Dark Horse to make comics about Conan the Barbarian.
THING GETS MARRIED.  In Fantastic Four #5 (by Dan Slott and three great artists: Aaron Kuder, Adam Hughes, and Michael Allred), Thing will marry Alicia Masters.  It's about time!  I'm sure a ton of villains will show up and crash, because that's what happens in Marvel weddings.