The art in #35, a double-sized issue, changes halfway through.  Kevin Nowlan does a good job on the first half, but then Bob McLeod (who I love and respect) takes the parts with the big guest stars…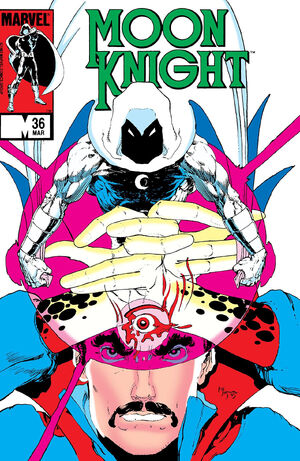 …And his style is just not as suited to Moon Knight.
This is an obvious attempt to boost flagging sales and recover from the loss of the original creative team, which told edgy stories that really didn't tie to the larger Marvel Universe, and it doesn't work.  It's not that this is a bad comic, it's just not a good Moon Knight comic.
Issue #36 brings in Dr. Strange, and it's much worse.
Creators: Tony Isabella and Kevin Nowlan/Bob McLeod (#35), Alan Zelenetz and Bo Hampton (#36)
Grade: C- (#35), D (#36)
For the complete history of the MU, year by year, go here.
And see my Ratings of Runs on comics here.