Lots of news coming out of SDCC. I'll just pop into a few stories I thought looked interesting, starting with the world of print comics…
COMIC BOOKS IN BOOKS
X-MEN. Lots of hubbub about a new X-Men book with the old "Uncanny" moniker. But overall, the X-books have been bland-to-tepid for quite some time now, so maybe they think that using the uncanny adjective will remind people that X-Men used to be the only comic that mattered. And speaking of that bygone era, Chris Claremont is coming back for X-Men Black: Magneto, the first of a series of one-shots that will also focus on X-villains Emma Frost, Mojo, Mystique, and Juggernaut, with all five issues tied together by a back-up feature about Apocalypse.
FANTASTIC FOUR #1. The first family of superhero comics will be returning in August, after having been missing for three years. The cover to issue #1 will be by Joe Quesada, and we're promised in early issues appearances by Galactus and prominent roles for Fantastikids Franklin and Valeria. The creative team will be Dan Slott, fresh off a decade-long run on Amazing Spider-Man, and one of the best artists in the business, Sara Pichelli. The first arc will feature a new big villain. Ben and Johnny have been searching for the missing Richardses (Reed, Sue, Franklin and Val) in the pages of Marvel Two-In-One (a series much, much better than I thought it would be), and it looks like that book will roll into FF #1, which will lead to a big family reunion in issue #3. That issue will also include the short-lived Fantastic Four of the 1990s, which was Spider-Man, Luke Cage, Wolverine, and Ghost Rider, as well as several other Marvel characters. IF I POST THE OCVER: Oh, and an absolutely beautiful cover by Esad Ribic.
THE MAXX VS. BATMAN. Sam Kieth and William Messner-Loebs' creator-owned character is part of an IDW/DC
Comics crossover series. DC seems to work well with other publishers—why can't Marvel?
MY HEROES HAVE ALWAYS BEEN JUNKIES BY BRUBAKER AND PHILLIPS. The brilliant creators of Criminal and the recent Kill or Be Killed series, Ed Brubaker and Sean Phillips, are creating their first original graphic novel. It will be published by Image Comics, and will look at celebrity junkie culture.
JAMES BOND 007. Dynamite has been producing some pretty solid Bond miniseries, so it's worth checking out the ongoing that will launch in November, written by Greg Pak and drawn by Marc Laming.
COMIXOLOGY IS NOW A PUBLISHER. The digital distributor will now produce its own line of original, creator-owned, digital-only books. The early announcements include The Dark, a biopunk tale by long-time veteran author Mark Sable and artist Kristian Donaldson; Goliath Girls by Sam Humphries and Alti Firmansyah (three chicks in a dystopian monster-plauged future adopt a baby monster); Grave Danger by Tim Seeley/Mike Norton (about an agency that hunts witches, vampires, etc.); Hit Reblog: Comics That Caught Fire, telling true stories about webcomic creators' experiences in web-publishing; and Teenage Wasteland by Magdalene Visaggio/Jen Vaughn, about superhero highschoolers; and others.
JESSICA JONES. And speaking of digital comics. Kelly Thompson and Mattia de Lulis will release a digital JJ book, coming soon.
CAPCOM WOLVERINE. When Wolverine "returns" from the dead in September, he's going to have claws that heat up, inspired by the video game Marvel vs. Capcom.
LODGER. The creators of the Eisner Award-winning Stray Bullets series, David and Maria Lapham, will issue a new series from IDW Comics about a woman hunting a serial killer who murdered her mother.
COMIC BOOKS ON T.V.
MARVEL ANIMATION. It makes sense: This new season of animated shorts between episodes of Spider-Man and Avengers will be joined by Black Panther's Quest, which will feature Tiger Shark (isn't Wakanda landlocked?), Killmonger, and White Wolf, with a vocal appearance by Stan Lee. Other animated characters will include Kamala "Ms. Marvel" Kahn, Gwen Stacy's Ghost-Spider, Anya "Spider-Girl" Corazon and Falcon. Coming in September to Disney XD.
SNOWPIERCER. I had high hopes for this TNT adaptation of the terrific 2013 movie adaptation of a comic book about a future world where the Earth is so cold that people have to live on a train that constantly moves in a giant circular track. The director of the pilot, Scott Derrickson, has a solid pedigree (most recently the Doctor Strange movie), and he had said that the script was the best he'd ever read. However, Derrickson recently quit the project and the writer, Josh Friedman, was removed from it, all due to conflict with the new show runner. Too bad. I was really looking forward to this.
FIREFLY. And in a reverse adaptation, BOOM! Studios will be publishing in September a prequel comic about the cult classic TV show by Joss Whedon. The creative team will be Greg Pak and Dan McDaid.
DCU COMING THIS FALL. DC Comics' "premium" streaming service will debut in September with season one of the live action "Titans" show. 'Smatter? Couldn't Warner Bros get you on a platform people actually watch? Seriously, though, the increased fragmentation of the pay-to-view market is getting ridiculous, and the people who will be hurt the most are working class fans.
THE BOYS. Yeah, it's going to series on Amazon. Jack Quaid is playing Wee Hughie and Karl Urban is team leader
Butcher. I hope to hell this isn't a sanitized version. And I'm optimistic, as it is being produced by the same team who unflinchingly adapted Preacher.
LOCKE AND KEY. I loved this comic, which is why I keep writing about the struggle to get a series to production. It looks like Netflix finally locked it down, and we'll see a 10-episode adaptation of the IDW comic, created by Joe "Stephen King's son" Hill and Gabriel Rodriguez.
CREEPSHOW. A new series will stream via the on-demand "Shudder" channel (owned by AMC), and will be created by the director and exec producer of AMC's The Walking Dead.
CLOAK AND DAGGER. The freeform series has been renewed for a season 2, and it will feature the ex-cop vigilante antihero Mayhem.
COMIC BOOKS AT THE MOVIES!
BLOODSHOT. Are you reading the Valiant Bloodshot comics? No? Well, you're stupid. They're really cool. And the Bloodshot movie, starring Vin Diesel (questionable choice), has staked out February 21, 2020, as its opening date.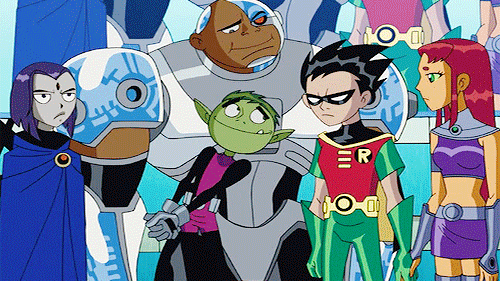 TEEN TITANS GO! TO THE MOVIES. The feature film based on the rebooted Cartoon Network kids' cartoon will feature a cameo by none other than Stan Lee himself.
OLD GUARD. Greg Rucka and Leandro Fernández's creator-owned comic is going to film, with Gina "Silver and Black" (the Spider-Man movie about Sable and Black Cat) Prince-Bythewood attached as director for a 2019 release.
BATMAN YEAR ONE. Supposedly, Matt "Cloverfield" Reeves solo Batman movie will be based on the Frank Miller/David Mazzucchelli miniseries that is, unquestionably, one of the best and most influential batcomics of all time. Sure, DC. Now you can ruin it for me.