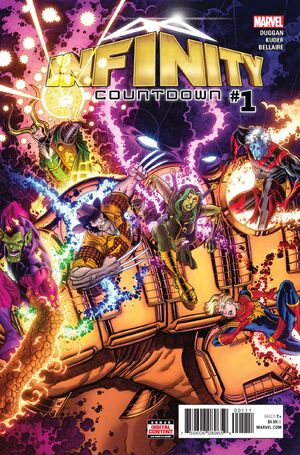 DC is doing much better than it used to, pulling 35% of the market to Marvel's 38%, with Image pulling in 10%.  The top 10 comic books sold were:
1. Dark Nights: Metal #6 (DC)
2. Doomsday Clock #4 (DC)
3. Amazing Spider-Man #797 (Marvel)
4. Weapon H #1  (Marvel)
5. Batman #42 (DC)
6. Thor #705 (Marvel)
7. Infinity Countdown #1 (Marvel)
8. Batman #43 (DC)
9. Oblivion Song #1 (Image)
10.Batman: White Knight #6 (DC)
Doing a little analysis: DC is dominating the top 10, but it's all Batman and mostly events related to Batman.  I could Doomsday Clock as Batman because, other than the fact that they are shattering the legacy of the greatest story ever told in comics, this is really just a way to
Batman-ize the Watchmen universe.  Marvel's entries are more interesting: Two books that still have original numbering since inception, Amazing Spider-Man and Thor, are in there without being an event tie-in.  Weapon H is a #1, but it's about Hulk, so it's pretty surprising to see it there.  Can't remember the last time the green goliath was in the top 10.  I think it was during World War Hulk.  And Infinity Countdown may be a miniseries, and it does share a name with a certain movie coming out soon, but other than that it's pretty surprising to see that book in the top 10 as well.  Also: It's a pretty darn good comic!
Congrats to Image for cracking the top 10—and coming in at #11 as well, with the latest issue of Walking Dead.  They often own the trade list, but not the single-issue list.
Speaking of which, here's the top 10 trade paperbacks:
1. Walking Dead Vol 29 (Image)
2. Green Lantern Earth One Vol 01 (DC)
3. Flash Vol 05 (DC)

4.  Super Sons Vol. 2 (DC)
5.  Realm Vol. 1 (Image)
6. Black Science Vol. 7 (Image)
7. Invincible Vol. 25 (Image)
8. Batman and Harley Quinn (DC)
9. Port of Earth Vol. 1 (Image)
10. Saga Vol. 8 (Image)
I confess: I don't read more of these than I do read.
What comics should you have read last month?  Well, I can whole-heartedly recommend Batman and Infinity Countdown.  I can't ask you to spend your money on the rest of the top 10, though.  I'd dig deeper.  The best books of the month were Batman, Saga, and Mister Miracle.  I'll throw a little love at Bloodshot (from Valiant), Thanos, Old Man Logan and Old Man Hawkeye because they're fun (but not great).  I also like Days of Hate and Abbott, from Image and Dark Horse, respectively, and Black Panther.